Carter continues home run tear with pair in rout
Slugger drives in five, leads Majors with 15 dingers since start of July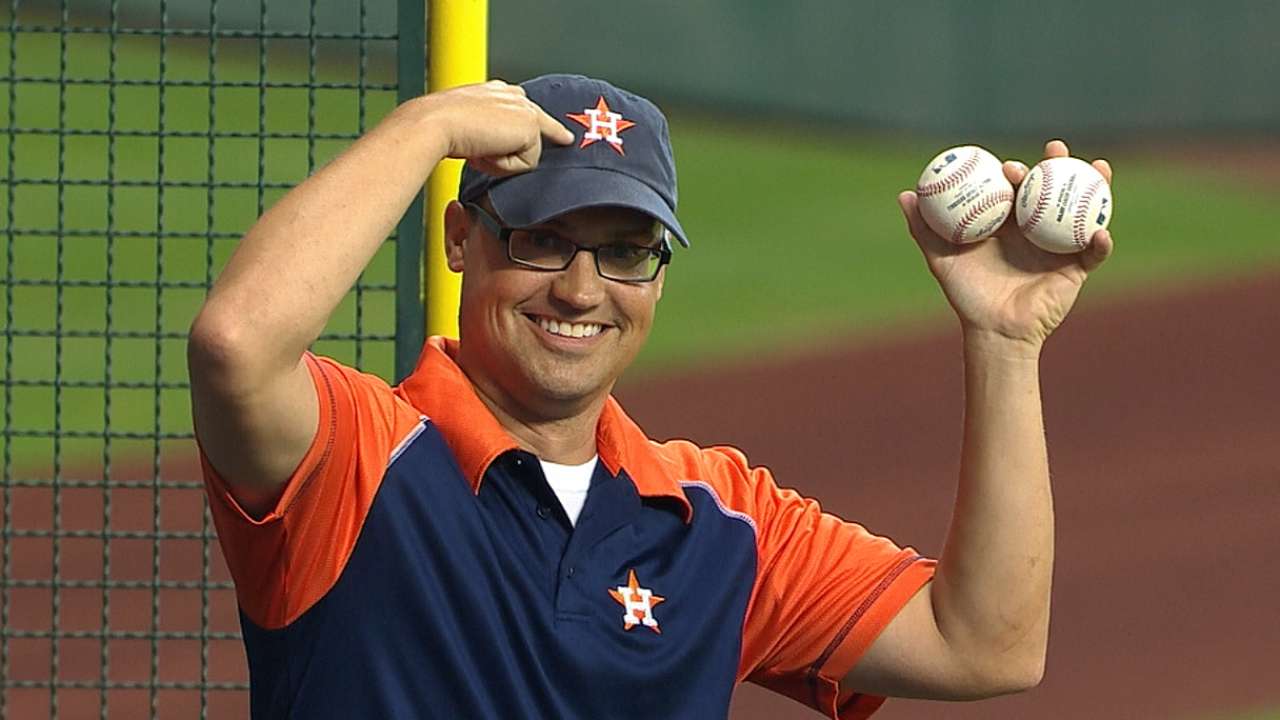 HOUSTON -- The Astros were at their wit's end, wondering if Chris Carter would ever get his bat going on a consistent basis. Astros fans were asking why Carter remained in the lineup when the strikeouts were piling up at the expense of the occasional home run.
That was the mindset surrounding Carter in mid-June, when he was in the midst of a 4-for-42 slump with no homers in a 13-game span that saw his batting average plummet to .181. That was before he went on an amazing hot streak that continued Tuesday night.
The red-hot Carter bashed two more home runs, giving him a Major League-leading 15 since the start of July, while tying a franchise record with his sixth multihomer game of the season to power the Astros to a 10-4 win over the Twins at Minute Maid Park.
"It's always been there, but it just hasn't really shown up in the big leagues," the soft-spoken Carter said. "It's something I went through in the Minors and I'm happy it's finally showing up here."
With the win, the Astros reached 50 wins, putting them one shy of last year's total for the season. They're 8-7 in their last 15 games.
Six of Carter's nine career multihomer games have come this year, tying Lance Berkman's club record set in 2006. His 28 homers are one shy of his total from last season, and he tied a career high by driving in five runs.
"He's definitely locked in," Astros manager Bo Porter said. "I've said this many times that when this guy's locked in, he can carry a ballclub. We're witnessing that right now."
Since July 3, Carter is hitting .325 and leads the Majors with a .756 slugging percentage and a 1.138 OPS, in addition to the home runs.
"It's great," Porter said. "Even early on when he was struggling, it was never from a lack of effort. It was never from getting in the video room, getting in the cage. The same effort he's putting forth now, he was putting forth then. You pull for guys like that and you're excited when you see a guy like that rewarded for that type of effort and that type of hard work."
Carter has been more selective and has shortened his swing. It hasn't been unusual to see him get hot in different stretches the last two seasons, but never for this long.
"I knew he was capable of it," Porter said. "This guy hit 29 home runs last year, and it's power to all fields. You watch him take batting practice and you watch him work and you know the ability is in there. He had it in spurts, even last year. You would say to yourself, 'At some point when everything clicks and comes together and we start to get consistency to this, it could be scary.' That's what we're seeing right now."
Throughout his struggles, Porter maintained confident in Carter and kept him in the lineup.
"Just having that confidence the organization has faith in you that it will come around eventually, is a nice feeling to have," Carter said.
The outburst made a winner of starter Collin McHugh (5-9), who won for the first time since June 3 by holding the Twins to one run and four hits in six innings. He gave up a solo homer to Oswaldo Arcia in the second, but Carter quickly took center stage.
Center fielder Jake Marisnick, who is hitting .400 (14-for-35) in his last nine games, homered to lead off the third to tie the game, and Carter launched a two-run shot to left field to make it 3-1. Carter homered in his next at-bat, a three-run shot to left field in the fifth that pushed the lead to 7-1 and ended Twins starter Yohan Pino's night.
"We've seen Carter do it before," Twins manager Ron Gardenhire said. "Get those balls up to him and he's going to do that. Pino missed with his pitches, and then we got the kid [Trevor May] in there later and he didn't throw it over too well, either."
All-Star second baseman Jose Altuve had three hits for his 51st multihit game to extend his Major League-leading hit total to 165. Two of his hits were RBI singles.
"Games like today are fun to watch and fun to be a part of," McHugh said. "Hopefully we get more of these."
Brian McTaggart is a reporter for MLB.com and writes an MLBlog, Tag's Lines. Follow @brianmctaggart on Twitter. This story was not subject to the approval of Major League Baseball or its clubs.