Pipeline preview: Bundy, Manaea ready to square off
With health issues behind them, highly-ranked hurlers set for Class A Advanced clash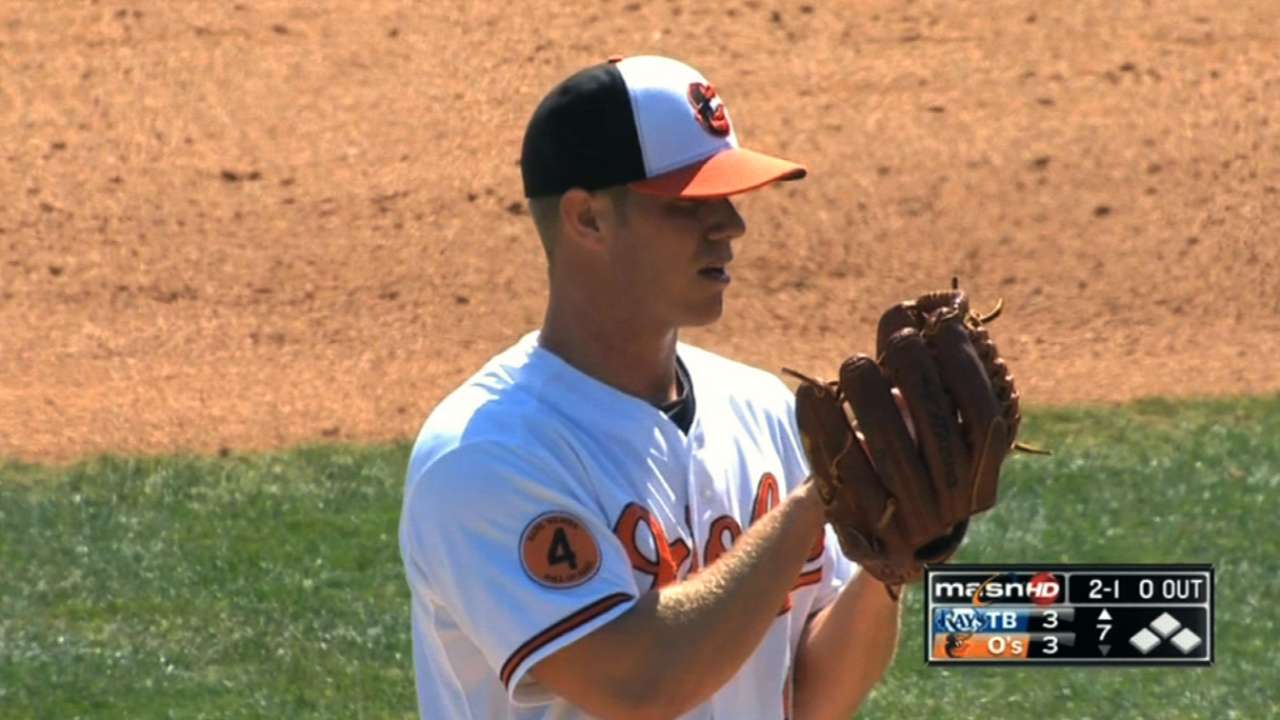 Dylan Bundy and Sean Manaea have both battled injury early in their young careers. Bundy, the Orioles' top prospect, missed all of last season after undergoing Tommy John surgery. Manaea, the Royals' No. 3 prospect, suffered a hip injury last spring and underwent surgery soon after signing.
Now, both Bundy and Manaea are healthy again and back on the mound. Tuesday, they will face off as Bundy and Class A Advanced Frederick visit Manaea and Wilmington for the start of a three-game series. First pitch is scheduled for 7:05 p.m. ET.
Bundy, ranked No. 15 on MLBPipeline.com's Top 100 Prospects list, is still finding himself as he works his way back from surgery. Bundy began his rehab in June with three starts for short-season Aberdeen before moving up to Frederick in July.
Bundy is coming off one of his best starts for the Keys. He struck out seven batters, walked none and allowed five hits last Tuesday against Carolina. It was Bundy's second scoreless outing in three starts.
Manaea, ranked No. 73 on the Top 100, didn't pitch after his surgery last season and began his professional career this year with Wilmington. In 21 starts, Manaea is 4-8 with a 3.49 ERA. Manaea has struck out 114 batters and walked 49 in 95 1/3 innings.
In addition to Bundy and Manaea, several other pitchers ranked in the Top 100 are scheduled to start Tuesday, including Noah Syndergaard (No. 12), Tyler Glasnow (No. 19), Andrew Heaney (No. 21), Braden Shipley (No. 46), Aaron Nola (No. 47), Nick Kingham (No. 65) and Sean Newcomb (No. 89). Fans can watch Syndergaard, Heaney, Shipley, Nola and Kingham on MiLB.TV, beginning with Nola and Double-A Reading visiting Harrisburg at 7 p.m. ET.
Newcomb, the 15th overall pick in the 2014 First-Year Player Draft, will be making his first start with Class A Burlington. The Angels' No. 1 prospect began his professional career in the Arizona League, where he made two starts before moving up to the Midwest League. Newcomb will face Peoria and Cardinals' No. 4 prospect Alex Reyes at 7:35 p.m.
Tuesday could see another high-profile debut, as Byron Buxton, baseball's top prospect, moves up to Double-A New Britain. The Twins promoted Buxton from Class A Advanced Fort Myers after he hit a three-run home run for the Miracle on Monday night. New Britain opens a three-game series against Bowie on Tuesday at 7:05 p.m. ET. The game can be seen on MiLB.TV.
After breaking out last year in his first full professional season, Buxton has been hampered by wrist injuries all season. He initially sprained his wrist diving for a ball in the outfield during Spring Training and didn't make his season debut until May. Buxton injured his knee again sliding into second base later that week and went back on the disabled list for nearly two months. The Twins' No. 1 prospect has been limited to just 30 games this season, hitting .240/.313/.405 with four home runs and six stolen bases for Fort Myers. Now Buxton is headed for New Britain, where he might have opened the season if not for his injury.
Top prospect probables
Chris Anderson (Dodgers' No. 5), Rancho Cucamonga vs. Fresno
Alec Asher (Rangers' No. 13), Frisco at Springfield
Zachary Bird (Dodgers' No. 16), Great Lakes vs. Bowling Green
Bundy (Orioles' No. 1), Frederick at Wilmington
Tim Cooney (Cardinals' No. 10), Memphis at Albuquerque
Jonathon Crawford (Tigers' No. 3), West Michigan vs. South Bend
Domingo German (Marlins' No. 11), Greensboro vs. Lakewood
Glasnow (Pirates' No. 1), Bradenton at Jupiter
Ismael Guillon (Reds' No. 9), Bakersfield at Modesto
Heaney (Marlins' No. 1), New Orleans vs. Tacoma
Nick Howard (Reds' No. 5), Dayton at Lake County
Jason Hursh (Braves' No. 5), Mississippi vs. Montgomery
Brian Johnson (Red Sox's No. 12), Portland vs. Akron
Kingham (Pirates' No. 5), Indianapolis at Toledo
Ben Lively (Reds' No. 6), Pensacola vs. Mobile
Manaea (Royals' No. 3), Wilmington vs. Frederick
Cody Martin (Braves' No. 9), Gwinnett vs. Pawtucket
Adalberto Mejia (Giants' No. 4), Richmond at New Hampshire
Newcomb (Angels' No. 1), Burlington vs. Peoria
Nola (Phillies' No. 2), Reading at Harrisburg
Dillon Overton (A's No. 5), Vermont vs. Aberdeen
Alex Reyes (Cardinals' No. 4), Peoria at Burlington
Enny Romero (Rays' No. 6), Durham at Rochester
Shipley (D-backs' No. 2), Mobile at Pensacola
Syndergaard (Mets' No. 1), Las Vegas at Iowa
Jose Urena (Marlins' No. 9), Jacksonville at Chattanooga
Tyler Wagner (Brewers' No. 15), Brevard County at Daytona
Taylor Williams (Brewers' No. 14), Brevard County at Daytona
Luis Ysala (Giants' No. 11), Augusta at West Virginia
Teddy Cahill is a reporter for MLB.com. Follow him on Twitter at @tedcahill. This story was not subject to the approval of Major League Baseball or its clubs.