Fantasy Q&A: Putting Baez in perspective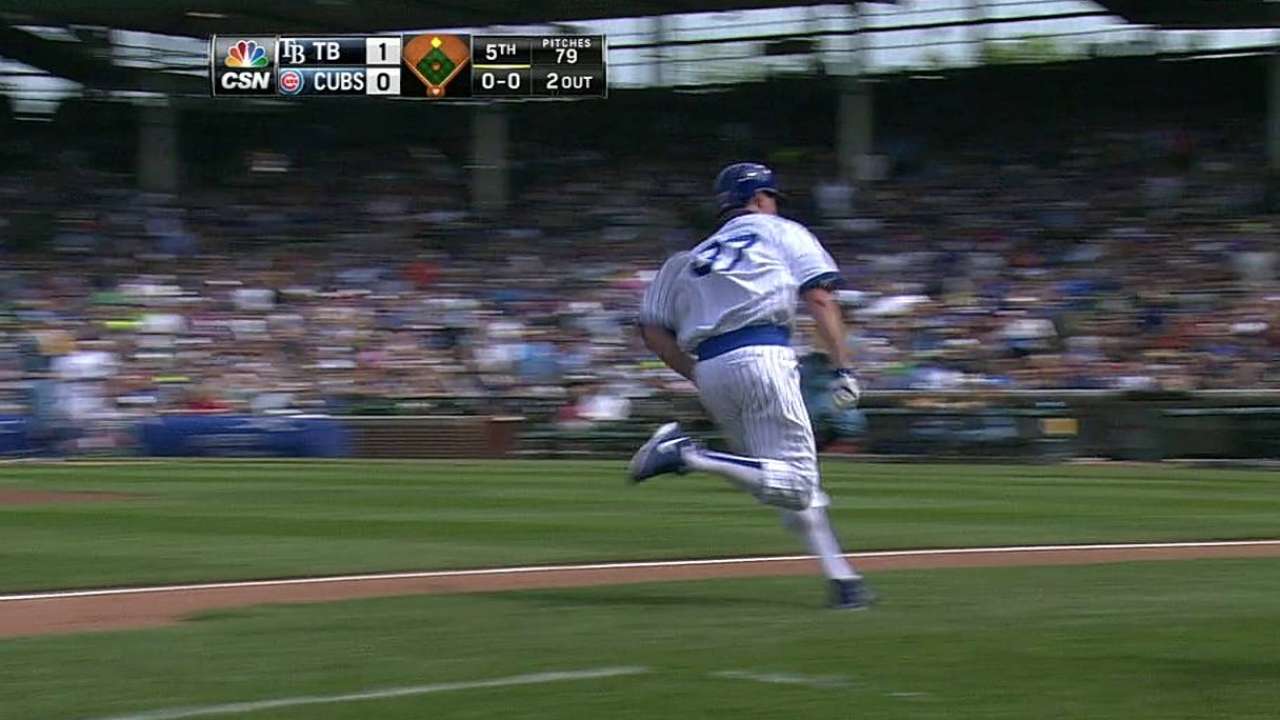 Tweet your questions each and every Monday to @Fantasy411 and you could find your answer in our weekly mailbag. Here are some of topics that are puzzling fantasy owners right now:
Thoughts on J. Baez rest of season? -- @Fink_Thinks1
Javier Baez should produce a rollercoaster ride for fantasy owners during the final weeks of this season. The 21-year-old has already belted three homers in 29 at-bats, but he has also struck out 12 times. After a great opening series at Coors Field, Baez struck out nine times in 15 at-bats during a weekend set against the Rays. He has yet to draw a free pass, and his impatient approach could lead to a low batting average.
With that said, Baez should be in the starting lineup in all leagues. He put up 23 homers and 16 steals in 388 at-bats in Triple-A this season. Because he can contribute in all four counting categories, he could be a top-10 second baseman the rest of the way. To put the value of a top-10 second baseman in perspective, Howie Kendrick has been roughly the 10th-best player at the position this season. He is hitting .280 with four homers and 12 steals, which is not special in any way. Fantasy owners who are worried about their batting average could choose to trade Baez away for a high-average player at the position. Also, owners who are in first place could choose to deal Baez to a team that is lower in the standings in return for a safer second baseman. It is quite possible that the buzz around Baez has created a value on the trade market that exceeds what he will be able to produce in his initial Major League trial.
2 start Hellickson, 2 start Gallardo or 1 start [Zimmermann]? Need to pick 2. Help!! -- @ksmahieu
Jeremy Hellickson is the pitcher to sit in this case. The 27-year-old has posted respectable numbers since his return from the DL, with a 2.61 ERA and a 1.61 WHIP. But a closer look at his performances reveals that he has finished the fifth inning in just one of four starts. His matchups are decent this week, as he faces the Rangers on the road before coming home to tangle with the Yankees, but he cannot be trusted in mixed leagues until he strings together a few more six-inning outings.
Yovani Gallardo was the other option to consider for the bench, but he has a longer track record of success than Hellickson this season. The right-hander is working on the road twice this week, but the Cubs are not a formidable foe, and he faces the Dodgers in their pitcher-friendly park.
Jordan Zimmermann cannot be considered for the bench in any league, at any time. His skills are elite, and he is far above the cut line for an every-week starter.
Better pickup this week? D.Hutchison for two starts(One [vs. Felix Hernandez]). Or the hot J. Happ v mariners who don't hit lefties -- @daughtery_byron
Without knowing any details of the league standings, J.A. Happ is the better option here. The 31-year-old has pitched well as of late, as he has allowed just six runs over his past four starts. As @daughtery_byron mentioned, Happ should be able to succeed against a Mariners offense that contains a few left-handed regulars. Pitching at Safeco Field should also work to Happ's advantage.
Drew Hutchison is a respectable option for the coming week, as he will work on the road twice, in Seattle and on the South Side of Chicago. The 23-year-old has been much better on the road than at home this season, although he took a big step toward fixing his issues at Rogers Centre when he allowed one hit over 8 2/3 innings his last time out. But Hutchison registered just one quality start in five tries during July, so it is a bit soon for fantasy owners to jump back on board. The chances are high that there will be a clunker somewhere in this two-start stanza. He also faces Hernandez and Chris Sale in his two appearances, so it will be difficult to get a win.
@daughtery_byron's question raises a good point for all fantasy owners to consider. At this point in the season, the placement in each category in roto standings is a powerful factor in decision making. If Byron is in a tight race in strikeouts, he could choose to go with Hutchison, who will likely rack up more K's in two starts than Happ will in one outing. But if Byron is battling several other owners in ERA and WHIP, then Happ becomes the correct option.
Would you trade the #7 pick in the 1st rd for the #6's 2nd and 3rd rounders? I'd have back to back picks in 2nd/3rd rds -- @YeahThatsKosher
The recommendation here is to make the deal. Without knowing the size of the league, this owner is giving up the seventh-overall pick in the draft for roughly pick Nos. 20 and 30. While the lure of the seventh pick is great, there are plenty of busts that emerge from the middle of the first round. Players such as Chris Davis, Carlos Gonzalez, Robinson Cano, Prince Fielder and Hanley Ramirez were picked in the back-half of the first round in many 2014 drafts. All of those players have given various degrees of disappointing returns. By trading that pick for two early selections, the risk is spread out. And, all picks in the top 30 have a good chance of being fantasy studs. Owners could have nabbed players such as Carlos Gomez or Adam Wainwright with the 20th pick in most leagues this season and, at pick No. 30, they could have come away with players such as Ian Desmond or David Price.
Fred Zinkie is a fantasy baseball writer for MLB.com. This story was not subject to the approval of Major League Baseball or its clubs.