Felix extends record run as bats bring thunder
Seattle ace lowers ERA to AL-best 1.95; Cano's HR sparks rout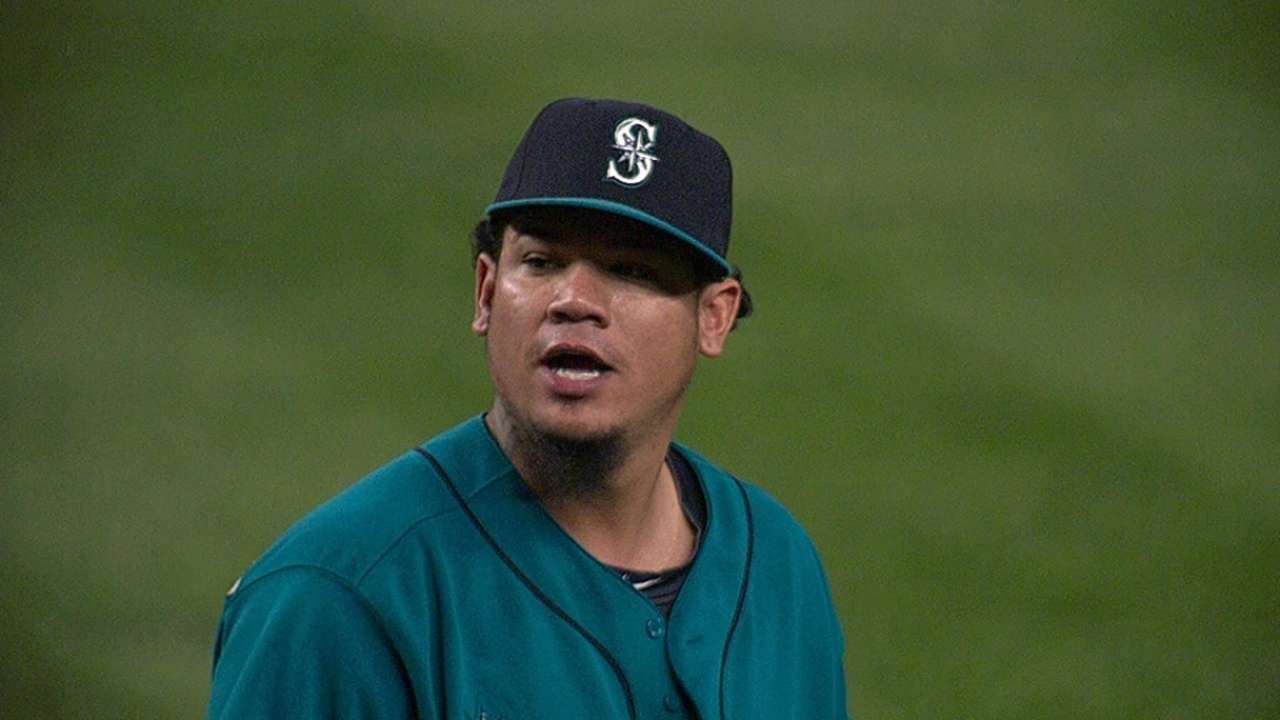 SEATTLE -- On a night with an electric atmosphere at Safeco Field, even Mother Nature chipped in with a little thunder and lightning as the Mariners continued their charge in the American League playoff race Monday with an 11-1 victory over the Blue Jays.
Felix Hernandez continued his unprecedented run and Robinson Cano helped supply some offensive thunder of his own for The King, as the Mariners improved to 6-1 on this homestand and moved to one game back in the chase for the final AL Wild Card berth.
"That was a key game right there," said Hernandez, who is gunning for the first postseason of his outstanding 10-year career. "That was unreal. It was pretty good. We're fighting. We have to continue to fight and do the little things."
The Mariners did plenty of big things in moving ahead the Blue Jays in the Wild Card race. Cano's solo home run and RBI double capped a seven-run outburst in the sixth inning, with his second at-bat accompanied by a lightning flash and loud thunder in the background before the Safeco roof was closed minutes later.
"That was scary," said Cano, who supplied his own power in a 2-for-3 night that lifted his average to .333, two points behind Jose Altuve of the Astros in the AL batting race.
Catcher Mike Zunino and shortstop Brad Miller contributed RBI triples in the same inning, as Seattle poured it on against a Toronto club that had played 19 innings on Sunday night before flying across the continent to start an eight-game road swing.
A raucous crowd, split between yellow-towel-waving Hernandez fans and blue-shirted Jays fans down from neighboring Canada, made for a playoff atmosphere and attendance of 41,168 at Safeco, and the Mariners ace delivered another in a series of sterling performances.
"It was awesome," said Hernandez. "The crowd was unbelievable. They're part of the game. They cheer, and not only for me, but for the whole team. We get a lot of energy the whole game."
Hernandez gave up just one run -- a solo blast by Jose Bautista -- while allowing three hits with no walks and eight strikeouts over seven innings, improving his record to 13-3 with an AL-leading 1.95 ERA.
The 28-year-old extended his Major League record streak to 16 straight games of seven or more innings while allowing two or fewer runs, which is now three more than the previous mark of 13 by Tom Seaver with the Mets in 1971. He also surpassed Gaylord Perry's 1974 record of 15 straight starts with seven-plus innings with two or fewer earned runs (as opposed to just runs).
"I'm running out of words for Felix," said manager Lloyd McClendon. "He really stepped up and gave us a great performance tonight. He was pretty good."
During the record-breaking stretch of 16 games, Hernandez is 9-2 with a 1.41 ERA and 134 strikeouts in 121 innings.
"It's something else," Zunino said of the streak. "But he is something else. That's all you can say. He's got the best stuff right now and he's pitching, too. When you have a combination of both, it's pretty hard to score multiple runs off him."
Before being lifted at 96 pitches, Hernandez reached 2,005 innings for his career, becoming the youngest pitcher to reach the 2,000-inning milestone since Dwight Gooden did it as a 28-year-old in 1993. Jamie Moyer holds the Mariners' record for innings pitched at 2,093.
Bautista's solo blast in the fourth was just the seventh home run allowed by Hernandez in 25 starts this season and fourth in his last 20 outings.
But the Mariners answered with a pair of runs in the bottom of the fourth as Cano walked, Kendrys Morales doubled, Kyle Seager scored Cano with a sacrifice fly to deep center and Zunino followed with a bloop RBI single just inside the right-field line.
Seattle then busted things wide open with the seven-run sixth, hitting double figures in scoring with Hernandez on the hill for the fifth time this season.
The Mariners were sharp on defense as well, with Cano gunning down Colby Rasmus as he tried advancing to third on a ground ball in the second to help Hernandez out of an early jam after a leadoff double.
Cano later sprinted to haul in a pop fly in right field, and Seager finished the stellar glove work in the ninth with a diving stop of a line drive by Munenori Kawasaki.
"We're playing good baseball," said Cano. "When you do the little things and don't try to do too much, that's when you start playing really good. We're bunting, we're moving guys over, trying to get guys into scoring position. That's the way we're playing right now."
Zunino relished both of Cano's outstanding defensive plays from his perch behind the plate.
"I think there's only one guy that may make both those plays in the same game," he said. "It's pretty impressive. There's never any sense of panic. He never rushes anything. That play at third just shows how well he thinks about the game ahead of time. He's always one step ahead."
It all added up to the Mariners now being just one step behind in the Wild Card race. With the Royals leapfrogging Detroit for the AL Central lead with their eighth straight win, the Mariners are now chasing the Tigers for the final spot. The Mariners moved to one game back at 63-55, with Toronto now two back at 63-57 and the Yankees another game behind at 61-57.
Greg Johns is a reporter for MLB.com. Follow him on Twitter @GregJohnsMLB as well as his Mariners Musings blog. This story was not subject to the approval of Major League Baseball or its clubs.