Fatigued club held in check by Mariners ace
Bautista's homer lone spark on night after 19-inning victory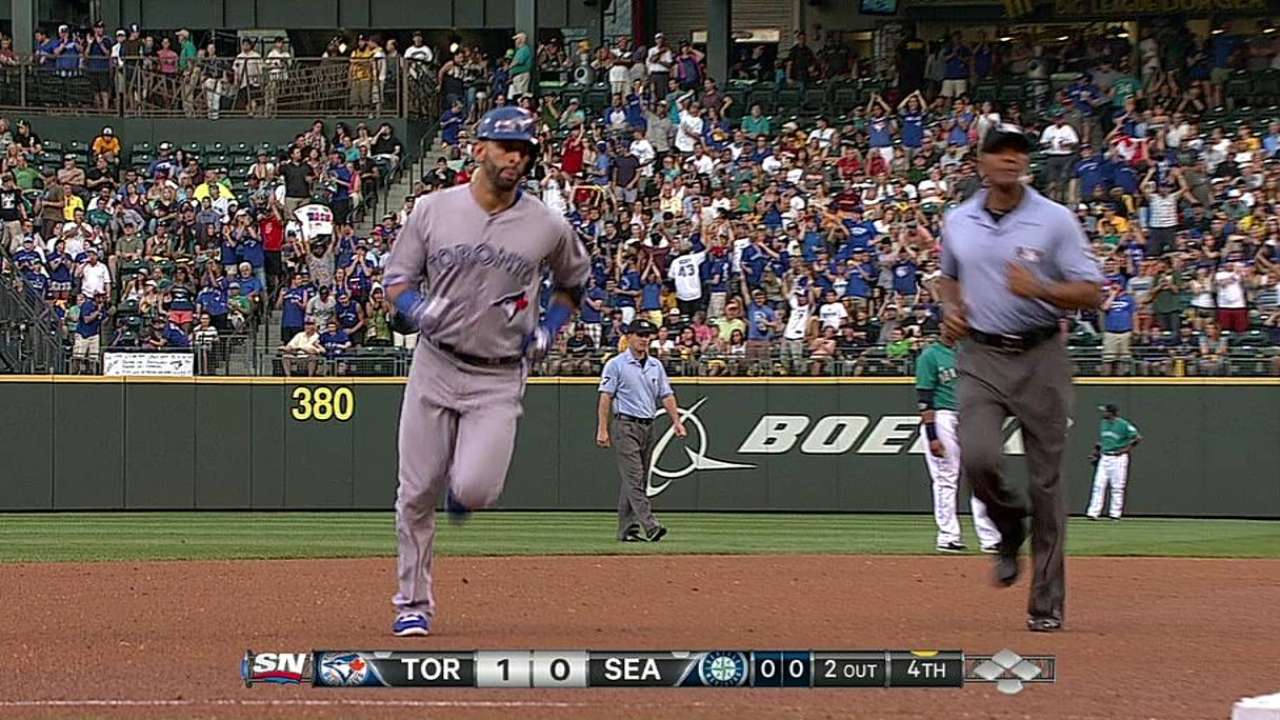 SEATTLE -- The Blue Jays were hoping to build off their recent 19-inning win over Detroit, but instead the club found out the hard way how much that victory cost.
Toronto's bullpen was left battered and bruised after Sunday's emotional victory. All seven relievers were pressed into action, and when the Blue Jays traveled west, they arrived in Seattle with hardly anyone available to pitch.
The lack of arms proved costly as Drew Hutchison was unable to pitch his way out of the sixth inning and the Blue Jays essentially had to wave the white flag in an 11-1 loss in Game 1 of a crucial series vs. the Mariners.
"I felt good, unfortunately I made some bad pitches and they got hit," Hutchison said. "I made a couple of decent pitches, in the fourth one stayed fair and in the sixth same thing, just stayed in the line. So it's disappointing. ... We lost big tonight and I had a part in that."
The final score overshadows the fact that Toronto and Seattle were locked into a tight ballgame until the sixth inning. The Blue Jays entered the bottom half of that frame trailing by one with Hutchison seemingly in control, but it didn't take long for his outing to unravel.
Robinson Cano led off with an opposite-field homer to left for his 10th of the season. Hutchison retired the next batter but then issued a walk and a pair of doubles as Seattle jumped out to a 5-1 lead. That spoiled an otherwise strong night by Hutchison.
The difference between Hutchison's sixth inning and his previous five is that a lot of pitches were left up in the zone. Manager John Gibbons noticed and possibly would have made a move for the bullpen even quicker but had to give Hutchison every possible opportunity to keep the game close because after him there wasn't much left.
"That's how quick things can change," Gibbons said. "I thought Hutch was good early on and then the ball started coming up. He was really keeping it down early on. Cano, leadoff home run, you don't mind giving up some singles the other way but he has the ability to drive them out, too. That kind of started things."
The only rested pitcher the Blue Jays had available was left-hander Brad Mills, who had his contract purchased from Triple-A Buffalo prior to the game. Unfortunately for Toronto, Mills struggled from the moment he stepped on the field and Gibbons had no choice but to let it all play out.
Mills allowed a triple, walk, single and a double before recording an out. Four more runs came around to score in the inning and Seattle added another pair in the seventh. The only consolation prize was that Mills managed to get through the eighth inning without Gibbons having to make a move for the bullpen.
"That didn't go well," Gibbons said rather succinctly a couple of minutes after it was announced Mills had been designated for assignment.
The Blue Jays had the unenviable task of trying to solve Hernandez. Seattle's No. 1 starter entered the game having pitched a Major-League record 15 consecutive starts of at least seven innings while yielding two earned runs or fewer, and his numbers got even better.
Jose Bautista provided the lone spark in the top of the fourth inning when he sent a 2-2 pitch over the wall in left field for his 23rd home run of the season. Bautista has reached base in 20 consecutive games, and over that span he also has five doubles, six homers and 17 RBIs.
Hernandez then went into cruise control for the rest of his outing. He didn't issue a walk and allowed a total of three hits over seven dominating innings. The last time Hernandez was unable to pitch at least seven innings came way back on May 12 in a 12-5 win over the Rays.
"That was a key game right there," Hernandez said. "That was unreal. It was pretty good. We're fighting. So we have to continue to fight and do the little things."
Toronto will play two more games in Seattle before continuing its three-city road trip with series in Chicago and Milwaukee.
Gregor Chisholm is a reporter for MLB.com. Read his blog, North of the Border, and follow him on Twitter @gregorMLB. This story was not subject to the approval of Major League Baseball or its clubs.