Fresh faces help Padres topple Rockies
Almonte doubles before Solarte's go-ahead homer; Liriano gets RBI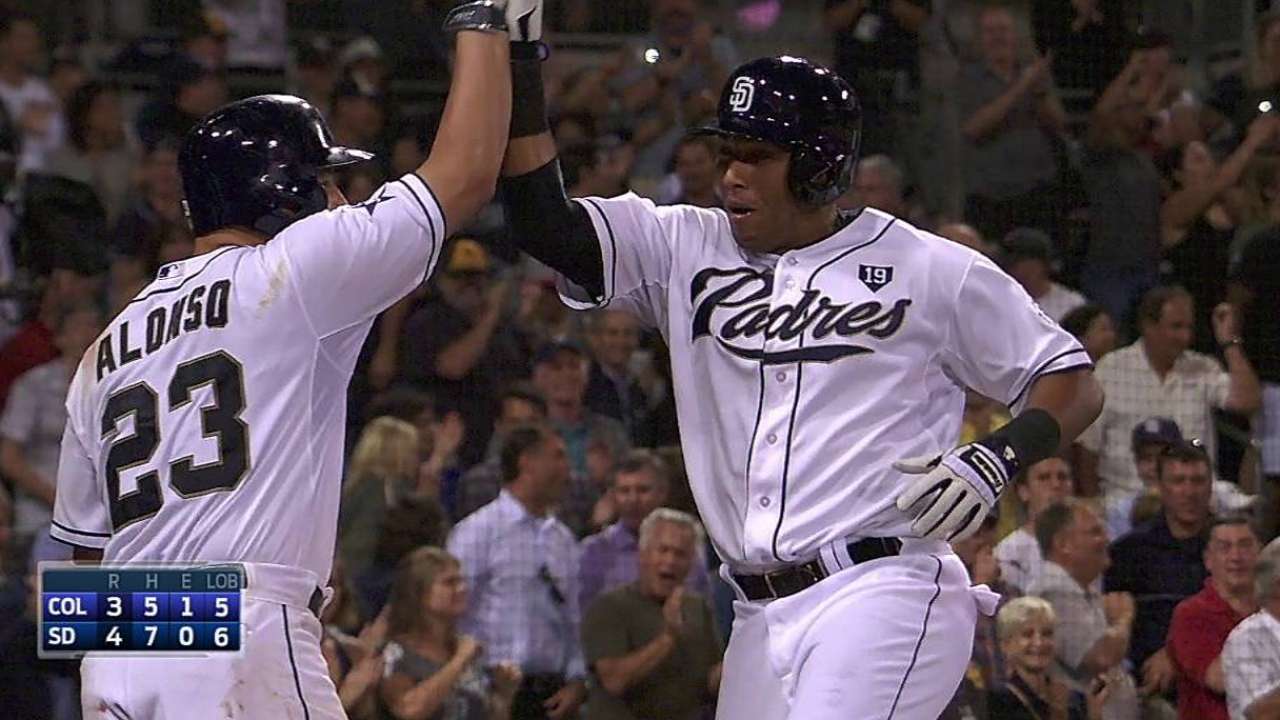 SAN DIEGO -- Earlier Monday afternoon, after new general manager A.J. Preller formally introduced himself to the Padres during a meeting before batting practice, energized and injured starter Andrew Cashner exclaimed that "change is good."
Then he and Preller watched the Padres continue to go out and play like it.
In what has been an ongoing pattern since the All-Star break, the resurgent Padres clipped Colorado, 4-3, and, once again, a batch of newcomers led the way.
Add to that an old, reliable bullpen that absolutely annihilated the Rockies from the sixth through ninth innings, and change is becoming very good for the Padres.
"It shows the fight we've got in this club," said reliever Nick Vincent, who retired all six Rockies he faced and teamed with Kevin Quackenbush and Joaquin Benoit to set down 12 in a row, including nine by strikeout. "We have new guys and a lot of younger guys who want to play in the big leagues.
"We've got some energy now on the club."
Abraham Almonte, acquired from the Mariners late last month in the Chris Denorfia deal, ignited what would turn out to be the game-winning rally by walloping a pinch-hit double to start the bottom of the seventh. Two batters later, Yangervis Solarte, plucked from the Yankees in exchange for Chase Headley last month, crushed a two-run homer.
An inning earlier, rookie Rymer Liriano's first big league RBI, a one-out sacrifice fly, pulled the Padres to within 3-2.
"I was excited for him," Vincent said. "He's a good player. He's capable of being a player like [Yasiel] Puig. He's got a build like Puig, an arm like Puig and power like Puig."
At this point, if Liriano even becomes Puig Lite, the Padres will take it.
In his much-anticipated debut after hitting .452 in 16 games for Triple-A El Paso, Liriano was frozen by a Jordan Lyles curveball for strike three in his first plate appearance in the second. Then he was drilled in the hand by a pitch in the fourth before barreling up a fastball in the sixth for a solid shot to center field that sent Yonder Alonso home.
"I feel really great," Liriano said. "Excited."
Right now, though, it is Solarte who continues to find the dramatic moments. He now has produced an RBI in nine of 18 games since tugging on a Padres uniform. Since July 23, the day he joined the club, Solarte is tied for the team lead in homers (three) and RBIs (11).
The game-winner Monday came when he launched a 1-0, 92 mph Boone Logan fastball well over the left-field fence.
"Oh, man, very nice," Solarte said. "I was feeling good. We won, that's important for me."
Call them late starters, late bloomers or simply late to the party, there is no disputing that there is a different energy around this club following a handful of July and August moves. Even Monday's starter, rookie Jesse Hahn, was not on the Opening Day roster.
The Padres now are 14-8 since the All-Star break, best record in the National League. Entering Monday, their .619 winning percentage since the break ranked fourth in the Majors, behind only Kansas City (.682), Baltimore (.652) and Tampa Bay (.619).
It is .636 now.
There is no telling what the Padres will look like once Preller has the chance to begin evaluating and dive into this roster. But a team that was ripe for change is taking to that concept like the fish to tacos around these parts.
Hahn has a terrific drop-off-the-table curveball that can be sharp or loopy. But there is something else that has manager Bud Black's attention, too, where the rookie right-hander is concerned: his poise and his heartbeat.
And on a night when Hahn didn't exactly have his best curveball, those two nearly carried him through -- all the way up until Corey Dickerson finally deposited one of those flat curveballs over the right-field fence for a three-run homer in the sixth to put Colorado ahead, 3-1.
Black noted that Hahn still took a two-hit shutout into the sixth inning despite feeling for his curve throughout most of his first five innings.
"Heartbeat," Black reiterated, circling back to a pregame talking point. "He's calm and doing the job."
Fact is, it isn't often that Hahn or the Padres get hurt with the home run. Going into Monday's series opener, the Padres had allowed only 82 homers, tied for 27th in the Majors. Only the Nationals (76) and Cubs (79) had surrendered fewer.
Hahn, meantime, had gone eight consecutive starts without surrendering a homer but now has allowed two in his past two starts.
Black hooked him immediately after Dickerson's moonshot dropped into the right-field seats. Vincent and Quackenbush delivered stellar relief work from there over the sixth, seventh and eighth innings before Benoit converted his fifth save in his past seven outings and sixth overall.
Stellar, in fact, probably is a serious understatement. Vincent fanned the final batter he faced, Quackenbush struck out the side in the eighth and then Benoit whiffed the side in the ninth.
"They came in and absolutely shut us down," Rockies manager Walt Weiss said. "They took complete control of that game late."
It was eye-opening, the pop-pop-pop of fastballs into the catcher's mitt. Since data has been kept dating back to 1974, the Padres are only the fourth Major League team to end a game with seven or more consecutive strikeouts. The others: the Kansas City Royals (Sept. 28, 2010, against the Twins), the Royals again (Aug. 29, 2010, against the Indians) and the Yankees (May 4, 1981, against the Angels).
"I like the fact that they were throwing strikes, pitching aggressive and pitching with conviction," Black said.
The Padres moved within seven games of .500 for the first time since June 8, adding some intrigue and good vibes to a season that got away from them early.
Where it goes from here remains anybody's guess, but one thing is certain: The changes have added a twist of fun.
"The new guys have been awesome," said Quackenbush, who entered to a "Quack! Quack! Quack!" clip from "The Mighty Ducks," heard the fans pick it up and then entered the postgame kitchen in the Padres' clubhouse to more of those chants from his teammates. "They've been spark plugs to the team.
"They've brought a lot of energy to the team, and it's been a lot of fun."
Scott Miller is a contributor to MLB.com. This story was not subject to the approval of Major League Baseball or its clubs.