In return, Mauer ends 'crazy day' with decisive hit
Twins star snaps tie on RBI single in ninth; Milone solid in club debut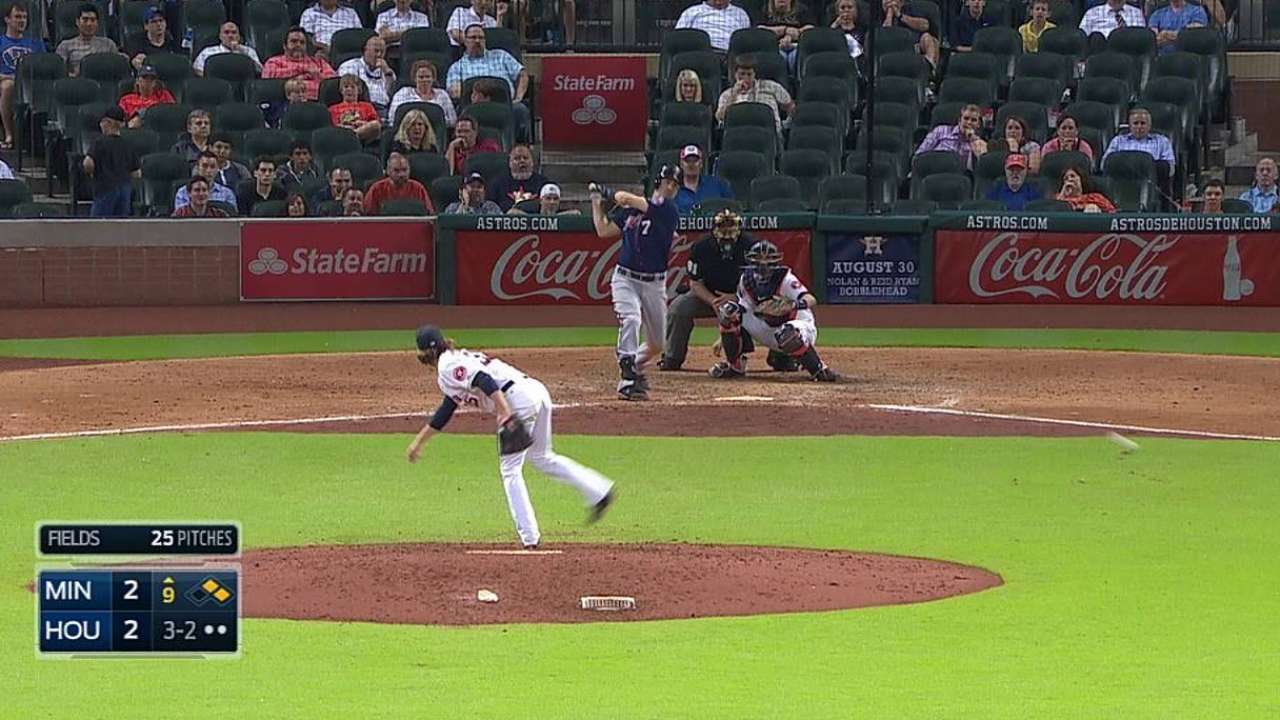 HOUSTON -- Joe Mauer is back.
Mauer's RBI single in the ninth inning broke a tie and lifted the Twins to a 4-2 win over the Astros on Monday night at Minute Maid Park.
The Twins had a different look about them Monday. Mauer, who reached base three times and had two hits, was reinstated from the disabled list earlier in the day, and recently acquired left-hander Tommy Milone was making his first start as a Twin. But gone was outfielder Josh Willingham, who about an hour before the game was traded to the Royals for a pitching prospect, right-hander Jason Adam.
"A crazy day," said Mauer, who was pleased with the win, but saddened by the trade of a good teammate. "A good way to end. To win the ballgame was the way to end it."
It came down to the ninth. And Mauer's two-out single to left field off hard-throwing Josh Fields scored Jordan Schafer. On the hit, left fielder Domingo Santana inexplicably held onto the ball as Brian Dozier, who was on first before the hit, raced all the way home with the second run. The official scorer ruled that Dozier scored on a fielder's choice.
"I haven't seen velocity like that in a long time," said Mauer, who was 2-for-4 with a double that barely missed being a home run to left. "He was pumping it in there pretty good. I told myself to stay short and not try to do too much. "
"We've always said he could hit," said Twins manager Ron Gardenhire.
Left-hander Glen Perkins closed out the Astros (49-70) with a scoreless ninth inning for his 29th save, making a winner out of Brian Duensing (3-2).
Fields (2-5), who entered in the ninth, took the loss.
"It's uncharacteristic when you look at the success in which he's had," said Astros manager Bo Porter. "That's all part of it. You're not going to throw up zeros every time you go out there."
Milone served up solo home runs to Jose Altuve in the first and Chris Carter in the fifth in his six innings.
"I felt OK," said Milone, who allowed eight hits with five strikeouts and three walks. "I was a little amped up at the beginning.
"I'm going to give up my share of hits. Normally I don't walk as many guys. It seemed like each inning I had to wiggle my way out of something."
Leadoff hitter Danny Santana had three singles for Minnesota (53-64), who improved to 18-12 all-time against Houston. The Twins had 11 hits, and Dozier started a 4-6-3 double play with the bases loaded to end the second.
"That double play was a shift right there," said Milone. "It could have turned into a bad inning."
The win was gratifying for the Twins.
"We got enough hits in some big moments, and a big one from Joe," said Gardenhire. "So, welcome back."
Mauer's third-inning double was his 300th.
In a tie game, Minnesota's Trevor Plouffe was thrown out at the plate trying to score from second on a base hit by Chris Parmelee to end the top of the eighth. Plouffe was retired on a strong throw from right fielder Robbie Grossman.
Mauer looked good at the plate after a rehab stint at Class A Cedar Rapids. After drawing a full-count walk in the first, he just missed a home run by a few feet in his second at-bat in the third. Mauer settled for a double after the ball hit high atop the left-field scoreboard, giving him a 13-game hitting streak.
Mauer lined out to center to start the fifth, and he hit a sharp liner to first baseman Jon Singleton, doubling off Dozier to end the seventh.
Milone, who got a no-decision, has won six straight decisions (since May 9). The left-hander was acquired from Oakland for outfielder Sam Fuld on July 31
Eduardo Escobar doubled in his first two at-bats for Minnesota, which had a double in each of the first four innings.
Minnesota took a 2-1 fourth-inning lead when Escobar scored from third base on an errant throw on a pickoff throw to first from Astros starter Brad Peacock. Peacock's throw eluded Singleton in an attempt to retire Santana, who scampered to third base on the play. In pursuing the loose ball, Singleton bowled over first-base umpire Bill Welke.
Carter's 26th home run, a shot to left field in the fifth, tied the game at 2.
Peacock labored, but got a no-decision. In five innings, which took 115 pitches, the right-hander allowed two runs (one earned) and seven hits with five strikeouts and one walk. He needed 99 pitches to get through four innings.
Richard Dean is a contributor to MLB.com. This story was not subject to the approval of Major League Baseball or its clubs.