Defensive miscues loom large in tight loss to Twins
McHugh's error, Santana holding ball result in pair of Minnesota runs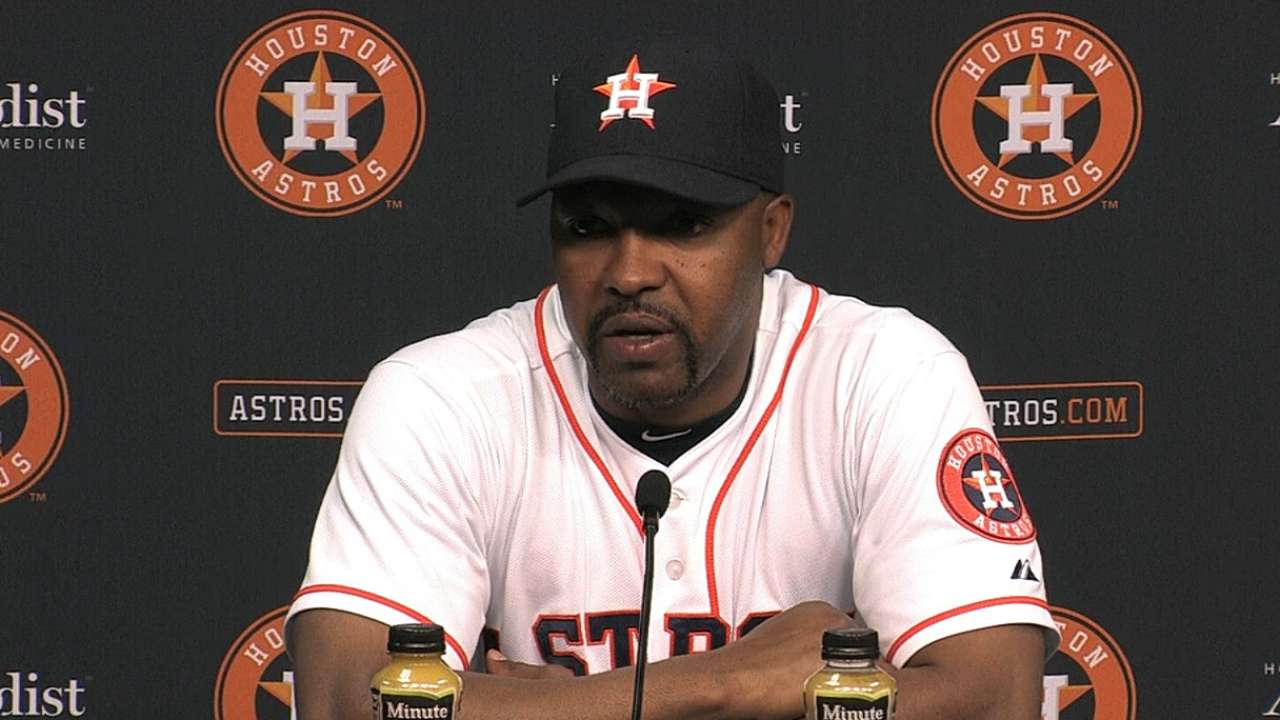 HOUSTON -- Two costly miscues by the Astros -- one a throwing error early in the game and another an inexplicable mental error in the ninth inning Monday night -- are the kinds of things manager Bo Porter finds it harder to stomach as the season starts to wind down.
Sure, starter Brad Peacock could have been sharper and more efficient, and the offense could have done more than settle for solo home runs by Jose Altuve and Chris Carter, but the defensive mistakes loomed as large as anything for the Astros in a 4-2 loss to the Twins at Minute Maid Park.
"To me, that's basic -- picking to first base and having the ball in your hand in the outfield and throwing it a cutoff man," Porter said. "That's basic."
The Twins rallied for two runs in the ninth inning to break a 2-2 tie when Joe Mauer, who returned to the lineup after missing 34 games with a strained right oblique muscle, singled to left with two outs to score Jordan Schafer from second and Brian Dozier from first after Astros left fielder Domingo Santana inexplicably held onto the ball too long.
"I was just trying to cut it and I just panicked, you know," Santana said. "I was just trying to throw the ball to the cutoff man, but I just panicked."
Schafer and Dozier had both reached base via walks by reliever Josh Fields, which made the loss even more difficult to swallow for the Astros. The reliable Fields has allowed five runs and five hits in three innings in his last three outings.
"I haven't seen velocity like that in a long time," Mauer said." He was pumping it in there pretty good. I told myself to stay short and not try to do too much."
Santana's bizarre hesitation in left field capped another rough day for the rookie, who went 0-for-4 with three strikeouts in his first start since being called back up a week ago. He's 0-for-17 with 14 strikeouts in the Majors this year.
"It's real tough," he said. "It's not fun."
Porter said Santana should have thrown the ball to anybody instead of holding it as Dozier motored around third.
"You've just got to get the ball in," he said. "Whether you get the ball to the shortstop or you throw it to the first baseman, you've got to get the ball to the infield. There's at no point should the outfielder hold onto the baseball."
Peacock needed 115 pitches to meander his way through five innings, but held the Twins to two runs (one earned) and seven hits in what is perhaps a step in the right direction.
"When you look at the pitch count, after that first inning you didn't think he's made it through five," Porter said. "He found a way to make it through five innings. It was better command, but at the same time it was a lot of deep counts. There was some high leverage to those innings as well."
Peacock allowed the Twins to load the bases with no outs in the first, but allowed only one run on a fielder's choice by Trevor Plouffe that was nearly a double play to end the inning. Altuve homered in the bottom of the first to tie the game at 1.
"That first inning, I don't know what's going on right now," Peacock said. "But I definitely felt the best I have in awhile. You just have to give those guys credit over there because they fouled a bunch of good pitches off and made me throw a lot. I threw a lot of strikes and felt great out there."
The Twins scored an unearned run against Peacock in the fourth to take a 2-1 lead when he made an errant pickoff throw, allowing Eduardo Escobar to score from third base.
"I just choked it," he said. "I don't make errors too much, but it kind of got away from me. The game could have gone a little different had I made that play, but it happens and you just have to move forward."
The Astros used another homer to tie the game when Carter bashed his 26th with one out in the fifth, but they stranded eight runners and were 0-for-6 with runners in scoring position. Right fielder Robbie Grossman threw out Plouffe at the plate to end the eighth, so not all was lost on defense.
Jake Marisnick tied a career high with four hits, all singles, for his third multihit game in his last four games.
Brian McTaggart is a reporter for MLB.com and writes an MLBlog, Tag's Lines. Follow @brianmctaggart on Twitter. This story was not subject to the approval of Major League Baseball or its clubs.