Hustle continues dominance, wins NYBC title
California squad launches three home runs, finishes tournament undefeated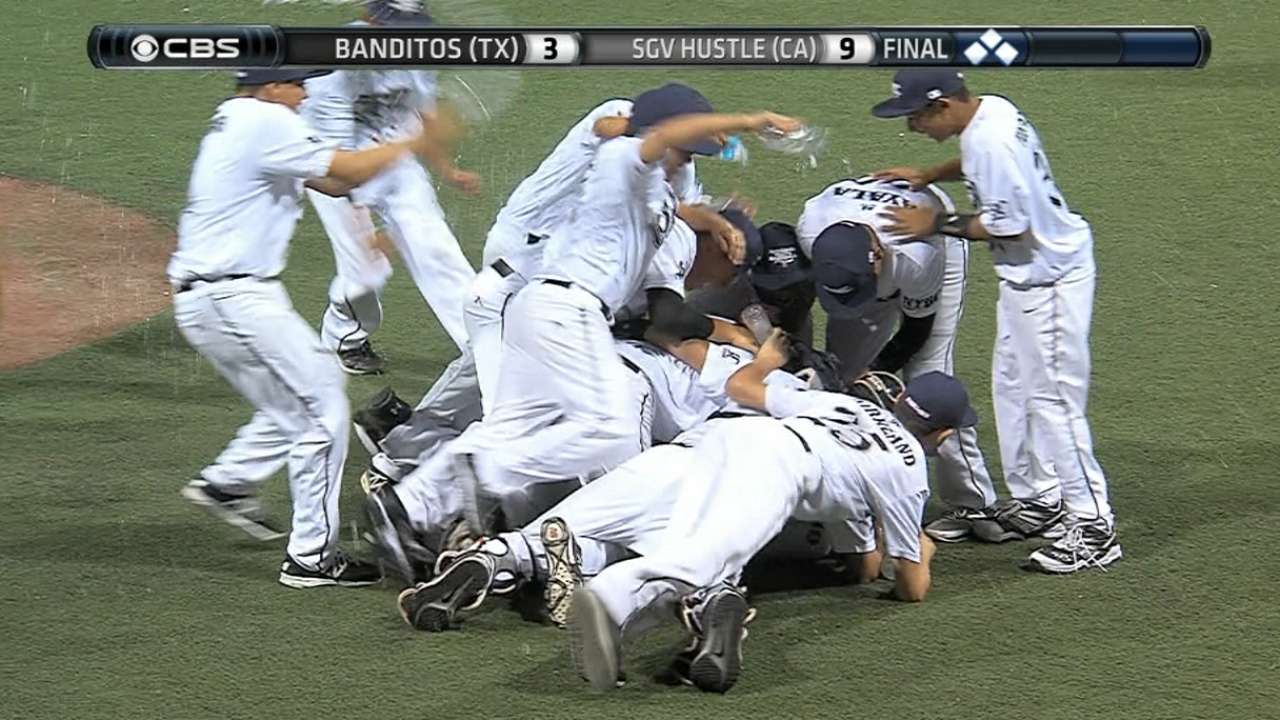 YAPHANK, N.Y. -- San Gabriel Valley Hustle, the top-ranked ranked 12-U team in the country, didn't just win their first National Youth Baseball Championships tournament. They annihilated it.
Like they had done all weekend at the Baseball Heaven complex, the Hustle used their high-octane offense and rode a dominant six-strikeout performance from starter Kyle Kirkland to defeat the No.-2 ranked Houston-based Banditos Black, 9-3, on Monday night, for their program's first NYBC 12-U title.
Power was really the theme (perhaps ironically) for the Hustle. In total, the team from Azusa, Calif., launched 25 home runs -- hitting multiple goners over each of their six lopsided games and outscored opponents 59-11. Two of those homers came in the final from Joshua Sosa-Comacho, a solo shot in the second and a game-breaking grand slam to right that keyed a five-run third inning and earned him MVP honors.
Power came from the mound, too, especially from lefty Joseph Naranjo, who topped out at 81 mph with his fastball and then utilized his 61 mph offspeed pitch when he needed it. Naranjo tallied five strikeouts to help close out the victory, one of over 100 the SGV squad compiled on the season, coupled with just three losses. Ranked No. 1 all season, the Hustle mercy-ruled opponents three times over the tournament and went three-up, three-down only once during their three televised games.
"It's a relief. We've been looking forward to this since we were 9 years old," said Hustle head coach Robert Prieto, who is in his fourth year coaching this team. "We're one of the only teams here that came with our original kids. When other teams made pickups, brought kids from out of state, we stayed with our base in our area, about a 30-mile radius, and we built this. I feel proud, because we built this team together. We have great parents. Our parents work hard."
It began unusually, though, when SGV opened the game immediately trailing, 1-0, the first time it was behind the whole weekend.
"I wasn't nervous at all," said Prieto, who was uncharacteristically animated in the early going. "I was a little nervous before the game started, but the boys actually put me at ease. They weren't rattled or scared at all. ... It was the top of the first. We still had to bat."
They did, and if there was any doubt Monday night about how the Hustle would respond, it was ended when Oscar Favela skied a fastball over the left-field netting for a two-run blast. Then in the third, it was Sosa-Comacho's turn to change the game into a laugher.
"We knew right from the get-go to come out and do what we do best," said Sosa-Camacho, who hit his first home runs of the tournament Monday. "I'll just try to do my best, stay short in my hotspot."
"He hadn't hit one out," said Prieto. "I kept on looking thinking he's going to hit one out, but he's hit the ball hard all weekend, so it came at the right time."
That inning was plenty for Kirkland, who had contributed to the offense out of the cleanup spot all weekend, but this time got to help his team from the mound, only scattering a couple solo homers. Naranjo relieved him for the final two innings, inducing the final out to third base before his teammates mobbed him at the mound, dousing water bottles in celebration.
After the Hustle took the lead, which they never relinquished, the frustration transferred to the Banditos and head coach Ray DeLeon, shouting his motto, "Don't stop playing" to keep spirits alive. But Tyler Cacciatore, who had saved the Banditos from elimination Saturday, couldn't solve the Hustle's offense.
"You couldn't ask for a better showdown between the No. 1 and No. 2 teams in the nation, and they showed it and left it all out here," said Baseball Youth tournament director Ryan Sizemore.
"[The Hustle] played fantastic baseball, one of the best 12-U baseball teams I've ever seen. Doing this in its seventh year, I think they're the best 12-U team we've ever seen at NYBC."
That wasn't exaggeration and it would be fair to say SGV boasts many of the best 12-U players in the country, just as the Banditos and members of the other 16 teams supplied over the weekend. Still, there was something special about this team and the dominance they displayed in their first trip to the NYBC.
"It felt like another game, because we've been used to winning," said Kirkland. "We're trying to keep it going, keep being No. 1 over and over again just by hard work."
Hard work sure, but also simply utilizing their size and ability many high school players wished they possessed. As their head coach got splashed with an ice bucket, and as they hugged each other and realized the fruits of four years of playing together, the Hustle couldn't help but feel accomplished and proud of earning their victory medals in New York, some 3,000 miles from home.
"It just felt like I needed to get the win for our team and return back to California and show that California has the best baseball here," said a smiling Kirkland.
They certainly did.
Worth noting
Before the 12-U championship, two 11-U teams got their first taste of the national spotlight during their final game of their own NYBC tournament.
The Capital Renegades of Clifton Park, N.Y., defeated the YSL Bombers of Brooklyn, 4-2, thanks in large part to the player of the game, Zachary Konopka, who threw three innings of scoreless relief with five strikeouts, closing out the game to seal the victory. The Renegades, the top seed in the tournament, jumped out to a four-run lead in the first inning and never looked back, keeping the Bombers to just two scattered runs.
Jake Kring-Schreifels is an associate reporter for MLB.com. This story was not subject to the approval of Major League Baseball or its clubs.