Miller allows five runs as Cardinals drop opener
Jay hits two-run homer in the fourth, and ninth-inning rally falls short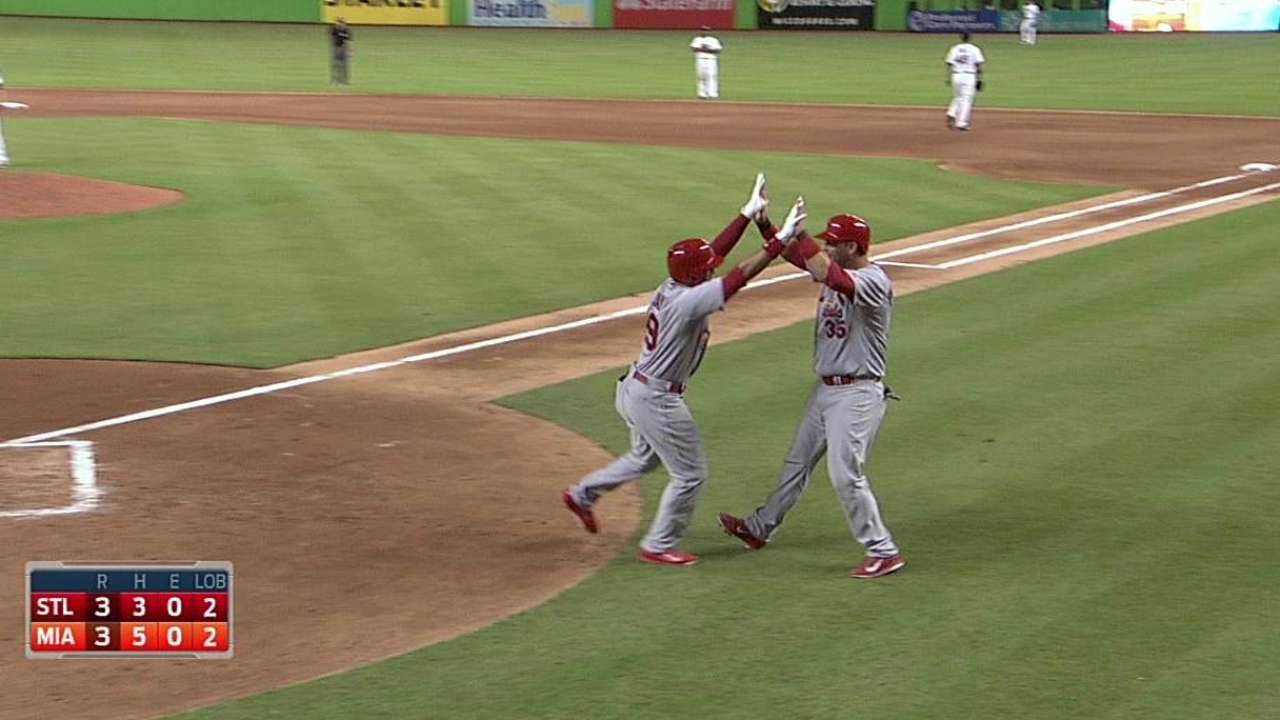 MIAMI -- In a series opener between clubs in the thick of the postseason hunt, the Cardinals turned to right-hander Shelby Miller -- fresh off three solid outings since returning to the rotation following the All-Star break.
Miller allowed five runs, including a pair of homers to Giancarlo Stanton, as the Cardinals' comeback fell short in a 6-5 loss to the Marlins on Monday night in front of 21,144 at Marlins Park.
With the defeat, St. Louis sits three games back in the National League Central and behind the Pirates as the second Wild Card, half a game ahead of the Giants. The Cardinals have dropped three of their last four.
In his previous three starts, Miller (8-9) had given up just five runs over 18 2/3 frames. He exited after five innings and 92 pitches (58 strikes), permitting eight hits -- five for extra bases -- with two walks and five strikeouts.
"I made some pitches at times, but when it came down to their best hitter on their team I throw two of the worst pitches I've probably thrown all night, and you can't do that," Miller said. "That's a guy who sees mistakes and does a good job of hitting those kind of pitches. He's leading the league in home runs, and there's the reason why. He's got a lot of power, he's a great hitter and I didn't help myself at all throwing those pitches right down the middle."
St. Louis was unable to capitalize on right-hander Tom Koehler's wildness in the first. After two of the first three batters walked, Matt Adams and Jhonny Peralta both flied out to end the threat.
In the bottom half with the infield in, Miller surrendered a two-run opposite-field homer to Stanton -- his 30th of the season -- on a 95-mph fastball. Christian Yelich had led off with a double and moved to third on Jordany Valdespin's sacrifice bunt.
Stanton struck again with two outs in the third, blasting a 2-2 pitch off Miller for a solo shot that hit the operable wall in left-center on a bounce.
It marked the second time this year Miller allowed a multi-homer game to an opponent. Pedro Alvarez connected on two April 4 in Miller's first start against the Pirates. He has now given up 17 on the season, most in the Cardinals' rotation.
When Casey McGehee followed with a double, pitching coach Derek Lilliquist and assistant athletic trainer Chris Conroy visited the mound to check on Miller. He remained in the game without needing to toss any warmup pitches.
The Cardinals rallied with three two-out runs -- two on first-pitch swings -- in the fourth to tie things up at 3.
Matt Holliday broke up the no-hitter with a leadoff double to right-center for one of his four hits, snapping a string of eight straight batters retired. After consecutive strikeouts, A.J. Pierzynski produced an RBI single to left and Jon Jay knocked a two-run homer to right for his third of the season.
Despite entering Monday with the fewest dingers in the NL, the Cardinals have now homered in five straight games tying their single-season high for consecutive games.
Miami responded with two runs in the bottom half on Adeiny Hechavarria's RBI triple to right that drove in Jarrod Saltalamacchia, who singled with one out. Miller struck Koehler out looking but Yelich singled up the middle to tack on an insurance run.
After chasing Koehler with back-to-back singles in the sixth, the Cardinals were unable to trim the deficit against righty Chris Hatcher. Jay flied out to shallow center, Oscar Taveras grounded out to Hatcher and pinch-hitter Daniel Descalso grounded out to third.
"We're playing a team that's fighting to win the division and get to the playoffs, just like we are, so you gotta make plays," Marlins manager Mike Redmond said. "It comes down to getting big hits and making plays."
Miami extended the lead to 6-3 in the seventh when lefty Sam Freeman threw a wild pitch with runners at first and second. The ball quickly bounced back to Pierzynski, whose throw to third rolled into the outfield, allowing Yelich to race home.
Kolten Wong, who was robbed of extra bases in the fifth by Stanton's diving catch at the warning track, hit an RBI triple out of his reach in the ninth and scored on Holliday's RBI single before closer Steve Cishek preserved the win by striking out Adams.
"These guys are making plays left and right," Wong said. "A bunch of those plays don't happen and this is a different ballgame. They're also hitting the ball really well. You're seeing Stanton go up there playing unreal. It was just one of those games that was tough for us."
A game after setting a season high in hits (17) and recording the most runs (eight) in more than a week, the Cardinals outhit the Marlins 12-11 yet fell short in the run column. They also left eight men on base. St. Louis dropped to 47-12 when outhitting the opponent.
"In these close games it all comes down to those little fundamentals that make the difference but overall I thought our guys went about it taking some real nice at-bats," manager Mike Matheny said. "We had plenty of hits, they just got bigger ones. They went further."
Christina De Nicola is a contributor to MLB.com. This story was not subject to the approval of Major League Baseball or its clubs.