Offense held in check as Braves fall to Dodgers
Atlanta, which has lost 10 of its past 12 games, scores two runs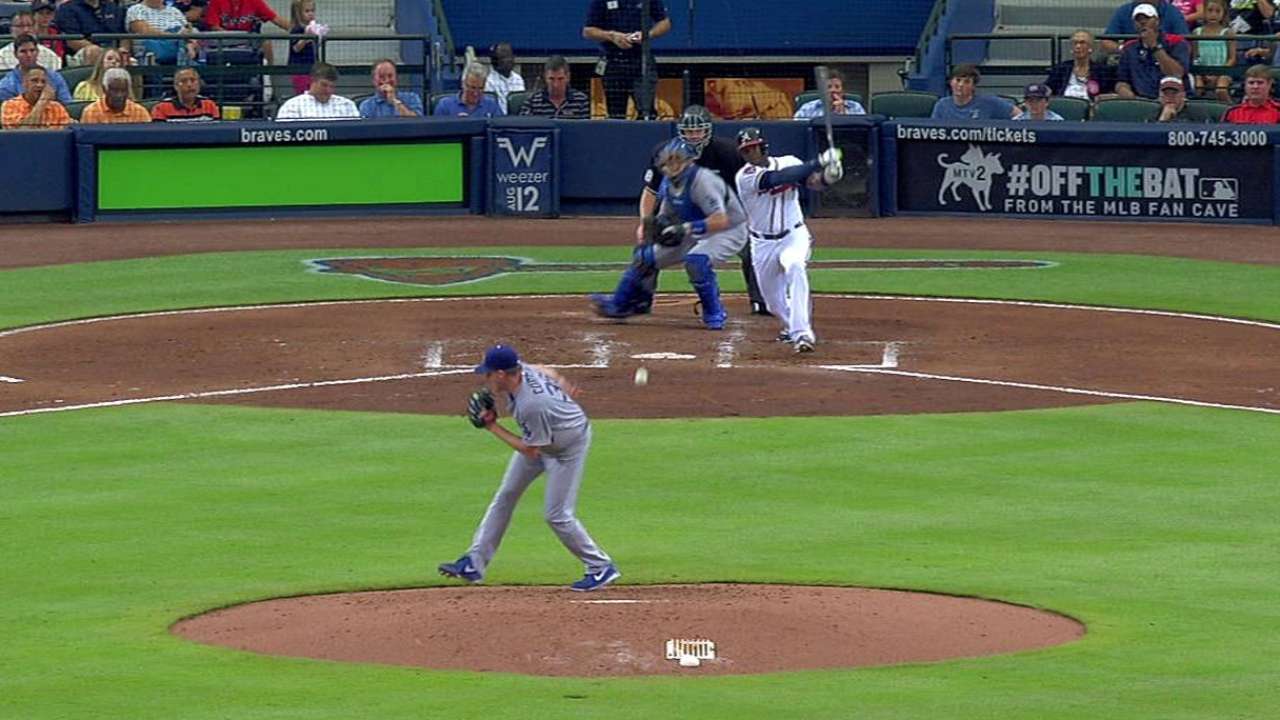 ATLANTA -- As the Braves have spent the past two weeks enduring their most demoralizing stretch of this season, they have been burdened by a maddening offense that has far too often left the pitching staff with no room for error. Such was the case again on Monday night, as Julio Teheran's late-inning misfortunes allowed the Dodgers to cruise to a 6-2 win at Turner Field.
"It can be frustrating," Justin Upton said. "I don't think anybody in this clubhouse is too frustrated yet, but obviously we want to do better. We just haven't. When you start getting frustrated with the game, that's when you start trying too hard and that's when things can really go south."
It is hard to imagine things going any further south than they have as the Braves have lost 10 of their past 12 games and scored two runs or less seven times during this span. Since tallying six runs off Stephen Strasburg during the first two innings of this homestand, the Braves have totaled seven runs in the 34 innings that have followed.
"They're fighting and we're fighting and it's just not there every day," Braves manager Fredi Gonzalez said. "I don't know if it's the lineup. I go sleepless nights trying to figure out where and who and that kind of stuff. We just need to go back out there tomorrow and get good at-bats. We've seen it."
After taking two of three from the first-place Nationals this past weekend, the Braves were looking forward to going through this four-game set against the Dodgers without having to face Clayton Kershaw or Zack Greinke. But Kevin Correia, who had posted a 4.94 ERA for the Twins before being traded to the Dodgers this past weekend, proved to be just as effective as the aforementioned aces.
Making his first start since being acquired on Saturday, Correia scattered four hits over six innings. The lone run he surrendered came via a one-out, fourth-inning single by Upton. While many might have been surprised by the results netted by the veteran hurler in his Dodgers debut, those who have watched the Braves compile the National League's 13th-worst OPS (.648) since the All-Star break were likely not shocked.
"We just haven't clicked on all cylinders yet," Upton said. "Hopefully, it's coming soon."
This certainly wasn't the most dominant of outings for Teheran, who allowed five runs and nine hits, including eight singles -- many of which were of the soft variety -- over 7 1/3 innings. But the 23-year-old hurler had surrendered just three hits (all singles) before allowing singles to five of the first six batters in the sixth inning.
Though he had recorded just 15 plate appearances since the end of the 2012 season, Correia notched a pair of hits, including a single to begin the decisive sixth. Adrian Gonzalez delivered a game-tying single and Carl Crawford notched a go-ahead single two batters later. Emilio Bonifacio, who moved to second base when Tommy La Stella exited in the second inning with a hamstring cramp, then fumbled a Justin Turner grounder that had the potential to result in an inning-ending double play and instead resulted in an RBI.
"I don't want to call it bad luck," said Teheran, who had allowed two earned runs or less in nine of 11 previous home starts. "That's part of the game. Those are situations I didn't face at the beginning of the game. I got a little bit in trouble and then I tried to get out of it and I couldn't."
Teheran exited after Matt Kemp's ground-rule double put runners at second and third with one out in the eighth. Newly acquired southpaw reliever James Russell then further extended his struggles against left-handed hitters by allowing an RBI single to Crawford, the only batter he faced.
Since being acquired from the Cubs on July 31, Russell has faced 11 left-handed hitters. He's allowed hits to five of them and walked another. This is just an extension of what he has done all season, as he has had much more success against right-handed hitters.
"I thought [Teheran] pitched better than what his line showed," Gonzalez said. "People are going to wake up tomorrow morning, look at the box score and say, 'Julio got beat up pretty good.' But I didn't see that."
Mark Bowman is a reporter for MLB.com. This story was not subject to the approval of Major League Baseball or its clubs.