Correia strong on mound, at plate in Dodgers debut
Righty holds Braves to one run, records two hits and scores a run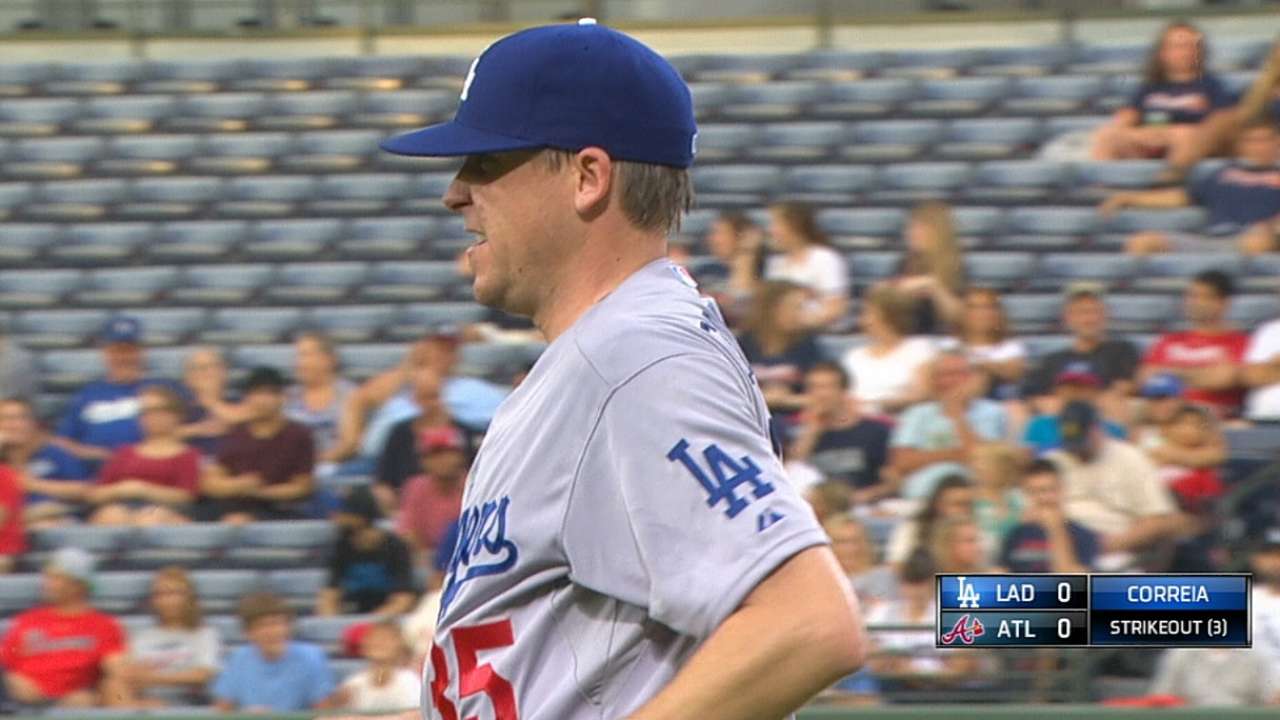 ATLANTA -- As Kevin Correia put on his shoes in the visitors' clubhouse at Turner Field following his victorious Dodger debut on Monday night, he turned to Clayton Kershaw and asked the left-hander how many media members were waiting to talk to him.
Kershaw laughed and replied, "There's a lot."
Correia, whom the Dodgers acquired from the Twins on Saturday, warranted such attention after notching two hits, scoring a run and limiting the Braves to just one run in six innings as Los Angeles claimed a 6-2 win at Turner Field.
Including postseason play, the Dodgers have won nine of their past 12 contests against the Braves. For Correia, it was his first win since July 12 and only his second victory in his past nine outings.
"To get an opportunity to play here is just awesome," Correia said. "To be able to get a win the first time out, I couldn't hope for anything more."
Correia has watched Los Angeles play since he grew up in Southern California, and simply suiting up for the Dodgers, who improved their lead in the National League West to a season-best five games, has given him quite a lift.
"I haven't had that feeling, I don't think, since being called up, I guess. That's almost what it felt like," Correia said of joining the Dodgers. "Being able to come over here and throw in some meaningful games, which I haven't been able to do in the recent past, and I come in and I have a locker next to the best pitcher on the planet [Kershaw], so I'm never too old to learn anything."
So even though Dodgers manager Don Mattingly plans to eventually remove Correia from the rotation and use him as a long reliever, Correia can't complain. In the middle of his 12th Major League season, he's hungry for his first postseason.
"That's what I play for right now," Correia said. "I've played long enough to where I'm not out there trying to do anything besides win baseball games. No matter how it has to get done, to have a team like this where every win is meaningful and you have a chance to go on to the postseason, which I haven't done in the past few years. I couldn't be happier with the spot I'm in."
Correia may not care how he wins, but he did it in impressive fashion on Monday by matching season-best numbers by giving up only one earned run on four hits.
He also limited the Padres to four hits in six innings on May 20. Monday's outing marked his ninth quality start in the past 12 outings.
The right-hander was perfect through three and managed to limit the damage thereafter. Emilio Bonifacio notched Atlanta's first hit and scored on a Justin Upton single in the bottom of the fourth.
"He mixed his pitches up and he didn't miss in the middle of the plate too many times," Upton said. "Usually you get hurt when you're missing over the plate. When you stay on the corners, usually you're all right. We just didn't get enough pitches on the white part of the plate."
"He's always been good against us," added Mattingly, who praised Correia's ability to his mix his pitches. "He's always kind of baffled because when you see it on tape and you look at it, it doesn't look like, you feel like you should hit him and then we never did."
Correia's gem appeared to be for naught through five innings as Braves hurler Julio Teheran had given up only three hits. Two of those came from Carl Crawford and Yasiel Puig, who were picked off in the second and fourth innings, respectively.
But the tide turned once Correia notched his second hit of the day to lead off the top of the sixth, setting the stage for the decisive three-run frame. Dee Gordon, Puig and Adrian Gonzalez followed with singles, tying the game at 1.
After Matt Kemp popped out to shortstop Ramiro Pena, Crawford plated the go-ahead run with a single to no-man's land between first and second base. A third run crossed when Justin Turner grounded out to second base.
"He swung the bat good, actually started a rally for us leading off that inning," Mattingly said. "Then Dee gets the hit, kind of opened that thing up. It was a good night. It was a little flat out there and it was good to kind of get that lead there."
Two innings later, the barrage continued. Puig drew a leadoff walk to begin the eighth, and Kemp chased Teheran with a ground-rule double. Crawford then tallied his second RBI with a single off lefty reliever James Russell.
Of Crawford's five multi-RBI games in 2014, he has only two since May 26. Both have come against the Braves.
Los Angeles pushed across two more in the eighth when Pena made a throwing error on what looked like an inning-ending double play off the bat of A.J. Ellis. With that, the Dodgers became the first team to tag Teheran with as many as five earned runs at Turner Field since the Reds hung five on him last July 14.
"I thought he pitched better than what his line showed," Braves manager Fredi Gonzalez said of Teheran. "People are going to wake up tomorrow morning, look at the box score and say, 'Julio got beat up pretty good.' But I didn't see that."
Joe Morgan is an associate reporter for MLB.com. This story was not subject to the approval of Major League Baseball or its clubs.