Miss Piggy visits 'Express Written Consent'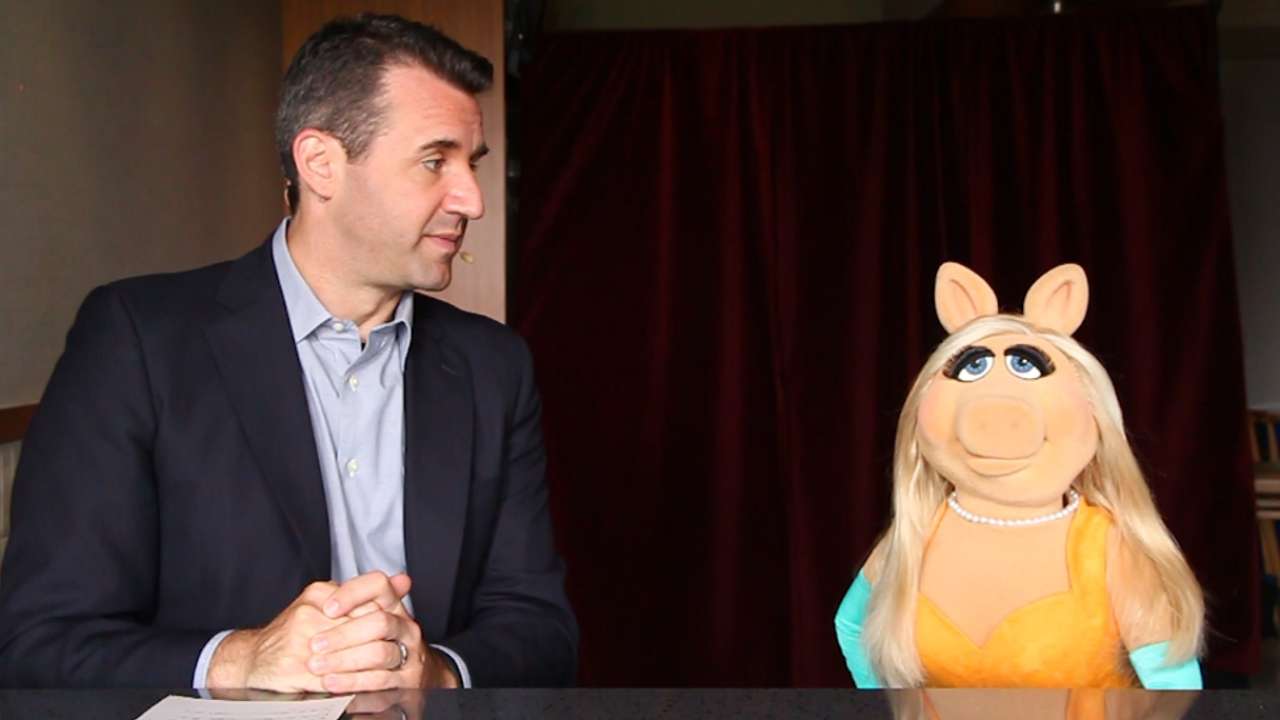 Of all of the true classic starlets -- those blond haired, blue-eyed vixens that have always defined the very stereotypical American beauty -- there really is only one that stands out among the rest.
She's perfectly coifed, dressed to the nines and has a strut that exudes more confidence than you'll find in a roomful of runway models. She is, of course, Miss Piggy, the Muppets' reining fashionista, a diva in every sense of the word, who made it cool to karate chop the one you love.
Currently touring with her Muppets cohorts to promote their newest movie, "Muppets Most Wanted," Miss Piggy was gracious enough to lend a few moments of her time to spend in the "Express Written Consent" booth with MLB.com host Jeremy Brisiel. Before they could get started, however, she gently submitted a very small, very reasonable list of requests in exchange for her appearance.
"I want season tickets," she began. "Sky box, next to the owners. Fully stocked food, beverages, lots of dessert. Heavy on the chocolate, light on the diet soda. Oh, and I get dibs, ME, I get dibs on who kisses who on the Kiss Cam.
"I'll need ice cream every 20 minutes. Have the vendor stop by every 20 minutes. Not 21. TWENTY."
With that out of the way, the interview began in earnest. J.B. marveled at Miss Piggy's youthful glow, even after all of these years in the spotlight.
"Have you had any felt work done?" J.B. asked.
The divine Miss P. wasn't taking the bait.
"How long did it take you to come up with that joke?" she shot back.
Unlike most actors from Hollywood, Miss Piggy didn't deny she'd gone under the knife for a little nip here and tuck there.
"Of course I've had work done," she said. "I mean, who hasn't?"
Then, casting a somewhat judgmental glance toward J.B., she added, "I mean, obviously you haven't but..."
Then she really dropped a bombshell.
"The parts you can't see right now," she said, referring to what's underneath the desk where they were perched, "are being worked on as we speak."
Ahem...
Let's be honest. Miss Piggy didn't become rich and famous by being a wallflower. She's out there -- way out there -- and what she wants, she usually gets. She's been chasing Kermit the Frog around for the better part of four decades, and as much as her "Kermie," as she calls him, pretends that he wants to escape her brazen chokehold, he always seems to find his way back to her, even when she's dousing him with ill-timed kisses.
Maybe it's his fear of the infamous karate chop that keeps him coming back for more. Who knows? As Frank Oz said in a Time Magazine article in 1978, "She wants everyone to treat her like a lady, and if they don't, she'll cut them in half."
In addition to her many on-stage talents, Miss Piggy seems to know a little about baseball, too. She finds pinstripes to be "very slimming," but if it were up to her, the uniforms would be a little more glam.
"Feathers," she said. "And a veil. Spice it up a little bit. And, the best looking team would automatically get three runs."
The interview was going swimmingly -- until it was time to play "Start, Bench, Cut." Apparently, while most of us can see the humor in cracking ham jokes while in the presence of a pig, the pigs actually find this all pretty offensive.
J.B. found that out the hard way, when he asked Miss Piggy to rank these three famous Ham(m)s: Jon, Mia and Virginia Baked.
"Ham?" she answered, "Isn't that clever? Your crack team of comedy writers -- which of you is responsible?"
Then, she asked J.B. to lean in closely for the answer. And closer. And…closer.
Right when they were nose to nose, Piggy let out her best "Hi-yah!" and head-butted the host, right in the kisser.
As J.B. attempted to gather himself while sprawled out on the floor, Miss Piggy had no problem coming to her senses.
"You wouldn't happen to have Jon Hamm's phone number, would you?" she asked.
Alyson Footer is a national correspondent for MLB.com. Follow her on Twitter @alysonfooter. This story was not subject to the approval of Major League Baseball or its clubs.