Resurgent Gray can't derail red-hot Royals
A's righty bounces back, but early unearned run is costly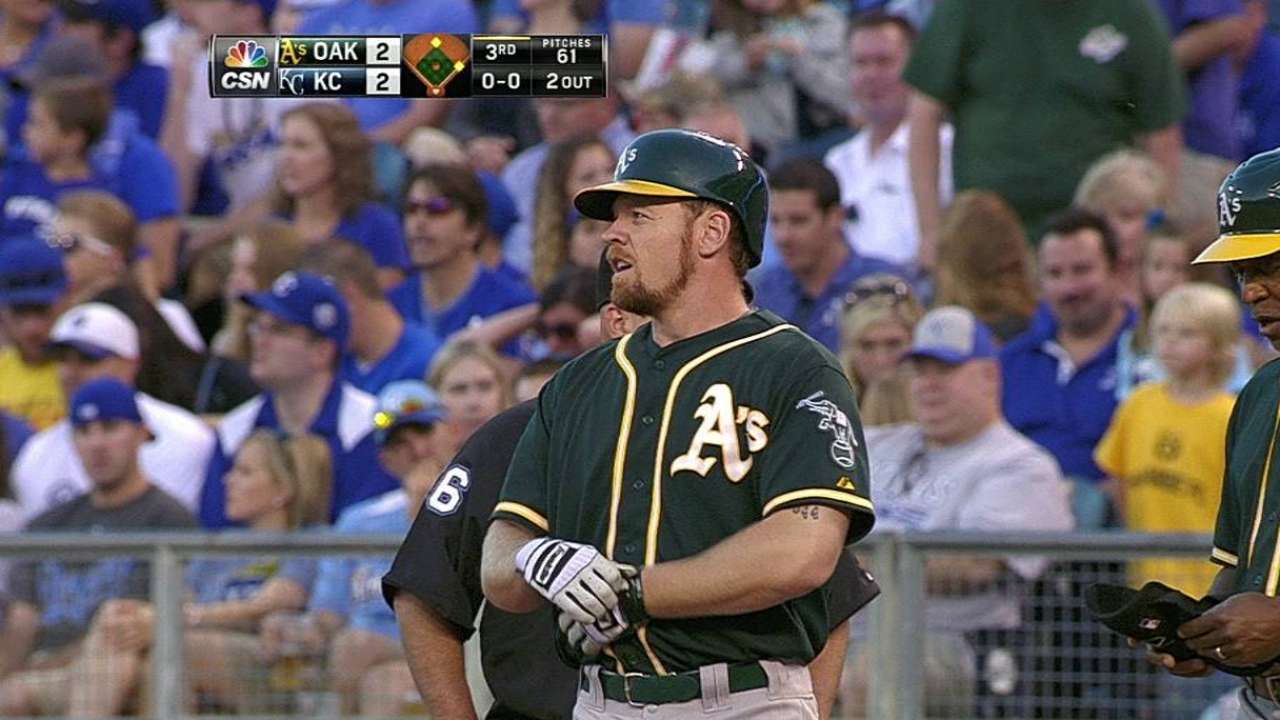 KANSAS CITY -- Sonny Gray looked like himself again and offered an encouraging bounce-back performance, but not even he could stop these rolling Royals on Monday night.
Coming off his worst start of the season, Gray gave the A's seven innings and allowed just two earned runs, making a first-inning unearned run the difference in this one, a 3-2 series-opening loss at Kauffman Stadium.
The Royals, winners of eight straight, have jumped ahead of the Tigers as the American League Central's newest division leaders, while the A's remain in first place in the AL West by a 3 1/2-game margin on a day the Angels rested.
The A's are 1-3 with three more to play against the Royals, a potential playoff opponent who boasts an equally formidable pitching staff.
Kansas City's hurlers, led by starter Yordano Ventura, limited the A's to just three hits in this one, getting backup help from a trio of the game's best relievers in Kelvin Herrera, Wade Davis and Greg Holland, who combined for four strikeouts in three scoreless innings.
The A's have plated three runs or fewer in 10 of its last 14 games, going 7-7 in that span.
They had a chance to score off Holland in the ninth, when Josh Donaldson opened the frame with a single and advanced to second on a wild pitch. Brandon Moss followed with a walk, bringing up one of the A's biggest run producers in Derek Norris, who entered the night batting .382 with seven homers with runners in scoring position and .514 in the same situation and fewer than two outs.
There's reason manager Bob Melvin did not order a bunt.
"Norris has been as good as we have in situations like that," Melvin said. "You just hope you don't hit into a double play, and that's what happened."
The 5-3 twin killing left pinch-runner Sam Fuld on second base for Stephen Vogt, who flied out to center to end the game.
"They have a great staff, top to bottom," said Josh Reddick. "I don't even know if they have a guy that throws under 95 [mph], so that doesn't make it real easy. It's not just their fastballs. Their secondary stuff sets up their fastballs. They've done a great job doing what they've done over here. We just have to make an adjustment, and we haven't been able to do that."
It was Reddick who was kicking himself postgame, though Gray was doing much of the same.
The right-hander allowed back-to-back hits to Jarrod Dyson and Omar Infante to lead off the first inning, the second of which went to Reddick in right field. His throw back to the infield slipped out of his hand, traveling only a few feet for an odd throwing error that allowed Dyson to advance to third. Salvador Perez's ensuing double-play grounder scored Dyson.
"I know he's a quick runner, and a quick glance, looked up, saw him running hard and realized he wasn't going, so I tried to slow down instead of just throwing it and I just lost the grip," said Reddick. "It's pretty embarrassing, especially since it cost us a run. And losing by one run, it doesn't make you feel any better. Especially the way our offense has been going, defensive mistakes are pretty big right now. For me, it's something that never happens and just takes that much more of a toll on you."
Gray scattered three more hits in the second, leading to another run, but the A's found their way to the scoreboard in the third on Moss' game-tying, two-run base hit, marking his first RBI since July 29.
A hot-and-cold A's offense stuttered thereafter, and Gray was bit by one more run in the seventh, when Alcides Escobar collected his second two-out RBI hit of the night. Both times, Gray was ahead, 0-2, against Escobar.
"Right pitch, wrong spot," said Gray, who failed to bounce his curveball. "I think everyone in the park knew I was throwing a breaking ball that last pitch and it didn't matter if I would've located it. But I didn't, and he put a good swing on it."
Gray also lost a tough one to the Royals just 10 days ago, a 1-0 deficit. He then surrendered seven runs in just 4 1/3 innings to the Rays on Aug. 6 and "came to the field the next day and didn't even talk about it," he said.
The fact he followed that up with such a strong performance Monday and still lost made it all the more disappointing.
"That's probably the best I've felt all year," Gray said. "It's a hard one to swallow. But I felt really, really, really good.
"Two good teams going at it, it's always going to be one mistake, and unfortunately for us I was the one who made that mistake tonight, and we lost. That was it."
Jane Lee is a reporter for MLB.com. This story was not subject to the approval of Major League Baseball or its clubs.