Yankees can't keep up with first-place Orioles
New York gets off to promising start, but Baltimore scores final 10 runs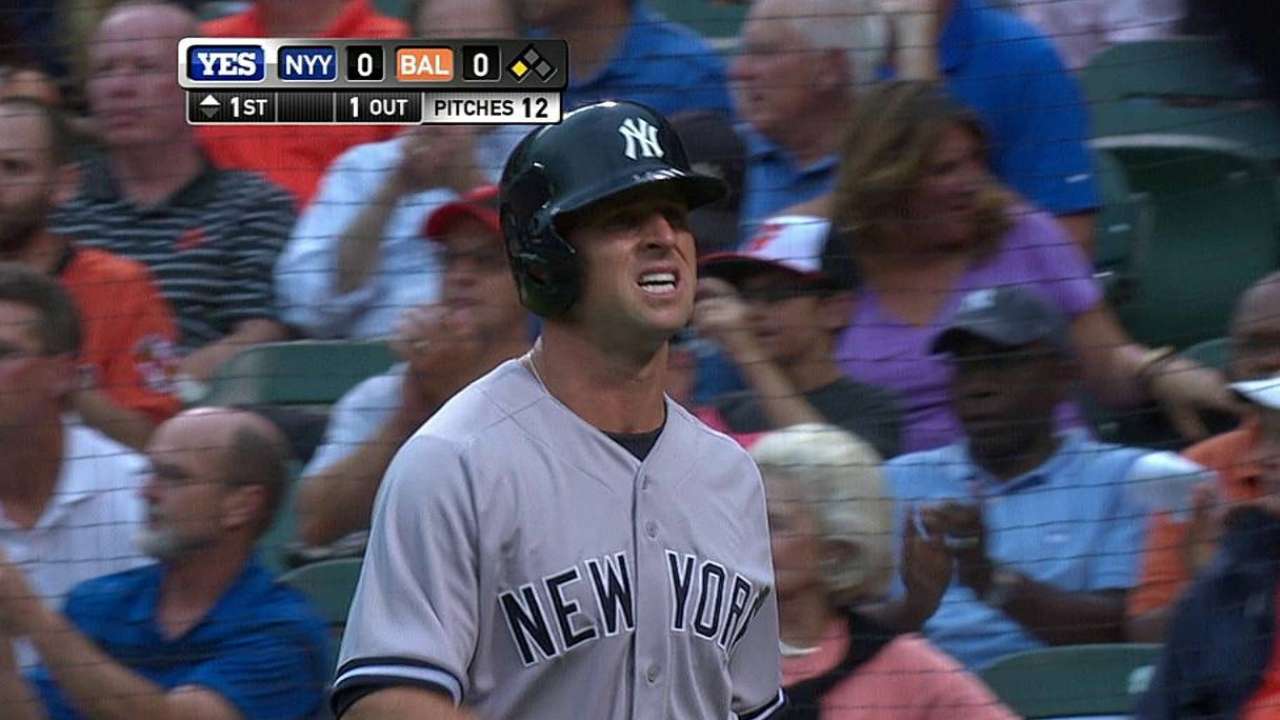 BALTIMORE -- The Yankees rolled their luggage into their Inner Harbor hotel rooms recognizing this as a pivotal week for their postseason chances, arguably determining if they have a realistic shot at the division or should instead focus their attention upon one of the Wild Card spots.
After one game, the early returns aren't what they would have hoped. Chris Davis, Nelson Cruz and Jonathan Schoop all homered and the Yankees managed just one hit after the second inning, accepting an 11-3 loss to the American League East-leading Orioles on Monday evening.
The defeat, New York's third straight, turned into a laugher late as Baltimore scored 10 unanswered runs. New York fell a season-high seven games behind the Birds in the division race.
"I don't think it makes a difference who you're playing, you've got to find ways to win games," Yankees captain Derek Jeter said. "It's not like we can exhale when we're playing a team that's not in front of us. We have to win games."
Davis started the night on the bench before replacing Manny Machado, who exited in the third inning with a sprained right knee. The slugger's 21st home run carried deep into the right-field seats off Yanks starter Chris Capuano, who was hit for four runs in six innings.
"It's tough. We know they swing the bats extremely well," manager Joe Girardi said. "They've got a lot of power in their lineup. I thought Capuano did a decent job, and unfortunately when he left it was 4-3. The bullpen wasn't able to hold them down."
Baltimore blew the game open late, pounding Adam Warren for three runs in the seventh inning. Nick Markakis and Adam Jones doubled for the first run, and Cruz hit a long two-run homer -- one pitch after right fielder Martin Prado couldn't snare a deep foul fly ball.
Chase Whitley served up another four runs in an ineffective eighth-inning appearance, including Schoop's three-run laser to left field. Schoop has built a reputation as a Yankees killer, hitting .385 with three homers and 10 RBIs against them this year.
"Surprised? Yeah," Orioles manager Buck Showalter said. "It kind of snowballed there a little bit."
Capuano kept the Yankees in the game, but Baltimore starter Bud Norris and four relievers held New York to just Jeter's fifth-inning double the rest of the way. New York finished 0-for-8 with runners in scoring position, leaving seven men on.
"All I have to say is that everyone here works hard and I would say that right now things are not going our way, but we have 40-something games left," Carlos Beltran said. "We just need to find a way to turn this around."
Norris picked up the win despite burning through 108 pitches over five innings of three-run ball, but letting hurlers off the hook has become far too familiar an outcome: the Yankees have scored in just three of their last 29 innings.
"I thought we had some really good at-bats early on," Chase Headley said. "He clearly didn't have a real good feel of the ball; he was all over the place and wasn't throwing a lot of strikes. We got his pitch count up and got to the bullpen early, but to his credit, he did a good job and limited the damage."
The night started off on a much more promising note for the Yankees, who are in a tailspin after taking three of four from the Tigers in the Bronx last week.
Brett Gardner led off the game with a triple and scored on a Jeter groundout, and the Yankees scored two runs in wild fashion on a second-inning double steal that included Beltran's steal of home plate and two Baltimore errors.
With one out, Headley broke from first base on an inside 1-1 fastball to Prado and got hung up in a rundown, giving Beltran time to bolt from third base. First baseman Steve Pearce threw to Machado, whose throw home struck Beltran in the helmet.
Beltran scored and the ball shot to the screen, where Norris fielded it and flipped wildly to catcher Caleb Joseph, who was not looking. That gave Headley a chance for the plate, and Machado's toss tipped Norris' glove as Headley slid in safely with the third Yankees run.
"We were having fun with it early on," Mark Teixeira said. "It's like a Little League play, like, 'The Bad News Bears score two runs.' We have a lead and we think we're having a good night, but I guess that it turned pretty quickly there in the middle to late innings."
The Yankees fell to 3-7 in their 10 games against the Orioles this season, with nine games remaining head to head.
"I still feel good about the team," Beltran said. "I don't know about you guys, but I feel good about the team."
Bryan Hoch is a reporter for MLB.com. Follow him on Twitter @bryanhoch and read his MLBlog, Bombers Beat. This story was not subject to the approval of Major League Baseball or its clubs.