Royals take over first place with eighth straight win
Escobar's two two-out RBIs help Ventura and Co. slip past Athletics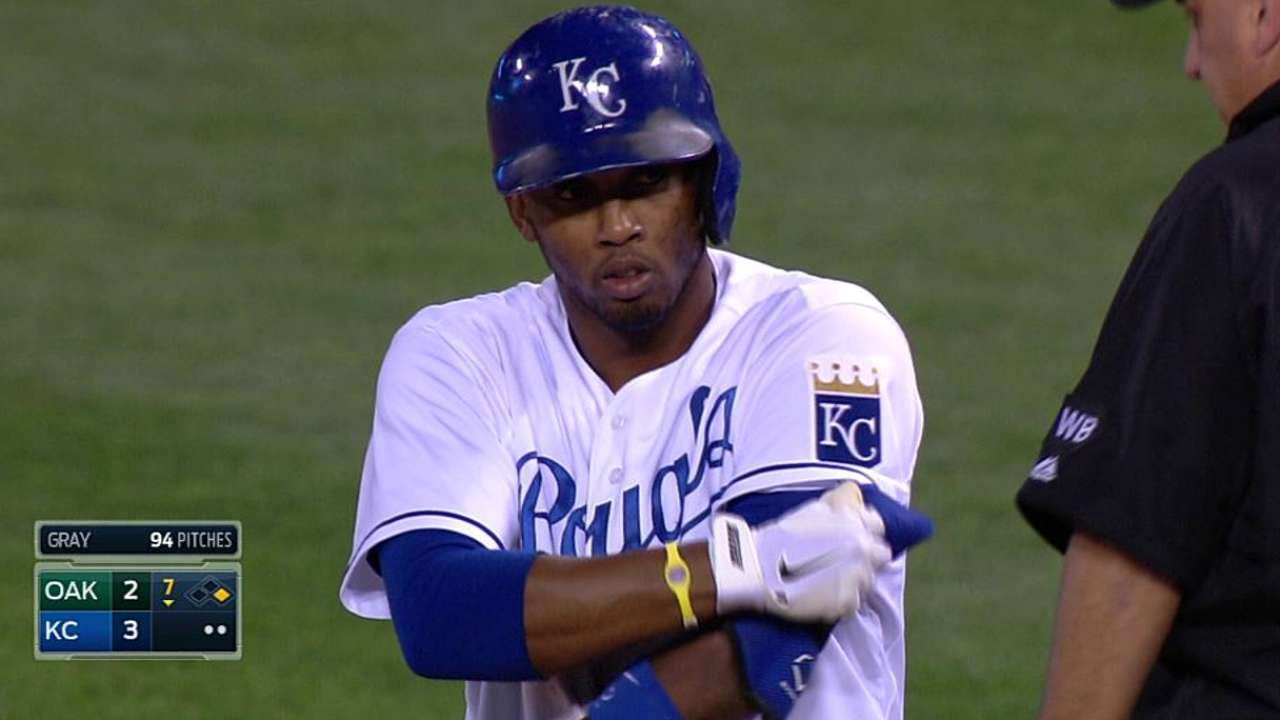 KANSAS CITY -- Now it's the first-place Kansas City Royals.
Not even the Majors' winningest team could slow down its hottest, as the Royals notched their eighth straight victory by holding off the Oakland Athletics, 3-2, on Monday night as a cranked-up crowd of 21,479 roared at Kauffman Stadium.
Kansas City has won 16 of its last 19 games and took over first place in the American League Central, as Detroit lost to Pittsburgh, 11-6, and slipped into second place, a half-game back. The Royals (64-53) had last held the lead on June 19, and it's the latest in a season the Royals have been in first place since Aug. 29, 2003.
The A's have the top record in the Majors, 72-46, and they're leading the AL West.
"You want to be in first place," Royals manager Ned Yost said. "That was our goal -- to get back to first place. And now our goal is to stay there."
An RBI single by Alcides Escobar snapped a 2-2 tie in the seventh inning against A's starter Sonny Gray.
Lorenzo Cain opened the inning with a walk, and Raul Ibanez rolled into a forceout. Nori Aoki ran for Ibanez and took second base as Mike Moustakas grounded out.
With two out and a 0-2 count, Escobar lined a single to center and Aoki scored easily.
"I was looking for a curveball again because he threw one for the called strike on me and another one on a bad swing," Escobar said. "And I said, 'If he throws me one more, I'm trying to hit a ball through the middle.'"
That he did, and it was his second RBI on a two-out, 0-2 pitch from Gray. The other came in the second inning, driving home Alex Gordon, who had singled and advanced to third on Moustakas' hit.
"We're capitalizing on just about every opportunity we get right now. It's fun to watch," Yost said. "The confidence there in the seventh inning -- I just felt like Esky was going to come through once Nori got to second."
After the Royals scored an unearned run in the first inning, the A's came back against Royals starter Yordano Ventura for a 2-2 tie in the third, after two walks, on Brandon Moss' two-run single with the bases loaded.
"The two walks hurt him, but if you go back and look at the walks, he wasn't crazy wild," Yost said. "There were three or four pitches that probably could've gone either way. But I thought he threw the ball great."
With Ventura gone after the sixth, Yost morphed into his basic bullpen plan for the final three innings -- Kelvin Herrera in the seventh (a perfect inning) and Wade Davis in the eighth (also perfect) and closer Greg Holland in the ninth.
"Those three guys are about as good as you get," A's manager Bob Melvin said. "They don't worry about righties, lefties. They all get both of them out. When they get to the seventh inning with the lead, they feel pretty good about it."
There was a bit of uncertainty before the finish, however. For the second straight game, Holland got into a jam before he escaped. Josh Donaldson opened the A's ninth with a single and Moss walked. But Derek Norris hit a bouncer to Moustakas who started a double play.
"It was a little chopper, and Holly did a great job of getting a ground ball in that situation. So having him get that ground ball right at me, the easiest play is step on third and throw it across the diamond," Moustakas said.
Stephen Vogt hit a long fly ball to center field but Jarrod Dyson ran it down to cinch Holland's 35th save. Then Dyson did a celebratory back flip, a la Ozzie Smith.
"I did it for the crowd and the boys," Dyson said. "Don't look for it every time."
The last time the Royals took first place, they did it on the road in Detroit.
"It's always a great thing when you can do it front of the home crowd," Dyson said. "There's a lot of people here, they're chanting and they want it. They haven't had a winning club in so long so we're trying to bring that back to Kansas City."
But he emphasized, with 45 games left to play, the Royals are determined to be cool about it.
"We're trying to make that playoff push but we can't get caught up in it with whatever Detroit is doing and whoever is behind us," Dyson said.
Teammate Billy Butler agreed that the Royals, in the midst of the first-place excitement, are trying to keep grounded.
"I ain't never even tried a back flip," Butler said. "I'm keeping my feet on the ground."
Dick Kaegel is a reporter for MLB.com. This story was not subject to the approval of Major League Baseball or its clubs.