Cubs provide little support for Arrieta in loss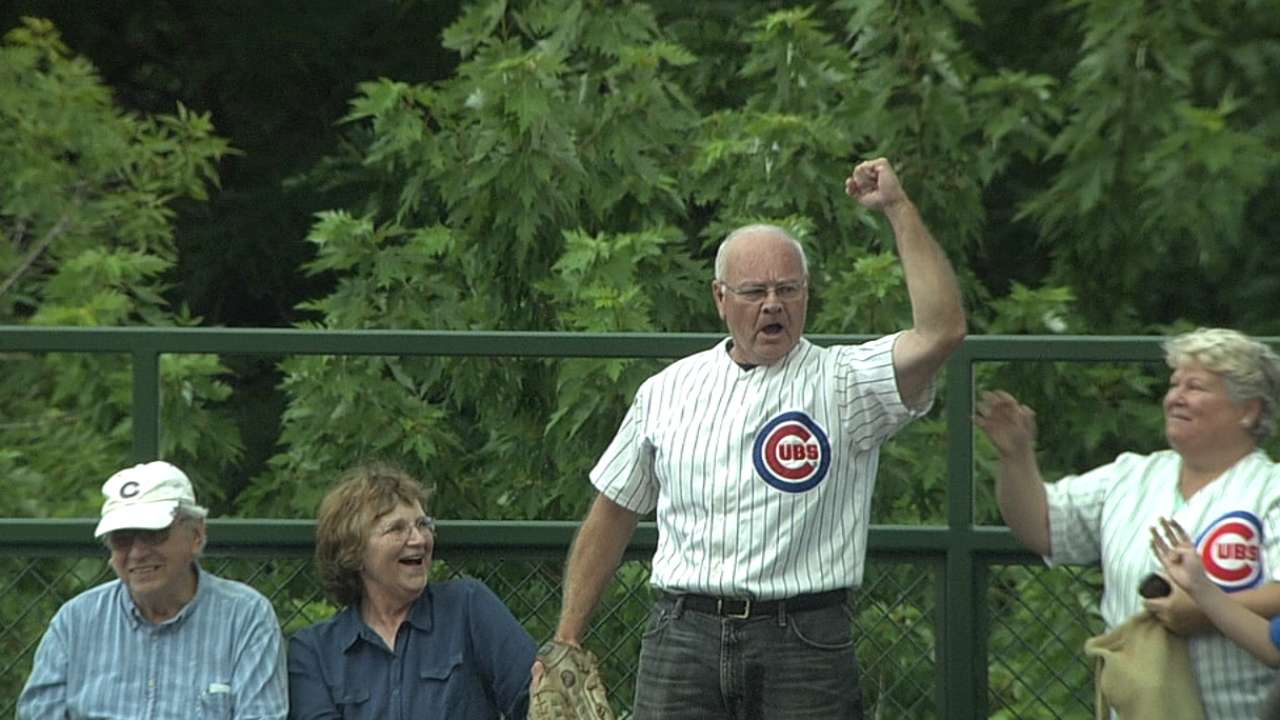 CHICAGO -- The highlight of Monday night's Cubs game came in the Brewers' second, when a 65-year-old fan in the left-field bleachers caught Mark Reynolds' home run and avoided falling backward over the railing.
Unfortunately, he couldn't help the Cubs stop the Brewers.
Reynolds hit his 20th home run and Khris Davis smacked a tie-breaking RBI double to lead the National League Central-leading Brewers to a 3-1 victory over the Cubs at Wrigley Field.
"They've got a really, really deep lineup, and it just shows by what they're doing and how they're playing as a team this year," starter Jake Arrieta said. "They're doing good things in the division and out of the division. It's a tough ballclub. There's really not a break there. Going up against [Yovani] Gallardo, he's one of the better hitting pitchers. It's a tough lineup to contend with."
Gallardo scattered six hits over seven innings for the win, only his second in his last nine starts.
But the web gem came in the Milwaukee second. Mike Pullin, 65, of Rochelle, who was sitting in the last row of the left-field bleachers, made The Catch, snaring Reynolds' home run with his glove. Pullin avoided toppling backward and threw a ball back onto the field, which is tradition at Wrigley. However, it wasn't the game ball, but another one he happened to bring, one that his dog liked to play with.
"I saw it," Arrieta said of the home run. "Good catch by the fan, good swing by Mark there. I had a pretty good idea he was going to be swinging there with the fastball. It kind of leaked back, inner third, and that's what he likes."
Reynolds didn't see the catch but was able to sneak into the video room and check it out. As for Arrieta, Reynolds is well aware of what his former teammate can do.
"Nasty, dude," Reynolds said. "I played with him in Baltimore, and he's always been dirty. He was keeping the ball down with his curveball, locating his cutter real well. He just made a couple mistakes, and that's all it takes. But he pitched real well. 'Yo' just kept them off balance. We needed this one."
The Cubs had two on and two outs in the fifth against Gallardo after Justin Ruggiano and Welington Castillo both singled. Chris Coghlan doubled down the right-field line to drive in Ruggiano and tie the score at 1.
Arrieta was coming off a loss to the Rockies in which he gave up nine runs on 13 hits over five innings. After Reynolds' homer, Arrieta retired 13 in a row; Ryan Braun ended that streak with a leadoff single in the seventh. One out later, Braun tried to score on Scooter Gennett's double but was thrown out at home on an 8-6-2 relay. Davis then delivered an RBI double to put the Brewers ahead, 2-1.
"[Arrieta] did a nice job and took us deep and was pretty efficient and kept us in the ballgame," manager Rick Renteria said.
"It was, from start to finish, a little better consistency with everything down in the zone, and a lot of ground balls, early outs early in the game," Arrieta said. "In the seventh, a couple pitches didn't have the bite and stayed in the zone without a lot of movement, and they put some good swings on it."
The Cubs, who set a franchise record with 44 strikeouts in three games against the Rays this past weekend, fanned nine times against the Brewers. No. 8 on Monday came in the ninth, when Brewers closer Francisco Rodriguez outdueled Anthony Rizzo in a 13-pitch at-bat.
"I just wanted to put him away," Rodriguez said. "I was, 'Here, hit it as hard as you can.' He put up a battle. That's what I expected. He's a really good young hitter."
The at-bat was so long, Rodriguez said, he even invented a cutter, which he had never thrown.
"I was just trying to get him to put the ball in play," he said. "It was like, 'Oh, wow. This can be a long inning.' So I gave him something out over [the plate] so he could put it in play. He just kept missing it."
One other head-scratching stat: The Cubs have drawn two walks in the last four games.
"They're chasing balls out of the zone a little bit," Renteria said. "They're facing guys who have pretty good stuff -- Gallardo is no slouch, and the relief corps is pretty good."
The Cubs dropped to 4-6 against the Brewers, and 17-31 against the NL Central.
"The mind-set stays the same," Arrieta said. "We want to come out and win ballgames. A byproduct of that is being able to have a chance to spoil someone's season. It's going to be a stretch where we play a lot of games in the division. ... Our schedule is going to be a tough one from here on out, but we'll be ready for it."
Carrie Muskat is a reporter for MLB.com. She writes a blog, Muskat Ramblings, and you can follow her on Twitter @CarrieMuskat. This story was not subject to the approval of Major League Baseball or its clubs.