Command issues, throwing error haunt Lewis, Rangers
Righty allows five runs, two earned, in five innings in loss to Rays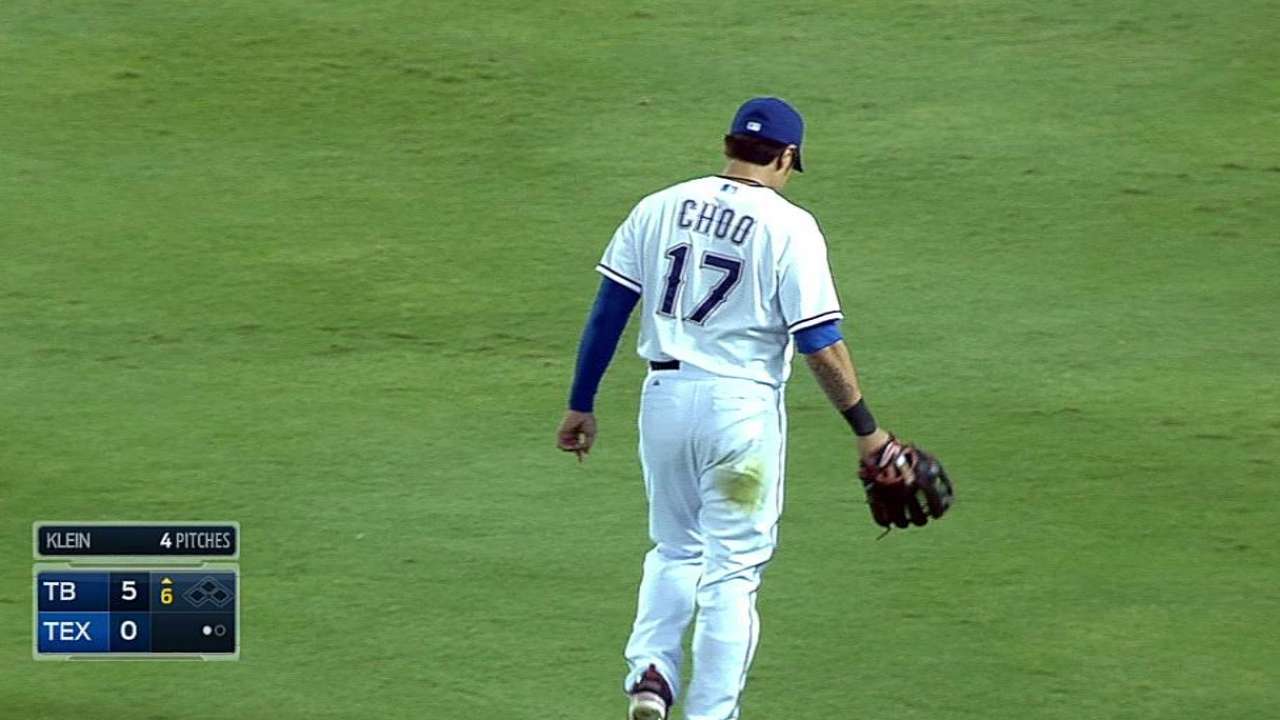 ARLINGTON -- Rangers starter Colby Lewis went right to the heart of it after a 7-0 loss to the Rays on Monday night.
"I just beat myself, that's all there is to it," Lewis said. "That's what it was."
Rays starter Drew Smyly had something to do with it as well, holding the Rangers scoreless on three hits through 7 2/3 innings. Between one starter beating himself and another being at his best, most of the 28,501 in attendance had slipped away once this one was finally over after three hours and 17 minutes.
The Rays scored three in the second and two more in the fourth against Lewis, which was more than enough with Smyly in command. Smyly, in his second start since being acquired from the Tigers in a trade that sent David Price to Detroit, held the Rangers to three hits and three walks while striking out nine. The Rangers were 0-for-5 with runners in scoring position.
"He was so good," Rays manager Joe Maddon said. "He was in command of everything: fastball, two breaking balls. He was throwing it exactly where he wanted to. He had himself a fabulous night."
Lewis, who was hoping to become only the third Rangers pitcher to win at least three consecutive starts this season, wasn't really interested in what the other pitcher did. He was more irritated with four walks, one hit batter and a wild throw on a bunt play.
"Physically everything is fine, I just beat myself," Lewis said. "Walking four guys … I don't do that. Dumb baseball, from my standpoint I played dumb baseball."
Lewis was coming off a shutout against the White Sox last week and was 2-2 with a 2.30 ERA in four starts since the All-Star break. But both Rays rallies against him started with walks and that's a pretty good indication he wasn't the same as he has been lately.
"He just couldn't command the baseball the way he has been," Rangers manager Ron Washington said. "He left some pitches up and they hit it. He just couldn't command it tonight."
Lewis started the second by walking Cole Figueroa and giving up a single to Yunel Escobar. With runners at first and second, Curt Casali dropped a bunt that Lewis fielded and tried to get a force at third. A good throw might have achieved the objective but Lewis threw too far inside and the ball sailed past third baseman Adrian Beltre.
"If he gets the out at third base it might have made a difference," Washington said. "He made the right move, he just yanked the throw."
Figueroa scored while the others ended up at first and third. After Lewis struck out Kevin Kiermaier, Desmond Jennings tried to bunt a run home but first baseman Adam Rosales pounced on it and flipped home to catcher Robinson Chirinos for the out. The umpires reviewed the play to see if Chirinos blocked the plate illegally, but the original out call stood.
That gave Lewis a chance to escape with just one run scored but he walked Ben Zobrist. Lewis then got ahead 0-2 on Matt Joyce but didn't get a call on a fastball the Rangers thought was strike three.
"Right down the middle … I don't know how he missed it," Washington said.
Joyce ended up hitting a 2-2 changeup for a single that brought home two runs, but Lewis declined to grumble about the missed strikeout.
"I put myself in that situation," Lewis said.
The Rays added two more in the fourth after Lewis issued a one-out walk to Kiermaier. Lewis retired Jennings on a liner to left but Kiermaier stole second and scored on a double by Zobrist. After Joyce walked, Evan Longoria singled home another run to make it 5-0.
"I just beat myself," Lewis said. "There's really nothing else to say."
T.R. Sullivan is a reporter for MLB.com Read his blog, Postcards from Elysian Fields and follow him on Twitter @Sullivan_Ranger. This story was not subject to the approval of Major League Baseball or its clubs.