Crew gains breathing room with win over Cubs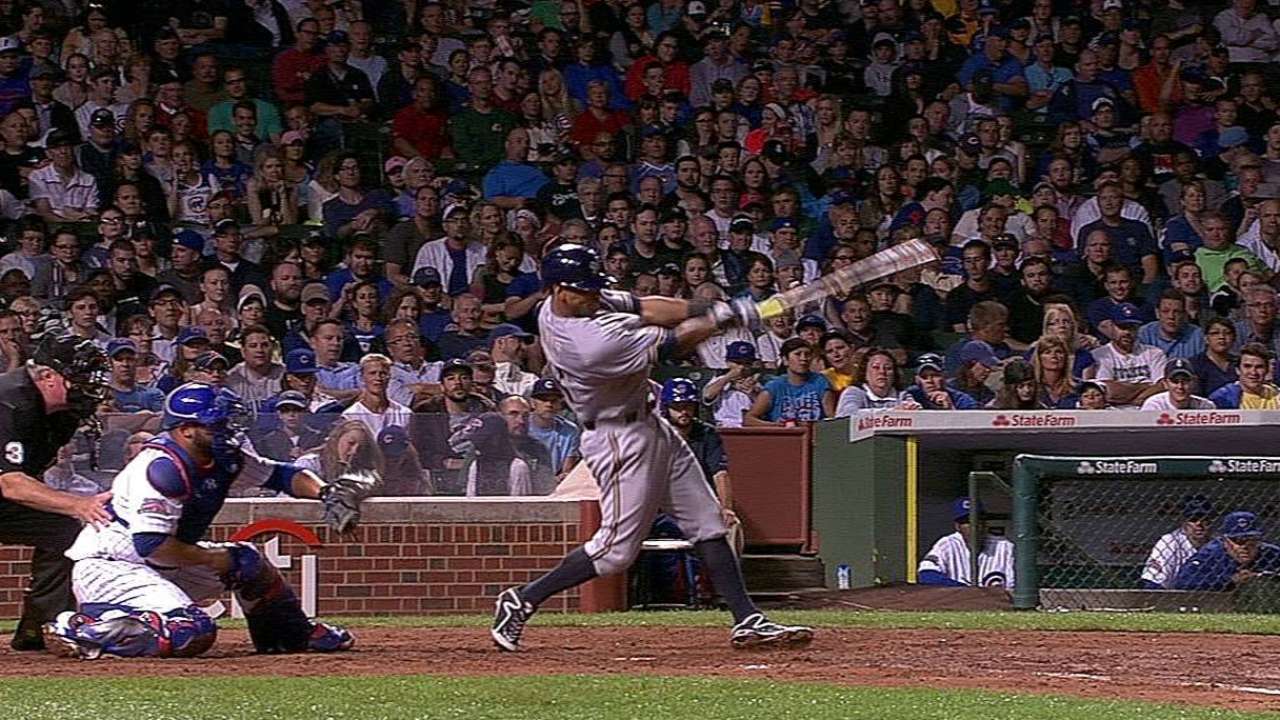 CHICAGO -- Yovani Gallardo was able to get back on track against one of his favorite opponents.
Gallardo beat the Cubs on Monday for the ninth time in his career, working seven effective innings in a 3-1 victory at Wrigley Field that gave Milwaukee a bit more breathing room atop the National League Central. The Brewers' lead grew to 2 1/2 games over the Pirates and three games over the Cardinals.
Mark Reynolds hit a home run that would have sailed all the way out of Wrigley Field if not for a death-defying catch by a 65-year-old fan, Khris Davis and Scooter Gennett delivered two-out RBIs late in the game and Gallardo bounced back from a tough outing last week against the Giants in which he allowed nine hits and four runs in four innings.
This time he allowed one run on six hits in seven innings against a Cubs lineup infused last week with top-flight prospects Javier Baez and Arismendy Alcantara.
"We need him," said closer Francisco Rodriguez, who outlasted a marathon at-bat against Anthony Rizzo on the way to recording his Major League-leading 36th save. "We need all the quality starts we can get from our starters."
The rotation has been delivering of late, with a 2.44 ERA and 17 quality starts in the last 20 games.
Half of Chicago's six hits against Gallardo came in the fifth inning, when Chris Coghlan's double gave the Cubs their only run. Gallardo retired Baez on a lineout to end that inning with runners at second and third, then retired all six batters he faced over the next two innings to finish his night.
For the 13th time this season, Brewers pitchers didn't walk a batter. For Gallardo it was the fifth time in 24 starts that he did not issue a free pass, and he's allowed only four earned runs in 35 1/3 innings in those games.
That's no coincidence, manager Ron Roenicke said.
"I would say [it is important for] him in particular, because he is a command guy," Roenicke said. "If he doesn't have command that day, you are going to see walks. Some guys, you can't say that, because they will purposely walk someone to pitch around them to get to somebody else."
Cubs starter Jake Arrieta was charged with two runs on five hits in 7 1/3 innings and surrendered only two hits outside the seventh. One was Reynolds' 20th home run of the season, a long solo shot with two outs in the second inning that was headed for Waveland Avenue before Mike Pullin of Rochelle, Ill., reached up and pulled it back, nearly tumbling over the railing at the top of the bleachers in the process.
The homer gave Reynolds his seventh consecutive 20-homer season.
After the Cubs tied the score against Gallardo, the Brewers went ahead with three hits in the seventh inning. Ryan Braun singled and stole second base but was thrown out trying to score Gennett's double off the ivy-clad wall. After a brief delay while the umpires confirmed that Cubs catcher Welington Castillo did not block the plate, Davis came through with another double, this one down the left-field line to score Gennett without a play.
Gennett added a two-out RBI single in the ninth.
"They've got a really, really deep lineup, and it just shows by what they're doing and how they're playing as a team this year," Arrieta said. "They're doing good things in the division and out of the division. It's a tough ballclub. There's really not a break there."
Relievers Will Smith and Rodriguez finished the game for Gallardo, though Rizzo didn't make it easy for Rodriguez.
The ninth inning began with a 13-pitch battle between the two. Rizzo finally struck out.
"Pretty much, I threw every pitch I have," Rodriguez said. "I even invented a cutter, which I've never thrown in my life. I was just trying to get him to put the ball in play."
The Cubs, who set a franchise record with 44 strikeouts in three games against the Rays this past weekend, fanned nine times against the Brewers. They've drawn only two walks in the last four games.
"I imagine the approach is not changing, and I am assuming they're trying to have good at-bats and trying to get balls up, and they're not getting the results they want right now," Chicago manager Rick Renteria said of his team. "They're chasing balls out of the zone a little bit. They're facing guys who have pretty good stuff -- Gallardo is no slouch, and the relief corps is pretty good."
The Brewers will send up another good pitcher when the series continues on Tuesday. Right-hander Wily Peralta, whose 114th pitch in his most recent start registered 98 mph, will try to be the first Major Leaguer this season to reach 15 wins.
"This is what we play for," Gallardo said. "It's a tough division. But as far as ourselves, we understand we have to go out there and take care of business. If we do what we have to do, we'll find ourselves in a good spot."
Adam McCalvy is a reporter for MLB.com. Read his blog, Brew Beat, and follow him on Twitter at @AdamMcCalvy. This story was not subject to the approval of Major League Baseball or its clubs.