Smyly shows Price-like flair as Rays blank Rangers
Tampa Bay lefty tosses 7 2/3 scoreless in second start with new team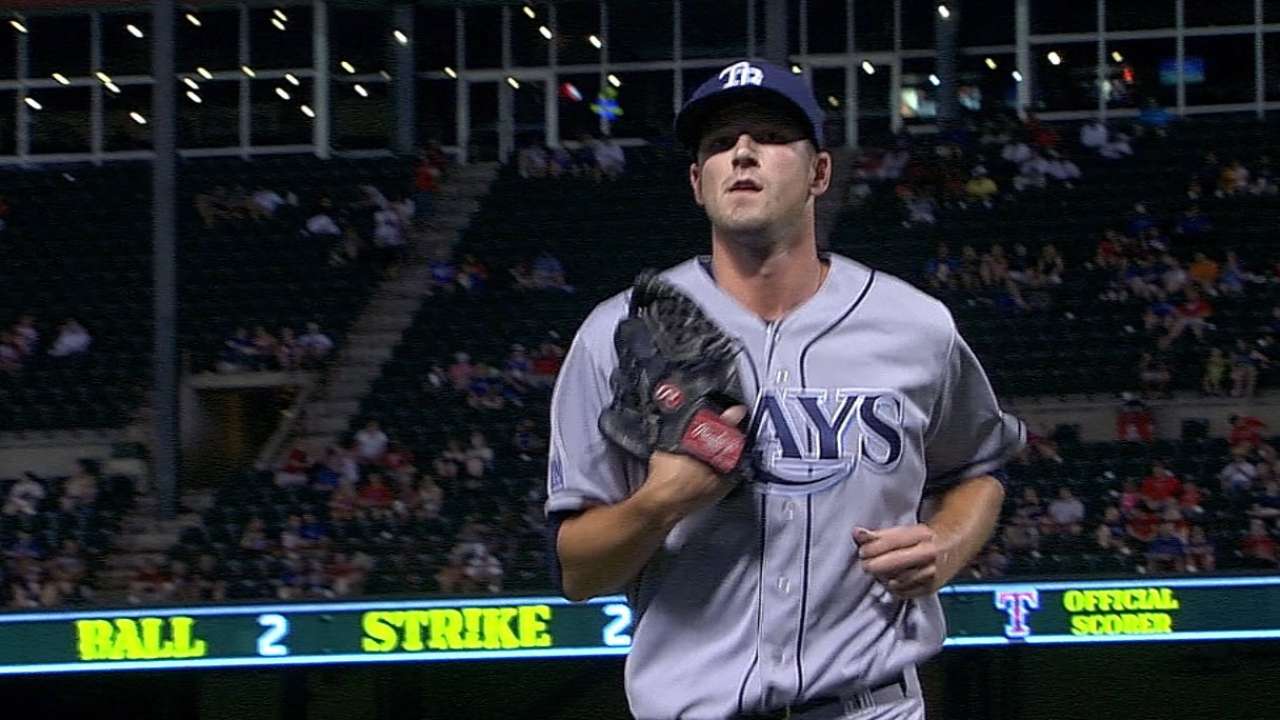 ARLINGTON -- Drew Smyly pitched like a certain Rays southpaw and the offense kicked in with some early run support in a 7-0 Rays' win over the Rangers on Monday night at Globe Life Park.
The Rays (58-60) are 4-3 on this road trip and a Major League-best 16-7 since July 12.
Smyly, who came to the Rays in the deal that sent David Price to the Tigers at the July 31 Trade Deadline, made his second start for the Rays and it proved memorable.
"He was so good," Rays manager Joe Maddon said. "He was in command of everything. Fastball, two breaking balls. He was throwing it exactly where he wanted to.
"... He's a strike thrower. You watch him. He's a strike thrower. If he gets behind in the count, he'll still throw a strike and it was with everything. ... He just had everything going on."
Smyly allowed just a bunt single to Daniel Robertson and a pair of walks to Adrian Beltre until the Rangers third baseman singled with one out in the seventh.
"I mean, I didn't want to give him anything good," Smyly said. "He's a fantastic hitter. ... I thought he would swing at a couple of them. I know he's aggressive. But he didn't swing at anything until I threw him one strike and he got a hit on it. So, I saw that coming."
Smyly finally reached the end of his rope after pitching 7 2/3 innings and using 116 pitches -- both career highs.
"I'm feeling a little bit tired, but I'm glad they let me keep going," Smyly said. "I was feeling great in the moment. And so it was a good game."
Smyly's final line showed no runs on three hits, three walks and nine strikeouts en route to his first win as a Ray. He complimented his catcher, Curt Casali, for calling a good game.
"Yeah, me and Curt were in a really good groove," Smyly said. "Made some pitches. We were able to keep them off balance for the most part. It was a good night. Threw a lot of strikes.
"I like pitching here. You have to be careful here because the ball flies. But I think it's a great park to pitch in."
Texas gifted the Rays three runs in the second, an inning that featured a throwing error by pitcher Colby Lewis and a play at the plate that did not go the Rays way.
Cole Figueroa walked to open the inning and Yunel Escobar followed with a single. Casali then attempted a sacrifice bunt that Lewis fielded, but threw wide of third base while trying to get the force. Figueroa scored on the play and Escobar reached third. One out later, Desmond Jennings pushed a bunt up the first-base line. Adam Rosales fielded the ball and flipped to catcher Robinson Chirinos who tagged out the sliding Escobar trying to score.
A crew chief review took place to review whether Chirinos had violated Rule 7.13 by blocking the plate on the tag. But the call stood, putting Matt Joyce at the plate with the bases loaded.
Joyce delivered with a two-run single to right to put the Rays up 3-0 without scoring an earned run.
"Obviously Colby's a tough pitcher who's going to hit his spots," Joyce said. "Fortunately I got a pitch that I could handle and I squared it up."
The Rays needed no help in the fourth when Ben Zobrist doubled home a run and Evan Longoria singled home another to put the Rays up 5-0.
Zobrist reached base safely threee times with a single a double and a walk. He has hit in five straight games, going 11-for-20.
Jennings added an RBI single in the eighth and Figueroa had his first Major League triple to score a run in the ninth.
While the Rays' offense had a productive night, Smyly's performance clearly ranked as the top story.
"We couldn't get anything going against him," Rangers manager Ron Washington said. "He had a good breaking ball, good depth on it and moved his fastball around. We just couldn't get to him."
Bill Chastain is a reporter for MLB.com. This story was not subject to the approval of Major League Baseball or its clubs.