Pirates' offense breaks out to sink Tigers
Snider hits two of Pirates' four home runs in series-opening victory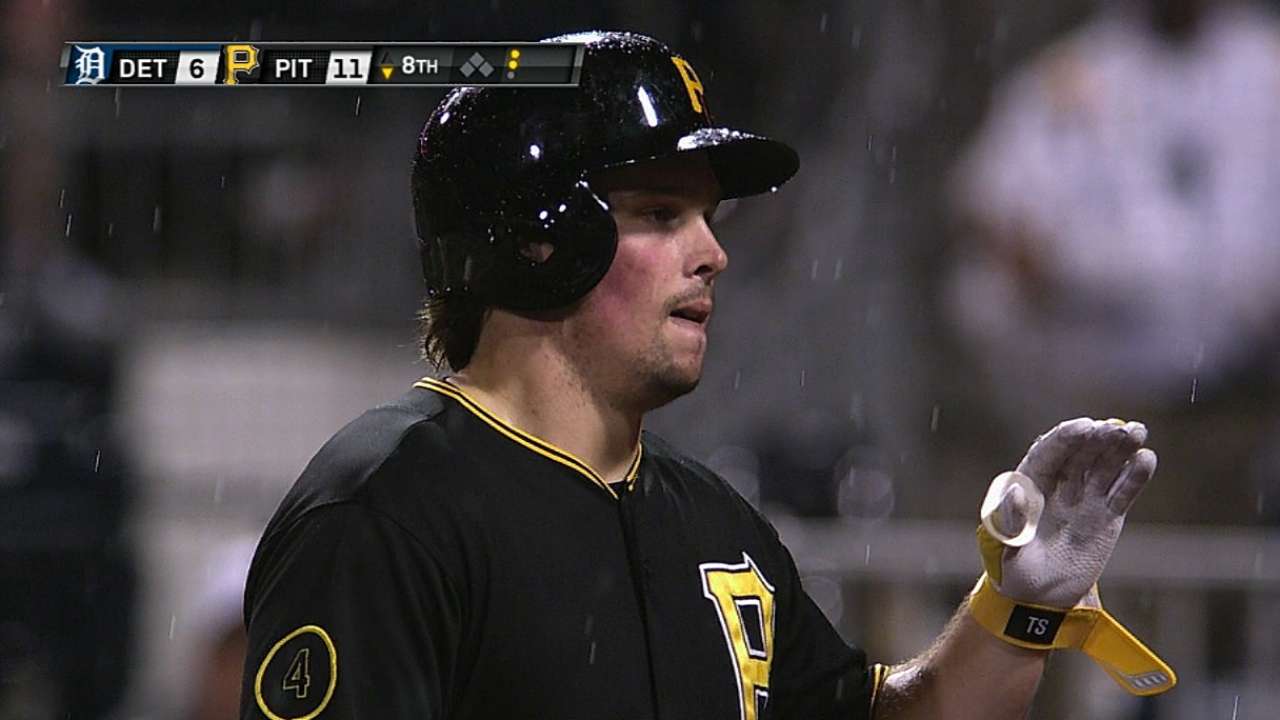 PITTSBURGH -- The lettering across his chest read "Pirates," not "Dr. Hurdle." So Buccos manager Clint Hurdle cared less about how Justin Verlander felt than how his players treated him.
And those players were quite disrespectful of the unrivaled pitching Goliath of Interleague Play on Monday night, chasing him behind an MRI machine with a five-run first on the way to an 11-6 victory over the Detroit Tigers at PNC Park.
"I don't need to dissect him," Hurdle said about an obviously impaired Verlander. "I just know we need to take care of what comes out of his hand, and comes across the plate or doesn't. That was our job to do."
Maybe the fates owed this one to the Pirates, who famously suffered the after-effects of 19-inning games in both 2011 and 2012. That debt was paid, as the Tigers hit town the night after their 19-inning grind in Toronto with really only one hope.
The Tigers needed Verlander to be on, and to be long-winded. He was neither of those, or even healthy.
This was still "Buc Light," a lineup devoid of Andrew McCutchen, now on the disabled list, Neil Walker and Pedro Alvarez. But the replacements snowballed over Verlander and Detroit's stressed bullpen, abetted in no small measure by all-around sloppy play by a team clearly dragging both physically and mentally after six-and-a-half hours on Toronto's turf.
Jeff Locke put in his five-plus innings for the win, although he wound up being charged with four runs. There was no official save at the end of this game, since the Tigers never got closer than having the potential tying run in the hole in the eighth, after Rajai Davis drilled a two-run double off Casey Sadler.
However, Locke and Hurdle both awarded the unofficial save to left fielder Travis Snider, and it came early, before he moved to the head of the hit parade with a pair of homers.
His command eroded by the long bottom of the first, Locke lost home plate in the second. He walked the first two men, who advanced on a Verlander sacrifice bunt that turned around the fearsome Detroit lineup.
"Facing seven-eight-nine, and I go walk-walk. You know walks bother me," Locke said. "I'm out there thinking, 'You should have two outs with Verlander up, and not two guys on base.'"
Davis followed by pulling a 2-0 pitch viciously to left -- speared on the run by Snider, whose throw home erased Alex Avila, who had tagged up from third. From edge of implosion, to end of inning.
"For Snider to make that play at the end of the inning … oh, real big," Locke said. "I may not have looked very happy [coming off the mound], but I was pretty excited."
"It very well could have been one of those things you later talk about as a momentum-changer," Hurdle said.
"Just trying to make a play, do whatever I can to help this team save runs," said Snider. "Make my presence felt."
The Pirates had eight runs and nine hits by the end of the third, the big blows being Starling Marte's bases-clearing triple in the first and Snider's two-run homer in the second off Justin Miller. Russell Martin and Ike Davis hit back-to-back homers in the sixth off another righty reliever fresh from Triple-A Toledo, Kevin Whelan.
Snider clocked his second homer of the game, No. 9 of the season, off lefty Phil Coke in the eighth, punctuating his three-hit, four-RBI game. It was his third career two-homer game.
"Just another day," Snider said, with a light shrug. "For me, it's nice to contribute offensively -- and defensively, and help this team win."
Every position player in the lineup had at least one hit, with Josh Harrison also notching three, and Jordy Mercer and Marte having two each.
And it all started against Verlander, whose record streak of 14 straight wins over National League clubs ended under the pain of a five-run first endured under the duress of a sore shoulder.
Verlander, who came out after that first and will undergo further evaluation of the discomfort he felt, had also been 25-2 overall against the NL.
So the Tigers couldn't give the Pirates the good fight their manager anticipated. Hurdle had looked forward to "playing one of the better teams in baseball," hoping his boys would find it as formative as they did a year ago.
There is an interesting mind-game at work here. Last season, the Pirates were in third place, still feeling their oats, when a similar four-game scrum with the Tigers crossed their schedule in late May. It became a validating experience for the Bucs; they won three of the games, two of them 11-inning, 1-0 survivals, and took flight.
Tom Singer is a reporter for MLB.com and writes an MLBlog Change for a Nickel. He can also be found on Twitter @Tom_Singer. This story was not subject to the approval of Major League Baseball or its clubs.