Tigers lose Verlander, first place in loss to Bucs
Right-hander gives up five runs, four earned, before exiting with injury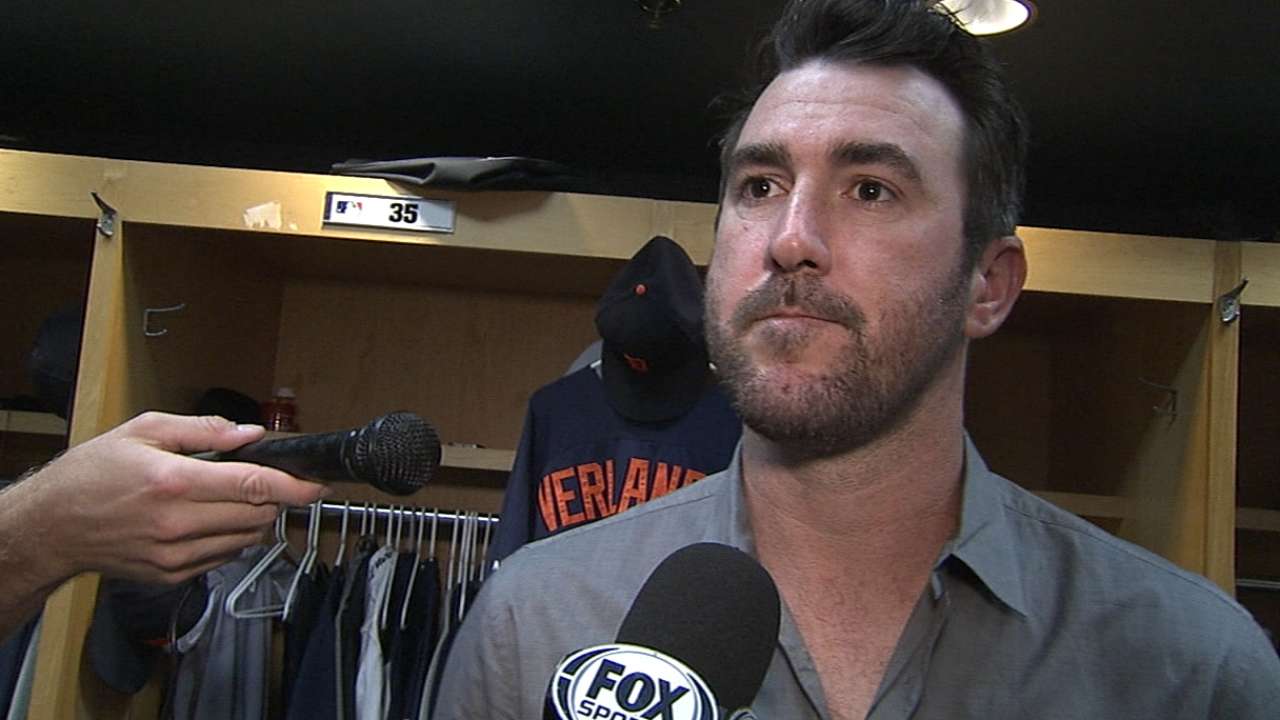 PITTSBURGH -- For the first time since mid-June and just the fourth day all season, the Tigers are out of first place. The way things are going, that's the lesser of their worries.
They've got their own problems, and they're big enough to overshadow their 11-6 loss to the Pirates Monday night at PNC Park.
In many ways, they have chaos.
"We need to get our feet back on the ground right now," team president and general manager Dave Dombrowski said. "We've had a couple times with starters getting hurt leaving games early, you're bringing guys up, you're moving them around, we lost a bullpen guy. We need to kind of get back. We'll see what happens."
What happened on the field Monday wasn't pretty.
"We swung the bats better tonight, which is good," manager Brad Ausmus said. "But when you lose, it's not a lot of fun."
They've lost six of their last eight games, while the Royals have won eight in a row, turning what had been a five-game Tigers division lead Aug. 3 into a half-game deficit now.
They said all the right things on Monday about turning the page after a six-hour, 19-inning loss on Sunday in Toronto, but the follow-up was only slightly quicker. And with their second starting pitcher lost to injury in four days, it was far from painless.
Once Justin Verlander left after a five-run first inning with right shoulder soreness, the Tigers' concern transitioned from fresh pitchers to healthy ones. Three relievers -- all called up from Triple-A Toledo earlier in the day for available arms -- covered the next five-plus innings. Replacing two starters in Detroit's star-studded rotation is another matter, and it leaves them starting Robbie Ray and Buck Farmer from the Minors the next couple nights.
In the end, the three relievers gave up as many runs as Verlander, and the add-on tallies loomed large once the Tigers' offense awakened for three runs in the sixth off Pirates starter Jeff Locke, then two more off the Pittsburgh bullpen in the eighth. Two inning-ending outs at home plate loomed large as well -- one when Pirates left fielder Travis Snider threw out Alex Avila trying to tag up on a Rajai Davis second-inning flyout, the other when Davis tried to score from second on a Miguel Cabrera two-out single in the eighth.
"We were a little sloppy in the field early, and had a couple of baserunning blunders as well," Ausmus said. "So it was a sloppy game all around. But we did swing the bats better, and that's the one positive."
The momentum, however, turned from the outset with Verlander's struggles. He gave up only one extra-base hit in his five-run onslaught, but three singles, two errors and a pair of four-pitch walks accentuated the damage.
"The worst of my career," Verlander said to describe his stuff.
With National League rules, Verlander got a reprieve with the pitcher's spot due up and struck out Locke. The way the inning was going, however, it was just his second out. He finally fired a 93-mph fastball past Josh Harrison to end the threat.
It was Verlander's last pitch of the night. Whether it was his final pitch for a while remains to be seen.
If it is, the Tigers have far bigger problems than the Royals. And Ausmus has to handle it.
"You lose [Anibal] Sanchez, you lose [Joakim] Soria, and one of the best pitchers in Tigers history is being evaluated," Ausmus said. "I wouldn't say this has been fun the last few days. Not to mention that we went 19 innings and our bullpen was overworked, overtaxed. But you just keep plugging away, and maybe two weeks from now, we'll look back and laugh about the road trip to Toronto and Pittsburgh."
Jason Beck is a reporter for MLB.com. Read Beck's Blog and follow him on Twitter @beckjason. This story was not subject to the approval of Major League Baseball or its clubs.