Buchanan's quality start goes for naught vs. Mets
Rookie gives up three runs in six-plus; Recker homers off De Fratus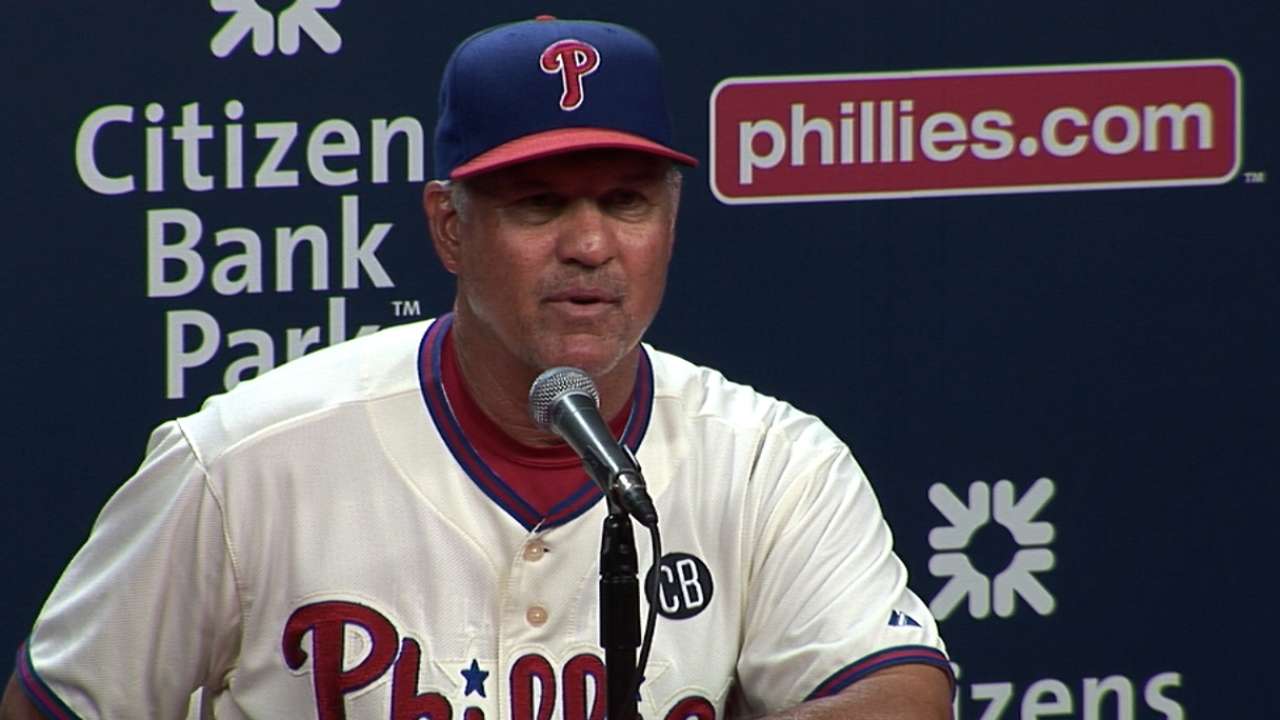 PHILADELPHIA -- Facing a team for the second time is often a challenge for a rookie pitcher. The hitters have a better idea of what to expect and adjust accordingly. On Monday afternoon at Citizens Bank Park, the Mets represented the first team to get a second crack at David Buchanan, but the 25-year-old responded with his sixth big league quality start.
But with one swing of the bat, Anthony Recker spoiled it.
New York's backup catcher came through with his fourth homer of the season, a three-run shot off Justin De Fratus that proved to be the decisive blow in the Phillies' 5-3 loss. After allowing the game-tying hit in the top of the seventh, Buchanan was pulled in a 2-2 ballgame. By the time De Fratus recorded an out, it was 5-2.
De Fratus allowed a single to Wilmer Flores before Recker's no-doubter to left field. His ERA jumped .38 points to 2.90.
"Just a poorly executed pitch," De Fratus said. "Probably two of my worst sliders of the year. The one that [Recker] fouled before and then the homer."
Entering Monday, the Phillies' bullpen had allowed just one earned run over its last 24 2/3 innings. The 0.36 ERA since Aug. 5 ranked second among all Major League bullpens. That was a big factor in Phillies manager Ryne Sandberg's decision to pull Buchanan after 93 pitches.
"Our bullpen's been lights out. So I'm not surprised by the decision," Buchanan said.
"They've been on a hot streak," Sandberg said of his bullpen. "I mean this is one game today. This is one inning, it's one pitch. They've been real steady for most of the year, really."
Darin Ruf doubled his home run and RBI totals with an approximately 420-foot blast to center field in the fourth. Ruf, who is vying for playing time in a crowded outfield, has just two homers and four RBIs in an injury-ridden 2014 season, a year after going yard 14 times and driving in 30 runs.
With Ryan Howard struggling this season, there was talk about a possible platoon situation between him and Ruf at first base. But that has yet to materialize, although Sandberg said Ruf is still a candidate to see some spot starts at first.
"I never really thought that way. Whenever I saw my name in the lineup, I just try to take advantage of the opportunity," Ruf said. "If it was back-to-back days, if it was every fifth day, you just take it for what it's worth and try to help the team."
That being the case, Ruf has adapted to the uncertainty of not being an everyday player.
"It's taken a little while," he said. "But talking to some of the guys that have done it over the years, it's really important to keep the same routine every day in the cage."
The Phillies had an opportunity to chip into the lead in the seventh on a Ben Revere single, but Mets center fielder Juan Lagares threw out Domonic Brown at the plate to end the inning with Jimmy Rollins and Marlon Byrd due up.
Sandberg said third-base coach Pete Mackanin made a judgment call.
"I was going to hold him up, and then I decided with two outs, I'm going to take a chance. Guy's got a good arm," Mackanin said. "You'd like to think with two outs, you're going to score. I'll give Lagares credit. He closed a lot of ground quick."
In his first look at the Mets on May 24, Buchanan recorded his first career quality start, in addition to being saddled with his first loss, as he went 6 2/3 innings and allowed three earned runs.
Buchanan saw a similar result on Monday. He went six-plus innings and allowed three runs on four hits and a walk while striking out five.
"Even though they've seen me, I still have to pitch my game and continue to hit spots and try to get them out," Buchanan said. "Just staying true to myself. Just because they've seen me once, that doesn't me I have to change my game plan."
After posting 2-3 record and a 5.97 ERA in first his five starts, Buchanan is 4-3 with a 3.35 mark in his seven starts since.
After Monday's series finale, the Phillies have lost 10 of their last 13 games vs. the Mets, and are 2-8 at Citizens Bank Park when playing New York this season.
"That's baseball. It's one of those things," Sandberg said. "All-in-all, we've had a hard time scoring runs against their starting pitching. And they have some good arms in the bullpen. I'd say for most of the season, they've been able to swing the bats. It seems like they do the damage against us."
Erik Bacharach is an associate reporter for MLB.com. This story was not subject to the approval of Major League Baseball or its clubs.