RBI World Series championship field set in Arlington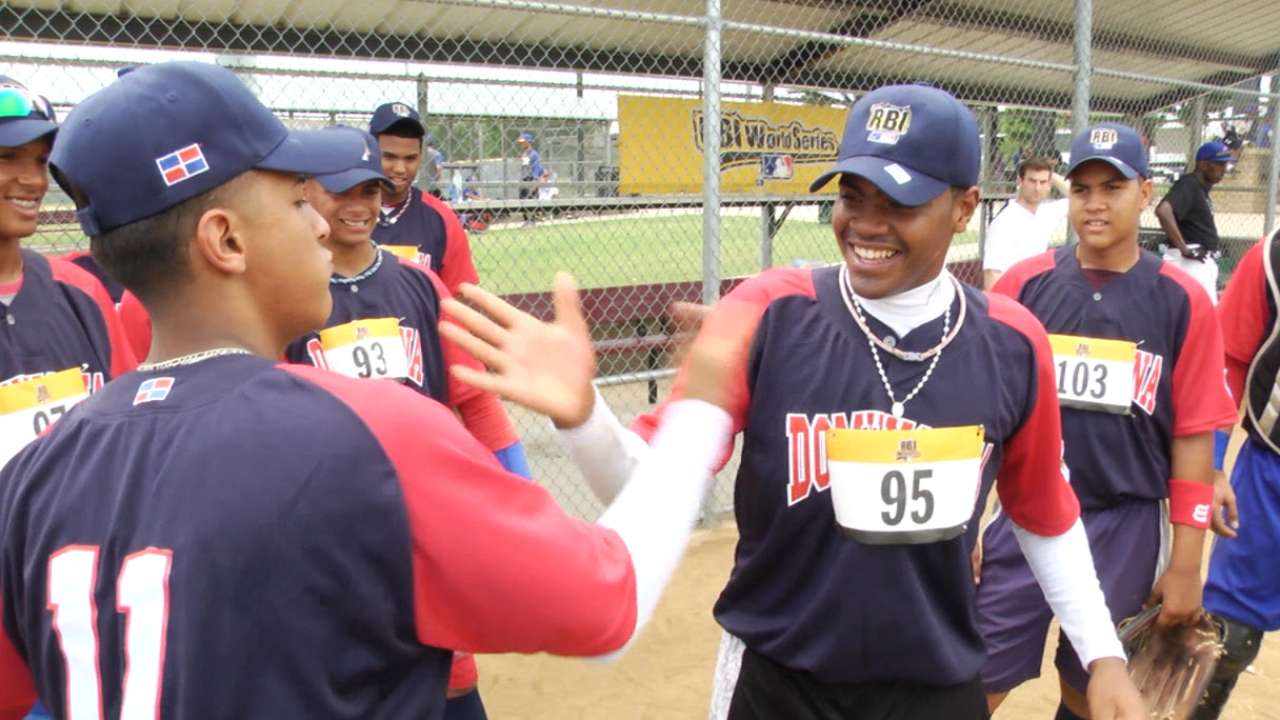 GRAPEVINE, Texas -- The 2014 Reviving Baseball in Inner Cities (RBI) World Series is coming to a close and Monday's championship games are set. Detroit Arsenal RBI will take on Miami Marlins RBI in the junior division and Jackie Robinson-Jersey City RBI will take on Los Angeles Angels RBI in the senior division, with both games being played at Globe Life Park, home to the Texas Rangers.
Sunday morning started bracket play for the tournament with second-seeded Jersey City, N.J. matched up against third-seeded Houston Astros RBI. Both pitchers kept their teams in the game, but Jersey City starting pitcher Matthew Littrell was not to be outdone, throwing all seven innings while striking out five in the come-from-behind 5-4 victory over Houston.
Jersey City took a quick 2-0 lead in the first inning with Lenin Guzman and Angel Perez scoring. Astros RBI struggled offensively, scattering five hits on the afternoon. Houston scored a pair of runs in the third and sixth inning, with Tyrone Thomas' two-out RBI single giving Astros RBI their only lead of the game.
Houston's lead did not last long after David Leal replaced starter Justin Scott, who went six innings, striking out seven and only allowing three runs. Trailing, 4-3, Guzman and Perez both walked in the bottom of the seventh for Jersey City, with the duo scoring the tying and game-winning runs on a wild pitch and a Michael Ionta RBI single.
"Littrell comes through all the time," Jersey City head coach Ron Hayward said about the performance from his starting pitcher. "I told our guys to play seven innings, just relax and keep attacking."
In the same senior division bracket, fourth-seeded Cleveland, who didn't record a win in pool play, eliminated top-seeded Kansas City, Kan., 3-2, to move on and play Jersey City in the semifinals.
The other senior division team to earn a one seed was Philadelphia Phillies RBI, who knocked out Venezuela in the opening round with a 6-3 victory to move on to the semifinals. Phillies RBI would meet second-seeded Anaheim Angels RBI after they defeated Miami Marlins RBI, 3-1.
The semifinal matchup between Angels RBI and Phillies RBI lived up to the hype of a one vs. two seed game. Both teams provided plenty of offense, but the difference was Anaheim's pitching, sticking with starter Joey Gill for all seven innings en route to an 8-4 victory to send Angels RBI to the championship game.
After Phillies RBI took a 4-2 lead into the fourth inning, Angels RBI wasted no time regaining the lead, driving in four runs and never looking back.
The middle of the Anaheim infield proved to be the backbone of the Angels' offense today with second baseman Laine Huffman and shortstop Coby Kauhaahaa, hitting first and second in the lineup respectively, combined for five on the team's eight runs.
"It's important for [Laine] and I to get things going for us each game," said Kauhaahaa. "But I know the rest of the guys in our lineup will step up, so the pressure isn't there."
"My goal is if I get on base, I score," said Huffman. "We felt the pressure, but we've been down before and never give up."
Jersey City continued to come up with clutch pitching and timely hitting, defeating Cleveland RBI, 9-4, in the other senior semifinal game. Catcher Michael Ionta once again deliver at the plate, going 2-for-4 with an RBI and a pair of runs scored. His battery mate, pitcher Mark Venica did the rest of the work to secure a spot in the championship game, hurling 6 2/3 innings and striking out 11 Cleveland batters. Venica also recorded a game-high three hits.
In the junior division tournament, Detroit RBI knocked off previously unbeaten St. Louis RBI, 12-4, to reach the championship game. Steve Mann pounded a grand slam in the seventh inning to secure the win for Detroit RBI, while starting pitcher Shane Easter tossed a complete game and struck out five.
Miami RBI move to 5-0 in the RBI World Series junior division with their 9-0 rout over Los Angeles Dodgers RBI in the semifinal game. Ogandys Diaz and Giovanni Arriera were impressive on the mound for Miami, allowing only four hits and striking out six Los Angeles hitters in the complete game shutout. Nicholas San Marty and James Spatafora combined to drive in give of the team's nine runs in the victory.
Ryan Cox is a contributor to MLB.com. This story was not subject to the approval of Major League Baseball or its clubs.