Pitching dominates in Perfect Game Classic
Ten hurlers combine for two-hitter as West wins annual high school showcase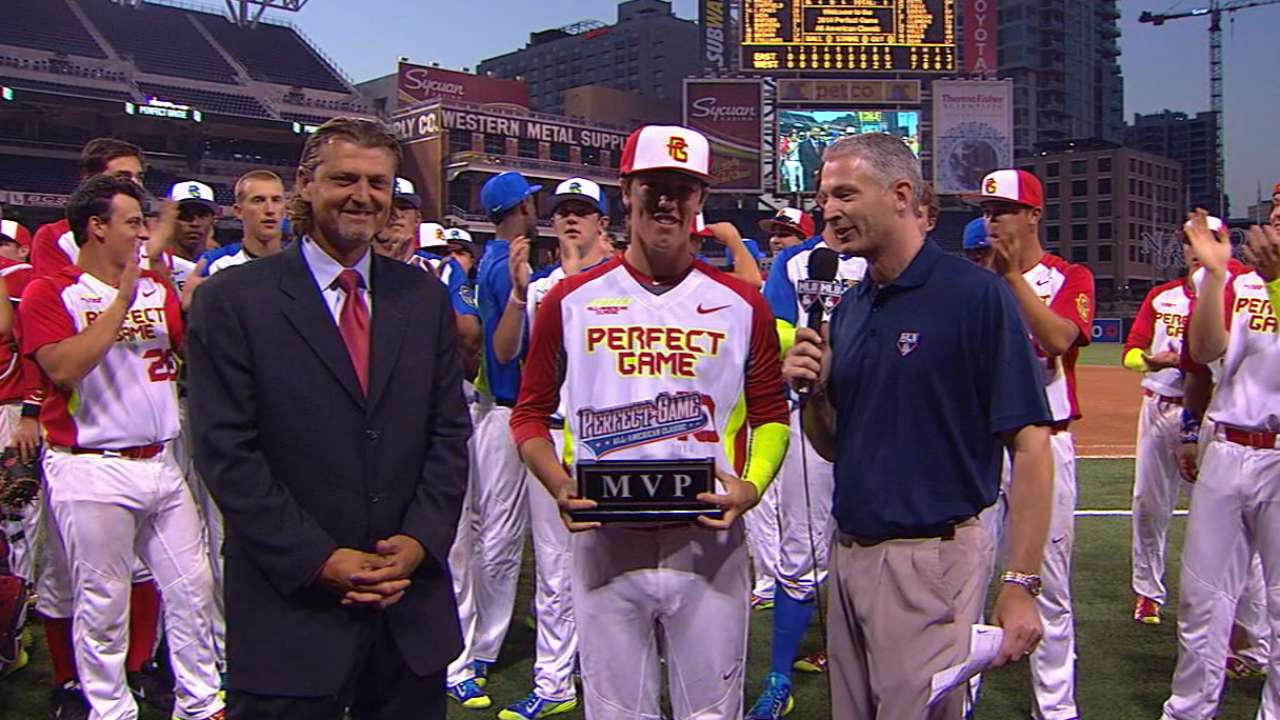 SAN DIEGO -- Sunday's Perfect Game All-American Classic at Petco Park was all about pitching, and no pitcher stood out more than left-hander Kolby Allard.
Ten different hurlers on the West team combined for a two-hit shutout of the East in a 7-0 victory at the annual high school prospect showcase, including Allard, who worked a 1-2-3 second inning.
A local product from San Clemente High School, Allard blew through some of the best rising senior prospects in the country, striking out the side in the second, while showcasing his low-90s fastball and devastating curve.
"It's totally awesome, because there are so many ridiculously good ballplayers out here," Allard said. "I'm just blessed to be the MVP. It's such a humbling experience playing against all the best."
Allard, a UCLA commit, began his outing by striking out the East team's cleanup hitter, Danny Reyes, on a nasty curve in the dirt. He proceeded to fan Brandt Stallings, the Home Run Derby champ, and Cornelius Randolph.
"My curveball was really working," Allard said. "But more than anything I was just going out there, trying to have fun."
The first five innings didn't see much offense, as both teams were held scoreless with one hit apiece. For the East, highly touted Notre Dame commit Ashe Russell got the start and struck out the side in the first.
The West squad finally broke through in the sixth with five runs -- four of them unearned. Kody Clemens, son of seven-time Cy Young Award winner Roger Clemens, helped spark the rally with an opposite-field single.
"Just being able to play at Petco Park is crazy," Clemens said. "Knowing that you're on an MLB field, having a great time with all these great players is just an awesome experience."
The big blow came with two outs in the frame, when Fort Worth, Texas, prospect Trenton Clark hit a sharp liner off pitcher Hogan Harris. The ball caromed up the first-base line, allowing two runs to score.
Clemens, meanwhile, provided arguably the best defensive play of the afternoon at second base. The University of Texas commit ranged to his left on a third-inning grounder, making a diving stop on the outfield grass. He quickly sprung to his feet and threw to first for the out.
Two innings later, highly-rated shortstop prospect Nicholas Shumpert challenged Clemens for the finest defensive gem of the day. The son of former big league utilityman Terry Shumpert made a nice stab of a chopper in the shortstop hole, and showed off his arm with an absolute rocket to first.
The biggest noise at the plate came before the game even began, when Stallings took home the Perfect Game Home Run Derby title.
"It was probably one of the most fun things I've done all summer," Stallings said.
A well-built power-hitting first baseman, Stallings defeated fellow Georgia native Isiah Gilliam in the finals. Gilliam, a switch-hitter, batted right-handed in the first round to advance, before switching to lefty in the finals.
Gilliam did not hit a homer from the left side, and Stallings took home the crown shortly thereafter with one powerful swing. On his first hack, he hit a line-drive blast off the Western Metal Supply Co. building in left field, dropping his bat and raising his arms in triumph.
"I had no idea it was out, but my whole team told me to just go ahead and pimp it a little bit, no matter what happened. If it didn't get out, just pick the bat up and do it again."
Drew Finley and Kyle Dean, who play their high school ball 25 minutes away at Rancho Bernardo, received the biggest ovations, and they sent the fans home happy. Finley pitched a 1-2-3 sixth, ending the frame with a strikeout on a breaking ball in the dirt. Dean went 1-for-2 with an RBI single, a stolen base and a run scored.
"It felt like I had a lot of people here behind me," Finley said. "That took a lot of stress off my shoulders, knowing that I couldn't really disappoint anyone."
When the game ended, the victorious West team poured out of the dugout and mobbed each other on the mound, prompting the vanquished East team to join them.
It's not a sight you see every day, two teams collectively celebrating at the end of a game, but perhaps it speaks to the nature of the showcase.
"It's absolutely awesome," Stallings said. "One, because I get to compete against all the best talent in the country, and two, because I get to play against all my friends. To see everybody on one field playing with and against each other -- it's an honor."
AJ Cassavell is a reporter for MLB.com. Follow him on Twitter @ajcassavell. This story was not subject to the approval of Major League Baseball or its clubs.