Dickerson's homer in 10th lifts Rockies past D-backs
Colorado takes series finale in extras against division-rival Arizona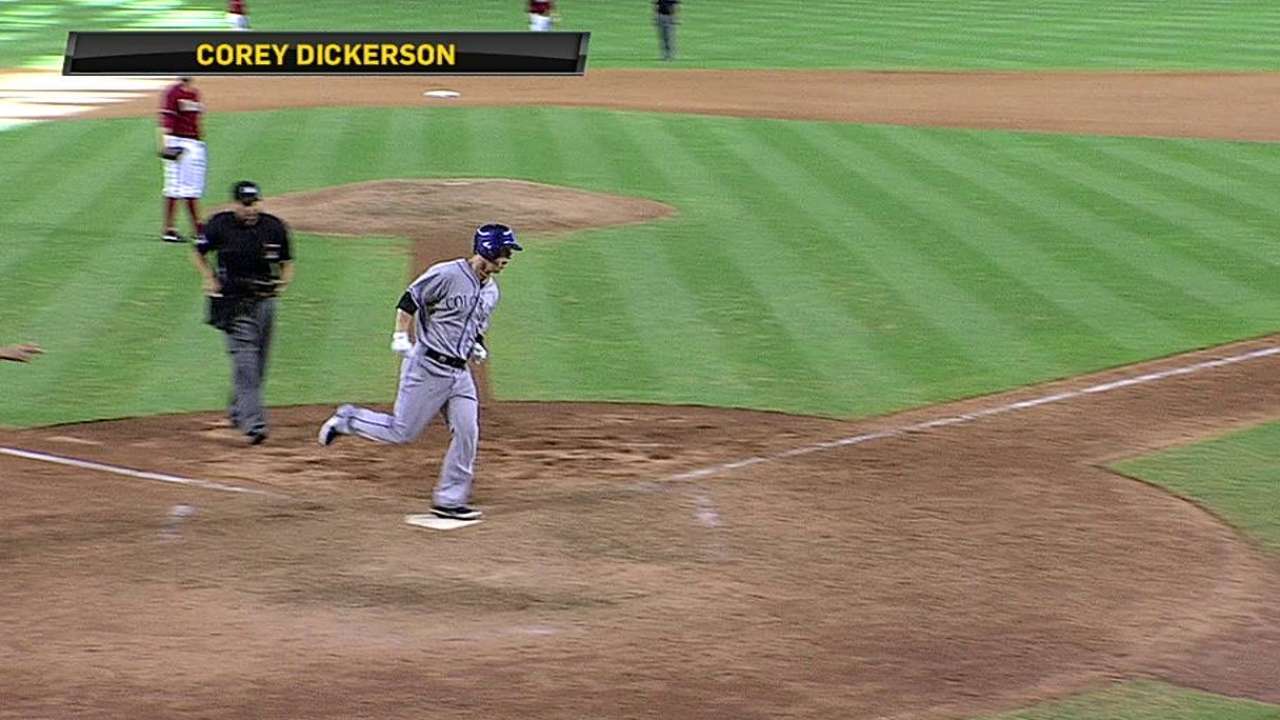 PHOENIX -- Corey Dickerson dashed the bases, not because he had shed the weight of bad baseball that his Rockies had been carrying, but because that's how competitors act.
Dickerson's solo homer with two outs in the 10th inning keyed the Rockies' 5-3 victory over the D-backs on Sunday afternoon at Chase Field in front of 22,104.
The homer off Oliver Perez (2-2) was Dickerson's 14th of the season. That, and an insurance run on a single from Wilin Rosario, who had homered earlier, gave the Rockies their third victory in 13 games and third in their last 23 road contests. The victory left the Rockies tied with the Rangers for the Majors' worst record (46-71).
But Dickerson, who has hit safely in five straight games (9-for-20) and batted leadoff Sunday in place of the slumping Charlie Blackmon (3-for-33 this month), said motivation goes well beyond the record.
"We've got a losing record," Dickerson said. "But you've got to personally bring good energy. It describes the man you are. Are you going to give up or are you going to keep fighting? I think we've got a lot of fight on this team."
Sunday's victory was the definition of how the Rockies have to win.
This sport is ruled by stars and teams possessing either stars or savvy. Without experienced stars -- such as outfielder Carlos Gonzalez, who went to the disabled list Sunday with left knee tendinitis, and shortstop Troy Tulowitzki, whose comeback from a left hip flexor strain has been slowed by not-yet-fully-understood pain in the hip -- whatever fight the Rockies possess is rarely enough to overcome execution issues.
Injuries also have hurt the pitching. The news Sunday that lefty Brett Anderson's back injury will likely will cost him the rest of the season couldn't have helped the mood.
But this time the Rockies won despite iffy execution, especially in the bottom of the ninth.
Lefty Rex Brothers missed on 14 of his 20 pitches in the ninth but managed two outs. Brothers fielded Xavier Paul's bunt and erased Didi Gregorius at second. Brothers forced a bases-loaded, full-count grounder from David Peralta that shortstop Charlie Culberson fielded before throwing home.
Finally, Matt Belisle (3-6) forced a Mark Trumbo grounder to end the ninth, and LaTroy Hawkins struck out all three hitters in the 10th for his 18th save in 19 chances. Also, before Brothers' scare, lefty Boone Logan escaped the seventh despite having a man at third and one out, and righty Adam Ottavino struck out three in the eighth.
"It was easy," manager Walt Weiss said, with a wry smile. "It got a little hairy there in the ninth."
After head-scratching mistakes cost the Rockies the first two games against the D-backs, Brothers was happy his issues didn't cost the Rockies once again.
"It's huge -- we'll take the momentum of winning an extra-inning game on the road and keep playing hard baseball," Brothers said.
Left-handed pitcher Franklin Morales, a swingman forced into regular duty, curbed his homer-prone ways and faced down traffic for six innings. He gave up three runs (two earned) on five hits and two walks.
"Frankie never gives in; it wasn't easy for him today," Weiss said.
First baseman Ben Paulsen, called up from Triple-A Colorado Springs to take Gonzalez's roster spot, knocked his first Major League home run for two runs in the second inning off D-backs starter Wade Miley.
Rosario had a make-you-cry, make-you-laugh day.
Rosario's double-play grounder ended a third-inning rally, and his throwing error on an attempted double play with the bases loaded in the fourth allowed a run.
But Rosario homered off Miley for a 3-3 tie in the sixth. His RBI single in the 10th came after Brandon Barnes' bunt single, and after Perez hit Nolan Arenado.
"Wilin is another one who shows up with a great attitude every day and he had a couple big at-bats for us today," Weiss said.
Perez, who had been scored upon once in his previous 18 outings, struck out DJ LeMahieu and Josh Rutledge to open the 10th. He tried to quick-pitch Dickerson with a slider on a 1-0 count, but Dickerson's bat was quicker.
Thomas Harding is a reporter for MLB.com. Read his blog, Hardball in the Rockies, and follow him on Twitter @harding_at_mlb This story was not subject to the approval of Major League Baseball or its clubs.