Jackson's big day lifts Mariners past White Sox
Newcomer drives in all four runs; McClendon's gutsy call pays off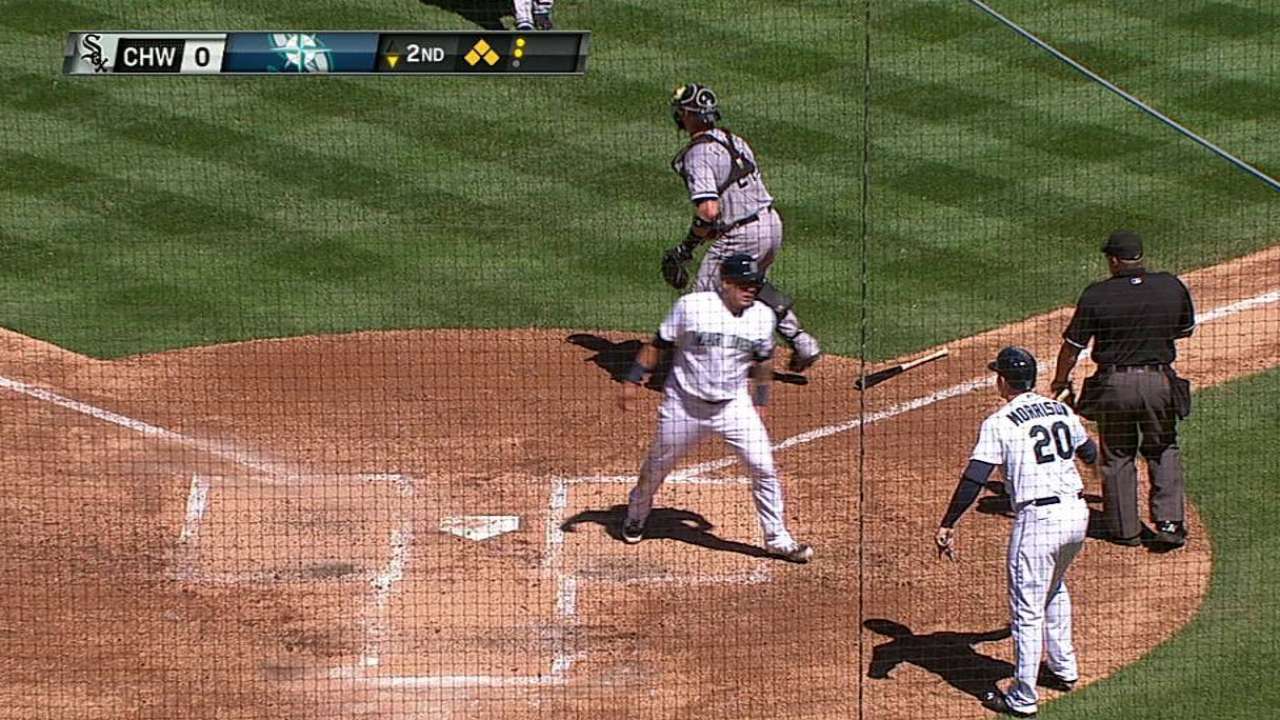 SEATTLE -- New leadoff hitter Austin Jackson drove in four runs and manager Lloyd McClendon made a bold pitching change to propel the Mariners to a 4-2 win over the White Sox on Sunday at Safeco Field.
With two outs in the second inning, Jackson -- acquired from the Tigers via a three-team deal at the July 31 non-waiver Trade Deadline -- delivered his biggest hit as a Mariner when he lined a bases-loaded, three-run double.
"I don't think I could've gotten traded to a better team," Jackson said after he finished 3-for-4, notching an RBI single in the seventh inning against Chicago starting pitcher John Danks (9-8).
In his career, Jackson has a .429 batting average (21-for-49) with three home runs and 11 RBIs against Danks, a veteran southpaw he faced often with Detroit in the American League Central. Jackson's four RBIs tied a career high.
Afterward, Danks admitted he can't escape Jackson.
"He sees the ball well off of me. I've thrown everything I know to," Danks said. "I thought about taking my glove off and firing one in there right-handed just to give him another look."
McClendon, meanwhile, let Seattle starting pitcher Erasmo Ramirez throw just 68 pitches before pulling him after 4 1/3 innings.
Recalled a few hours before Sunday's game, Ramirez breezed through his first four frames. With the Mariners still leading 3-0 in the top of the fifth, he got the first out. He hit Tyler Flowers with a pitch and gave up a single to Jordan Danks.
Facing Gordon Beckham, Ramirez fell behind, 2-1, and that was it. McClendon interrupted the at-bat, walked out to the mound and replaced the 24-year-old right-hander with reliever Dominic Leone.
"I thought he was out of gas," McClendon said. "He pitched two days ago [in Triple-A], he came in and did a nice job for us. He elevated some pitches that inning, and I thought it was time to go to the bullpen.
"Sometimes you have to manage with your gut, not numbers."
Any second-guessers were silenced when Leone got Beckham to ground into a 5-4-3 double play to end the inning.
Ramirez allowed four hits, one walk and hit a batter. He didn't eclipse the five-inning mark that qualifies a starting pitcher for a win. It instead went to Leone (5-2), as the Mariners collected their third win in the four-game series.
"In the fifth I was a little bit under the ball," Ramirez said. "It wasn't running the way I wanted to throw it. It wasn't just about getting tired. I was just getting under the ball and missing my spots."
Ramirez (1-5) hasn't won a big league game since his season debut on April 1, when he spun seven innings of two-run ball in an 8-3 victory over the Angels. Sunday marked his fifth stint with the Mariners this season and perhaps not his last. After the game, Ramirez was optioned back to Tacoma. The club will make a corresponding roster move before it kicks off a three-game set against Toronto on Monday.
In the eighth inning, Flowers ended the shutout with a solo homer off Tom Wilhelmsen. Closer Fernando Rodney allowed back-to-back singles to begin the ninth. After striking out Adam Dunn and Dayan Viciedo, he allowed an RBI single to Conor Gillaspie, which cut the lead to 4-2, then hit Flowers to load the bases.
In classic Rodney fashion, he bounced back by striking out Jordan Danks to capture his 33rd save in 36 chances.
With Sunday's win, the Mariners improved to 5-1 on their nine-game homestand and 62-55 on the season, locking them in a virtual tie with the 63-56 Blue Jays. Both clubs trail the Royals by 1 1/2 games for the second AL Wild Card spot.
"We're good, and we got a chance to do something special," McClendon said. "Our guys believe, and I hope our fans do too."
Adam Lewis is an associate reporter for MLB.com. This story was not subject to the approval of Major League Baseball or its clubs.