Harang's unusual approach leading to career year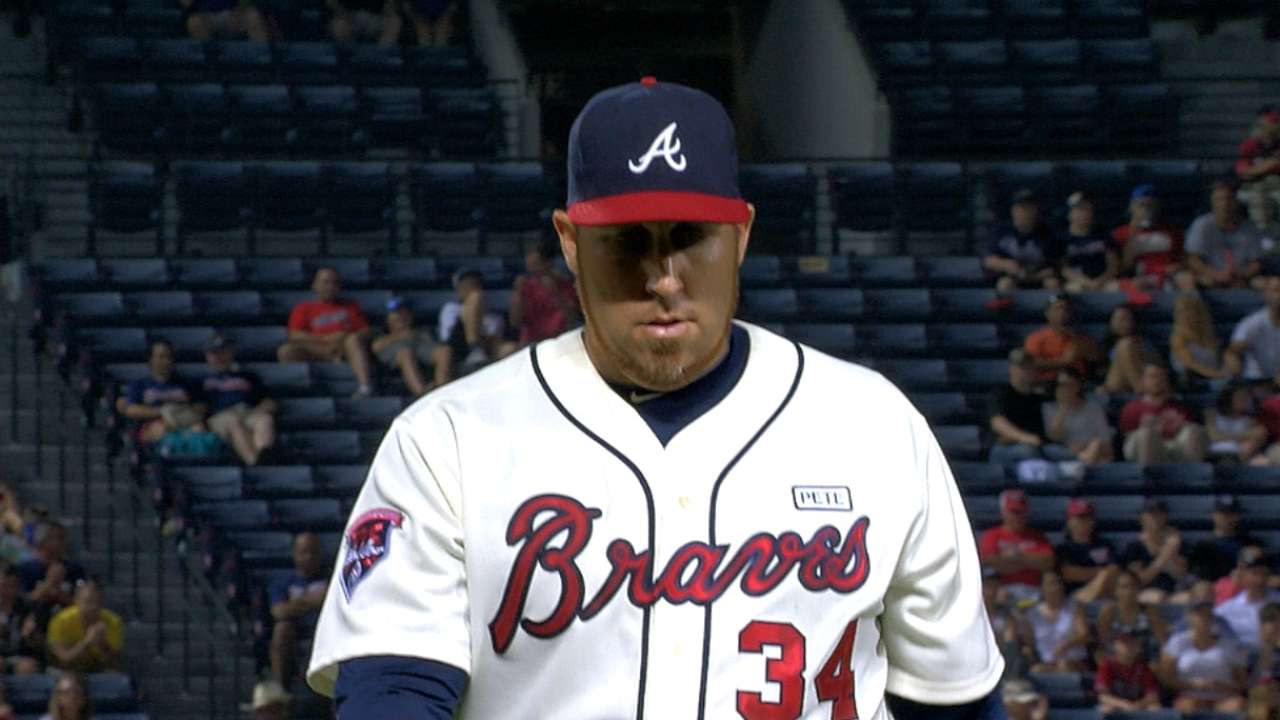 ATLANTA -- When Aaron Harang compiled a 0.85 ERA in his first five starts this season, many expected him to eventually fade down the stretch as the Braves chased their second consecutive National League East title.
However, Harang's latest turn was just another gem in what is already a career-best season for the 13-year veteran, as the right-hander gave up just one run in seven strong innings against the Nationals on Saturday night at Turner Field.
It was his career-high-tying 20th quality start, and his 18th outing allowing two earned runs or fewer in 24 trips to the hill this season.
Meanwhile, the Braves have lost five straight Harang starts.
"He deserved a lot better than he got [Saturday]," Freddie Freeman said.
Harang has become a viable candidate for the NL Comeback Player of the Year Award, as both his 3.31 ERA and his 3.65 FIP (Fielder Independent Pitching) are career highs despite the Braves being his sixth team since the start of 2013.
Also, Harang's 2.2 WAR (Wins Above Replacement) is the fourth-best mark of his career and higher than his combined 2.1 WAR of the past five seasons.
Even more impressively and improbably, Harang has compiled these numbers despite a .313 BABIP (Batting Average on Balls in Play), his highest since 2010.
"He's phenomenal," Freeman said. "He does it every five days. He goes out there, he's a veteran guy and he just battles all night long."
Harang surrenders 9.1 hits and walks 3.4 batters per nine innings and sports a 1.39 WHIP this season, all results of his strategy that sometimes involves simply putting one hitter on base in order to face a guy he knows he can retire.
The veteran walked six batters in his seven no-hit innings against the Mets on April 18 at Citi Field. The practice initially concerned Braves manager Fredi Gonzalez, but the results have more than satisfied the skipper.
"I've kind of enjoyed watching him maneuver through a lineup, because he doesn't give in," Gonzalez said. "He knows what he wants to do, and also, he has command of his pitches."
Joe Morgan is an associate reporter for MLB.com. This story was not subject to the approval of Major League Baseball or its clubs.