MLB.com Columnist
Bill Ladson
Gio labors, setting tone for Nats in loss to Braves
Lefty allows two runs on 111 pitches over 4 2/3 innings in series finale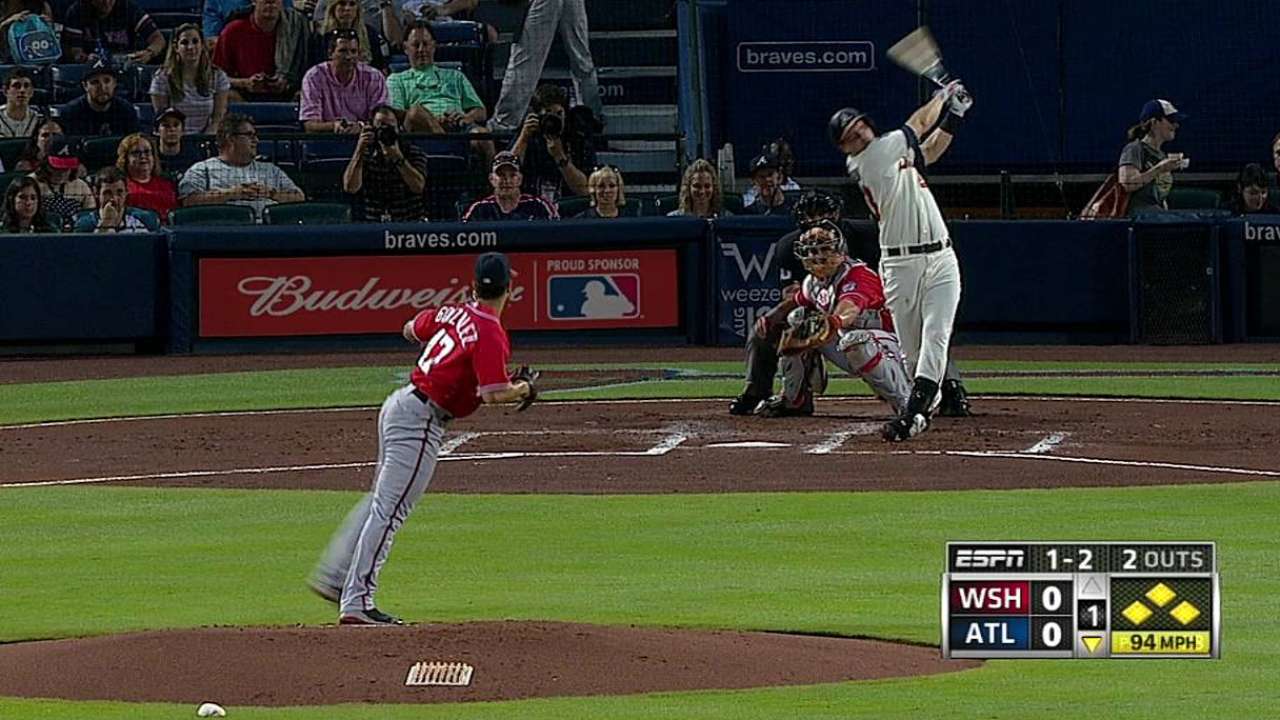 ATLANTA -- On Sunday night, left-hander Gio Gonzalez made a fundamental mistake, and it proved costly as the Braves edged the Nationals, 3-1, at Turner Field. Atlanta took two out of three games in the series, with Washington holding a 3 1/2-game lead over Atlanta in the National League East.
"There is still a lot of baseball left," Gonzalez said. "At the end of the day, it's not over yet. We still have to go out there and try to compete. We have the Mets coming up. We have to do our job and keep playing one series at a time."
For the third straight start, Gonzalez wasn't himself on the mound. He threw too many pitches -- 111 in 4 2/3 innings -- while allowing two runs on six hits and striking out eight. It didn't help that Gonzalez didn't have fastball command.
Gonzalez (6-9) was shaky starting in the first inning, throwing 29 pitches. He struck out the side, while managing to get out of a bases-loaded jam at the same time. Gonzalez said he felt that he didn't pitch that badly.
"I didn't have any problems. They were fouling off pitches," Gonzalez said. "There were a couple of guys in the bottom of the order who were fouling me off for seven or eight pitches, maybe nine. My pitch count just ran up from them fouling the ball off, keeping me on my toes. That's sometimes how the ball goes."
Gonzalez was given a 1-0 lead in the fourth inning, when Ian Desmond hit a 1-1 pitch from Alex Wood over the right-field wall. That would be Wood's only blemish in the game. He lasted 7 1/3 innings and struck out a career-high 12 batters.
"After Desmond put that charge in that ball … that's when I got a little extra pep in my step and I really felt like we were going to pull it out," Wood said. "I really felt the control was back on our side, and my side as well.
"I think the competitiveness from our ballclub comes out as a whole when we play [the Nationals]. I think it almost plays to our advantage. It's kind of a playoff game, no matter when we play them. We've got some guys who are some gamers in here and enjoy that challenge."
The Braves started enjoying the challenge starting in the bottom of the fourth inning. Justin Upton hit a 3-2 pitch from Gonzalez over the left-field wall for his 21st home run of the season, a solo shot. It was Upton's 1,000th hit and 500th RBI of his career.
An inning later, the Braves had runners on first and third when Jason Heyward hit a ground ball to second baseman Danny Espinosa, a grounder which first baseman Adam LaRoche also tried to make a play on. But Gonzalez failed to cover first base, and Heyward was able to reach first on an infield single as Emilio Bonifacio scored on the play.
Gonzalez had no excuses for not covering first base.
"I should have gone over," Gonzalez said. "There are no excuses."
LaRoche also blamed himself for not getting the third out.
"I should have had a better read on the ball instead of trying to go after it," LaRoche said. "I should have tried to get back to the bag. So I have a bad read and 'G' got a bad read. That's on both of us."
After the game, it was obvious that manager Matt Williams was not impressed with what he saw from Gonzalez.
"The first inning was a lot of pitches," Williams said. "The next couple of innings were OK, but then he ran into trouble in the last inning with two outs, he didn't get to cover first base. It could have been a different story getting out of that inning. Over 100 pitches through five. The Braves fouled a lot of balls off. He didn't command as well as he wanted to."
Gonzalez has had problems covering first base in the past.
Last season, Gonzalez and teammate Jayson Werth got into a shouting match over Gonzalez not covering first base in a game against the Giants.
During Spring Training, Gonzalez vowed he would improve when it came to covering first base. Williams said Gonzalez has done a good job of covering first base this season.
"He has fielded some bunts on that side. He worked on it a lot in Spring Training. [Today], he just got caught watching it," Williams said.
Evan Gattis' pinch-hit RBI single in the eighth off Jerry Blevins provided the game's final margin, with Craig Kimbrel closing down the Nats for his 34th save.
Bill Ladson is a reporter for MLB.com and writes an MLBlog, All Nats All the time. He also could be found on Twitter @WashingNats. This story was not subject to the approval of Major League Baseball or its clubs.