Wood pitches Braves to series win over Nats
Lefty fans 12 over 7 1/3 innings; J. Upton homers, Heyward adds RBI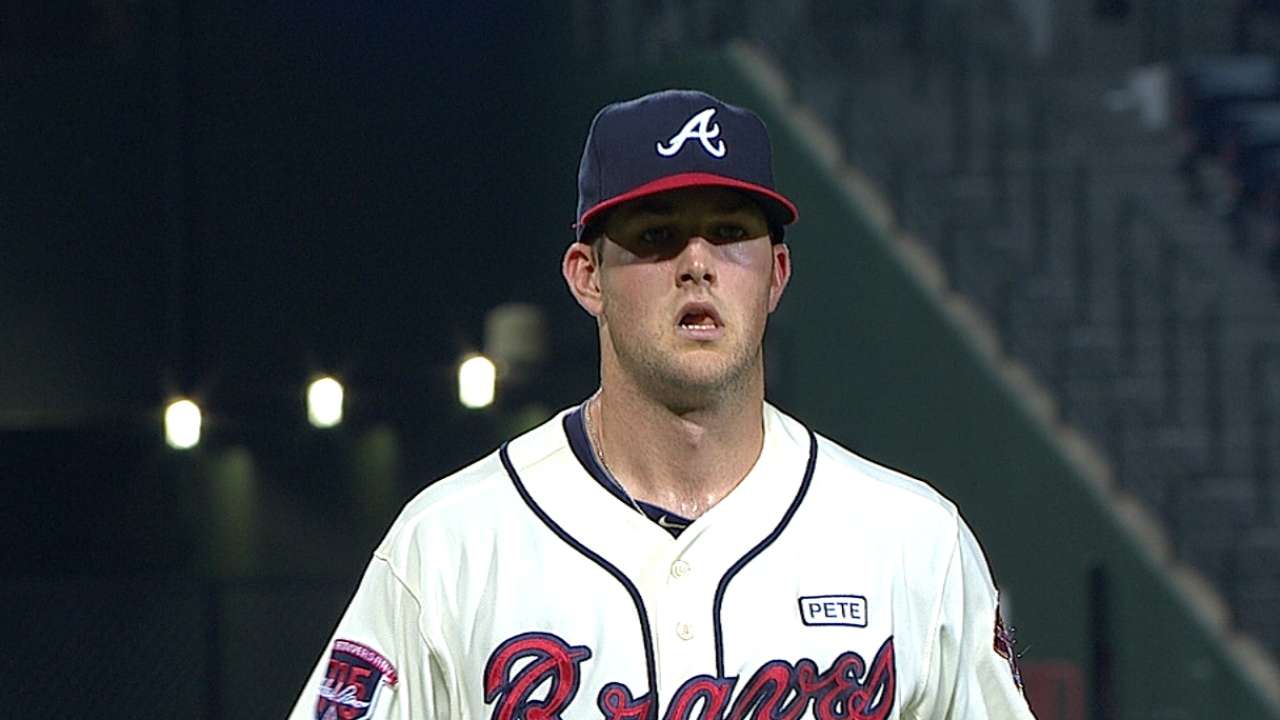 ATLANTA -- As he navigated his way through the first seven innings on Sunday night, Alex Wood did not resemble a pitcher who was making just his 27th career start. His poise and determination earned him an opportunity to begin the eighth inning and move the Braves one step closer to claiming a much-needed 3-1 win over the Nationals.
"It was just going to be his game," Braves manager Fredi Gonzalez said. "We were going to try to take him as far as we could."
Though he had already matched a career-high 114 pitches, Wood certainly deserved the chance to start the eighth, especially with top setup man Jordan Walden in need of rest and essentially unavailable. After walking Jayson Werth to open the frame, the 23-year-old Wood ended his night by notching his career-high 12th strikeout against Adam LaRoche, who accounted for a third of that total on the night.
After Wood exited to a well-deserved rousing ovation, David Carpenter preserved a one-run lead with a one-pitch appearance that consisted solely of Ian Desmond's inning-ending double play. Evan Gattis provided an insurance run in the bottom of the eighth and Craig Kimbrel sealed the deal with a perfect ninth.
"[Wood] understood what this game meant and he made pitches when he needed," Braves catcher Gerald Laird said. "He knew we needed some innings out of him, and he went out there and put up a really good performance."
The Braves snapped an eight-game losing streak with Friday's series opener and then suffered a tough 11-inning loss that concluded in the wee hours of Sunday morning. While must-win situations might not exist in August, the Braves understood how much a loss in this series finale would have damaged their psyche and playoff hopes.
But with the guidance of Wood, who scattered five hits and threw a career-high 124 pitches over 7 1/3 innings, the Braves improved to 22-10 against the Nationals since the start of last season. More importantly, just three days removed from their eight-game losing streak, the Braves now sit just 3 1/2 games behind the first-place Nationals.
"I think the competitiveness from our ballclub comes out as a whole when we play them," Wood said. "I think it almost plays to our advantage. It's kind of a playoff game, no matter when we play them. We've got some guys who are some gamers in here and enjoy that challenge."
Justin Upton has definitely made himself a key figure in this division rivalry. After Wood allowed Desmond to open the top of the fourth inning with an opposite-field home run, Upton opened the bottom half of the same inning with a game-tying shot off Gio Gonzalez, who produced yet another unimpressive outing against the Braves, totaling 111 pitches over just 4 2/3 innings.
Upton's home run to left field accounted for his 500th RBI and 1,000th career hit. He has batted .359 (14-for-39) with four home runs and a 1.208 OPS in 12 games against the Nationals this season.
"It could've swung in their direction majorly if we had dropped this [game] tonight," Upton said. "So we battled, put enough runs up for our pitching staff to pick us up, and hopefully we can build some momentum off of it."
Gonzalez, who is 0-6 with a 5.53 ERA in seven starts against the Braves since the start of last season, ended up allowing just two runs. But the veteran lefty labored throughout the evening and had himself to blame for not covering first base when second baseman Danny Espinosa ranged to his left to field Jason Heyward's decisive infield single with two outs in the fifth.
"I should have gone over," Gonzalez said. "There are no excuses."
While Gonzalez stewed after another rough outing, Wood stood in the home clubhouse proudly discussing how he had guided the Braves to what stands as the their biggest win thus far this season. Instead of stressing when a Tommy La Stella error put two on with none out in the second, he responded by striking out the next three batters he faced.
After surrendering Desmond's homer, Wood did not panic the rest of that inning or when Denard Span doubled with one out in the fifth. Instead, the left-hander showed the veteran moxie that has given the Braves confidence that he will play a key role as they attempt to overtake the Nationals and defend their division crown.
"The thing you like about him is he competes," Fredi Gonzalez said. "He'll beat me here tomorrow. His work ethic is second to none, and his preparation for his next start is second to none. It's nice to see a young man who has pitched in the big leagues a little more than a year now be able to do that stuff."
Mark Bowman is a reporter for MLB.com. This story was not subject to the approval of Major League Baseball or its clubs.