Hustle, Banditos prepare for epic matchup
Top-ranked 12-year-old teams meet for first time in Monday's NYBC final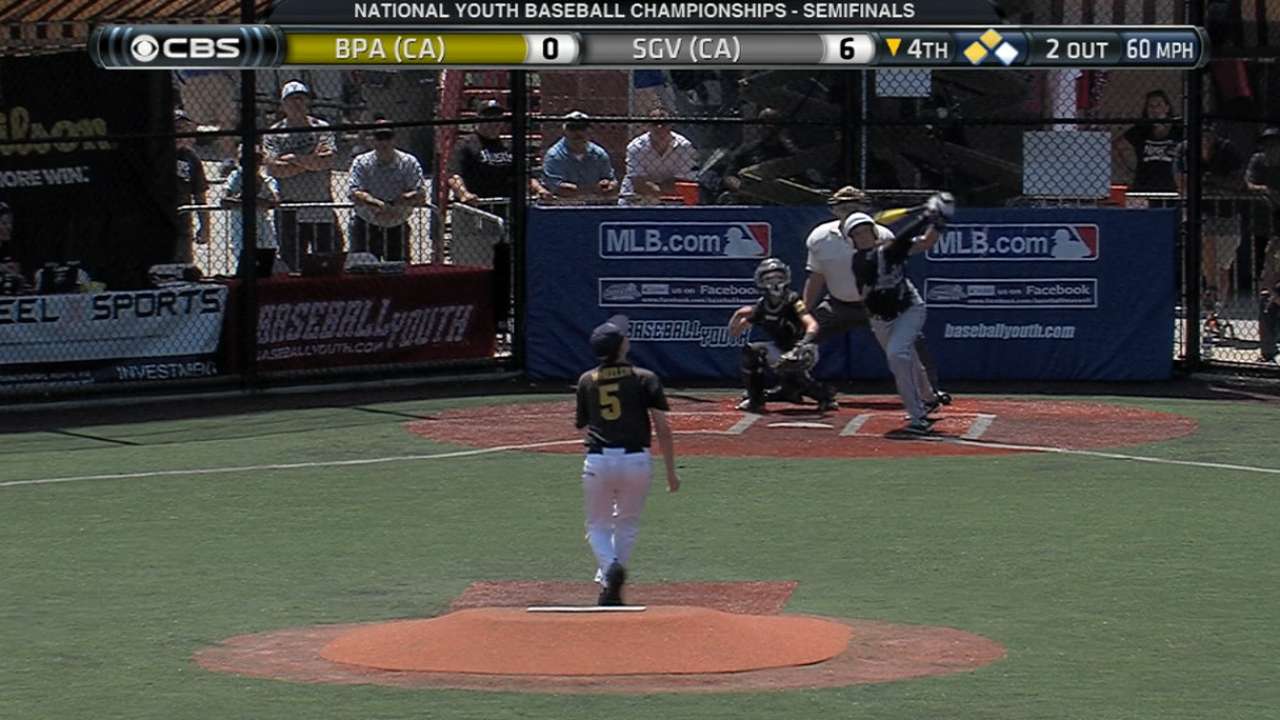 YAPHANK, N.Y. -- The two best 12-year-old teams in the nation, San Gabriel Valley Hustle and Houston Banditos Black, have both built impressive, heavyweight resumes during the past few years.
They are ranked first and second, respectively, in the nation for their age group by Baseball Youth Magazine, and will meet for the first time ever on Monday in the National Youth Baseball Championships final.
"We're playing against a powerhouse team," Banditos head coach Ray Deleon said to his team after the game. "They got a lot of tradition over there."
The game is scheduled for Monday at 6:30 p.m ET, at Baseball Heaven, and will be streamed on MLB.com.
The Banditos are making their fifth consecutive appearance in the NYBC and third appearance in the championship game. They are 2-0 in the final game, winning back-to-back championships in 2011 and '12.
The team from Houston defeated the San Diego Show, 3-1, during Sunday's semifinal behind a pair of key home runs -- a two-run shot in the first by Cayden Wallace and a solo homer in the fifth by Evan Godwin -- and a gutsy pitching performance from Jace Grady.
Although he threw earlier in the tournament, Grady is not usually one of the team's regular pitchers. He had been experiencing arm issues earlier in the tournament, but responded with a complete game to lead his team into the finals.
"Unbelievable, one of the best pitching performances I've seen in 20 years of coaching," Deleon said moments after dousing Grady with the water cooler.
After the final out was made, Deleon may have been the most ecstatic, racing from his position down the third-base line to begin celebrating with his players.
"We're playing for rings now," he told his team. "We are here."
SGV Hustle is making its first appearance in the tournament and finals, but they will enter as the favorite. The team from Azusa, Calif., has been ranked first all season after finishing atop the poll as 11-year-olds in 2013.
During the early semifinal game Sunday, the Hustle built a 9-0 lead over BPA DeMarini Elite before cruising to a 10-4 victory.
Their power has been a large reason for their success, belting 22 home runs through five games in this tournament to complement a strong pitching staff.
SGV poured from the dugout once the final out was secured to mob its pitcher, Josh Sosa, in celebration before lining up to shake hands with the other team.
"It feels good; we put a lot of hard work in this year," SGV Hustle head coach Robert Prieto said. "Our team camaraderie is great. Guys are always pulling for each other."
Prieto added that while he has a tight-knit group, his team's success can be attributed to how competitive they have been with each other. For instance, Brett Barrera normally hits in the middle of their order, but because of recent struggles was not starting in this game. He responded with a pinch-hit, three-run home run.
"They just push each other," Prieto said. "They're so competitive; they hate to lose."
Jamal Collier is an associate reporter for MLB.com. This story was not subject to the approval of Major League Baseball or its clubs.