Rizzo rips walk-off single to lift Cubs in 12
First baseman hits liner over five-man infield to drive in Sweeney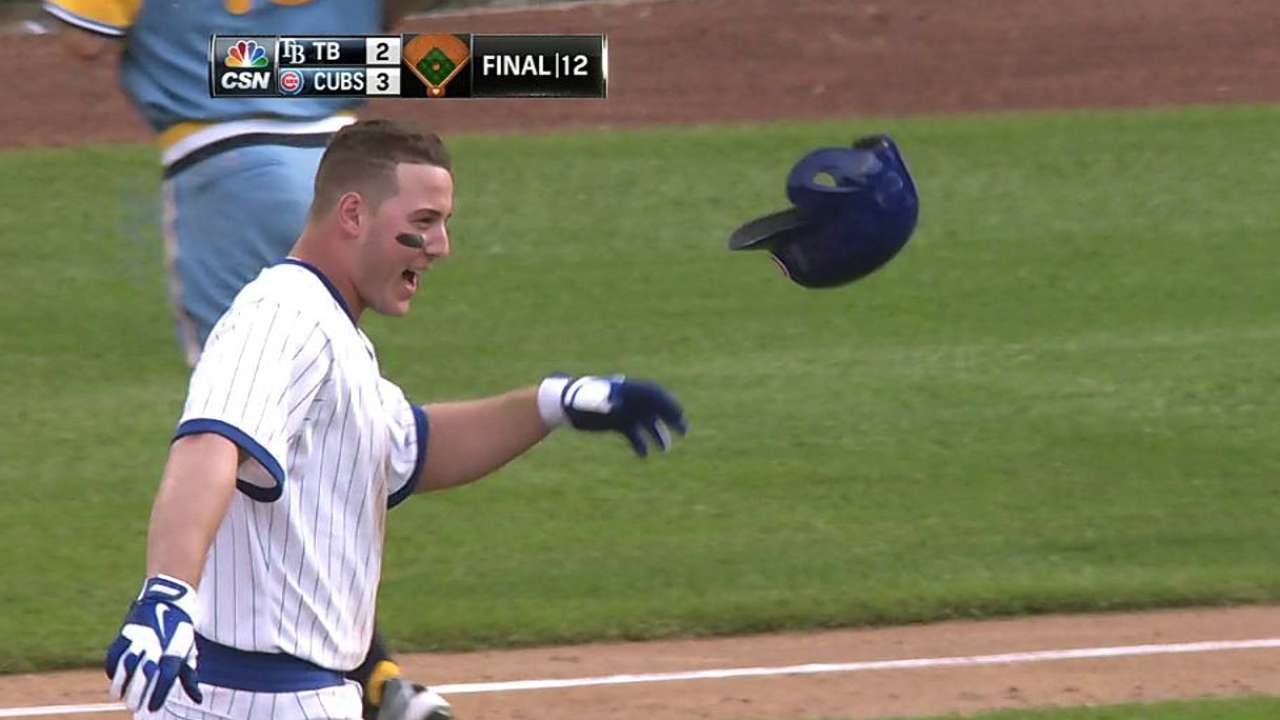 CHICAGO -- Anthony Rizzo wasn't bothered when he saw the Rays move outfielder Sean Rodriguez to the infield as an extra defender in the 12th inning Sunday with runners at first and third.
"I can see why they did it," Rizzo said. "Five-man infield, I know I just have to put the ball in the air. I was looking for a pitch to do it with and luckily, I put it in the air."
Rizzo delivered a walk-off RBI single with one out in the 12th to lift the Cubs to a 3-2 Interleague victory over the Rays and avoid a sweep.
"Fortunately for us, we outlasted them today," Cubs manager Rick Renteria said.
With the game tied at 2 in the 12th, Ryan Sweeney greeted Cesar Ramos with a single to center, and advanced on Chris Coghlan's sacrifice. Javier Baez, who hit a game-winning home run in the 12th inning in his Major League debut last Tuesday in Denver, struck out, but he was able to reach first on a wild pitch. Another wild pitch allowed Baez to move up. The Rays then moved Rodriguez from right field to the infield, but Rizzo lined the ball into right for the game-winner.
"He didn't panic," Renteria said of Rizzo.
Rays manager Joe Maddon said he didn't consider walking Rizzo.
"No, because I thought the next guy [Starlin Castro] was even more difficult," Maddon said. "I thought Cesar had a better chance to put [Rizzo] on the ground. We tried to get [Rizzo] out, walk [Castro], then pitch to [John] Baker with the bases loaded, that's where I was going."
With the win, the Cubs are 6-8 in Interleague play with six games remaining against the Orioles (Aug. 22-24) and Blue Jays (Sept. 8-10).
It was a historic series for the Cubs, although they reached a milestone they'd rather not achieve. Chicago set a franchise record by striking out 44 times in three games. The previous high was 43, set May 28-31, 2003, against the Astros. Every Cubs starter fanned at least once on Sunday when the team totaled 17 K's.
Rizzo wasn't worried that hitting coach Bill Mueller would lecture the players on Monday.
"[Mueller will] tell us they were great at-bats and great swings," Rizzo said. "I try to get something negative out of him and I can't. I think that's why he's so great. Even if he does see something, he knows how mental this game is. He'll tell you you look great and keep battling. He's fresh out of the game and still remembers what it's like."
Rizzo is doing the same with Baez, the highly touted prospect whose big league career is now six games old. Baez has struck out 12 times, including his whiff in the 12th. The Rays utilized a defensive shift against Baez, something Rizzo is familiar with, although the defense lines up on the opposite side of the infield against the first baseman. Will Rizzo offer the rookie any advice?
"I'm just going to let him play," Rizzo said. "I don't think he's too overwhelmed. Now, just let him play."
The crowd of 33,039 was hoping to see Baez hit his first home run at Wrigley Field -- he belted three at Coors Field last week -- but he went 2-for-6 with an RBI single in the fifth.
"I'm ecstatic he's here," Rizzo said. "He's struck out a few times, but it doesn't bother him. Me, at 21, I strike out seven times in two games, I'd be up the wall. He's playing, and he's got the type of attitude that is a winning player that I like to see. He backs down from no one, nothing. It doesn't phase him. The aura around him, I'm very impressed with."
Rizzo has done everything he can to make sure Baez feels at ease.
"I congratulated him after his first three punch-out game," Rizzo said. "I said, 'I hope you have a lot more because it'll mean you've been in the big leagues for a long time.'"
The Cubs had chances early. They had runners at first and second with two outs in the ninth, but lefty Jeff Beliveau struck out Coghlan to force extra innings. Coghlan had tied the game with a two-out RBI triple in the seventh. This was Chicago's sixth extra-inning game in the last 12.
The Cubs totaled 12 strikeouts Friday, 15 on Saturday and 17 on Sunday, and according to Elias, it's the first time in the modern era the Cubs have fanned at least 15 times in back-to-back games.
The Cubs wore throwback uniforms from 1988. The Rays didn't even exist then, and wore blue and yellow retro uniforms that looked like a variation on the Padres' jerseys from the late '70s.
Chicago starter Travis Wood, who is winless in his last 10 starts, did not get a decision or a chance to pinch-hit, which is something he likes to do. The lefty did single and score, though, and he gave up one just one unearned run over six innings.
This was the Cubs' first walk-off win since July 29 when they beat the Rockies in 16 innings. The only disappointment Sunday was that pitcher Edwin Jackson, who was used as a pinch-runner in the ninth, didn't get to score.
"It would've been nice to see Jacks come in and score the winning run," Wood said. "He was excited."
Carrie Muskat is a reporter for MLB.com. She writes a blog, Muskat Ramblings, and you can follow her on Twitter @CarrieMuskat. This story was not subject to the approval of Major League Baseball or its clubs.