Arms turn in strong showing, but Rays fall in 12
Cobb, pitching staff fan 17, walk one, but offense quiet at Wrigley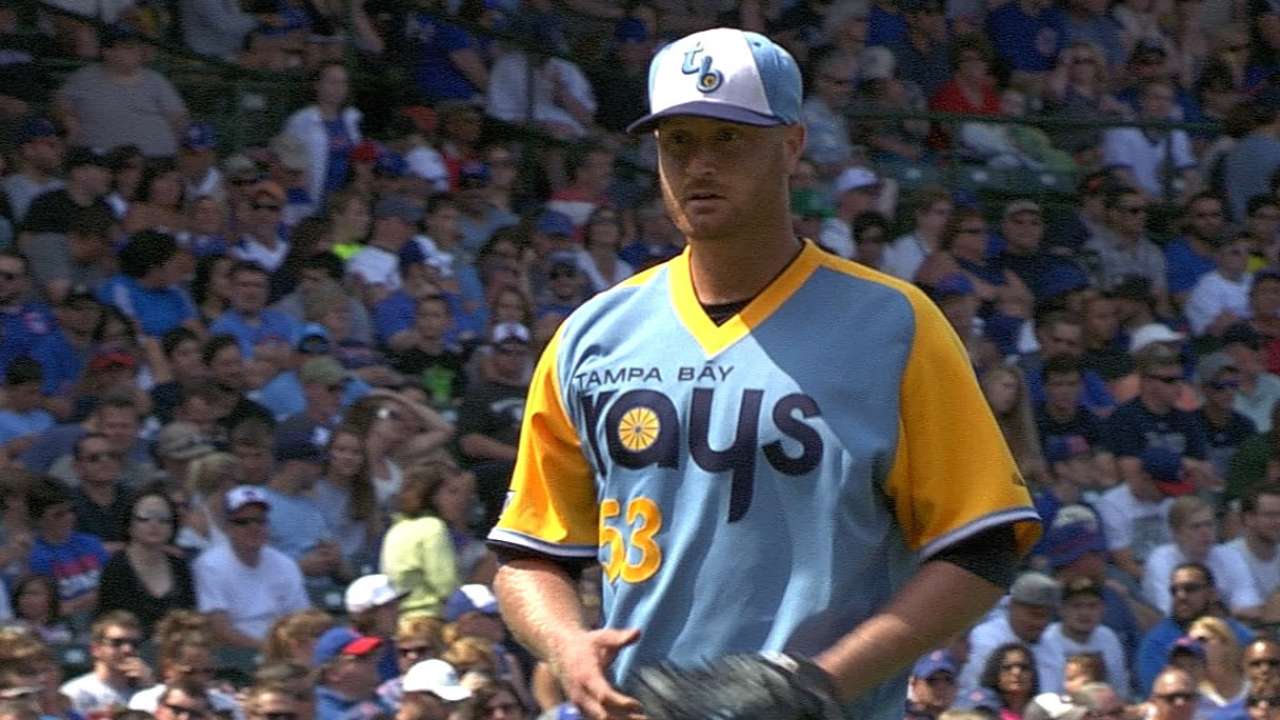 CHICAGO -- Wrigley Field wasn't nice to hitters on Sunday. The wind blowing in from Lake Michigan bent the flags toward home plate, giving the impression that runs would be precious. And they were, as it took 12 innings for the Cubs to post a 3-2 win over the Rays.
Though the Rays (57-60) claimed the weekend series, they saw their winning streak snapped at three games as they moved to 3-3 on their road swing. They headed to Texas after the game to finish out the trip with a four-game series against the Rangers.
Lefty Cesar Ramos had not pitched since Tuesday, but the job fell to him in the 12th to try to give the Rays' hitters another chance to break a 2-2 tie. That chance never came.
Ryan Sweeney greeted Ramos with a single to center, and advanced on Chris Coghlan's sacrifice. Javier Baez then struck out, but he was able to reach first on a wild pitch that catcher Curt Casali tried to backhand rather than block.
"Just a 3-2 curveball down and it bounced and went through," said Ramos, who did not point any fingers at Casali, nor did he claim to be rusty. "... [Casali] did everything he could to block it. Just found the hole."
Casali wasn't as forgiving of himself.
"Should have blocked that ball," Casali said. "[Ramos] threw a curveball and he caught me in between catching it and blocking it. And that's what happens when I make a poor decision like that to try and pick it as opposed to blocking it. Extended the inning and gave them something to go with. That's on me."
Another wild pitch from Ramos allowed Baez to reach second, prompting the Rays to bring in Sean Rodriguez from the outfield as an extra infielder with Anthony Rizzo stepping to the plate. Despite the open base, Rays manager Joe Maddon elected to pitch to the Cubs slugger.
"I thought Cesar had a better chance to put [Rizzo] on the ground," Maddon said. "Even with the double play not in order. Trying to get him out, walk the next guy [Starlin Castro] then pitch to [John] Baker with the bases loaded, that's where I was going."
Rizzo wrecked that strategy by lining the ball into right field for the game-winner.
"Five-man infield, I know I just have to put the ball in the air," Rizzo said. "I was looking for a pitch to do it with, and luckily, I put it in the air."
Making matters more frustrating was the fact Rays pitchers struck out 17 on the afternoon while walking just one.
Alex Cobb held the Cubs to one run on six hits while striking out six and walking none in six innings before getting lifted in the seventh for pinch-hitter Brandon Guyer -- a move that paid off for the Rays.
Guyer's announcement prompted Cubs manager Rick Renteria to replace left-hander Wood with right-hander Neil Ramirez to face the right-handed-hitting Guyer.
Guyer singled to right, stole second and advance to third on Matt Joyce's groundout to second. Jenning's double to the gap in left-center field drove home Guyer for a 2-1 lead. Had the wind not been blowing in, the Rays could have scored more. Rodriguez hit a ball on the screws with two outs and two on, but the ball hung up in the air and was caught in left by Coghlan for the final out.
Rodriguez managed to keep his sense of humor by dropping at first base and executing a pushup as if adding a little muscle would have helped.
"Sean's [hit] was absolutely squared up," Maddon said. "... In Tropicana Field, I believe back row at the least."
The 2-1 lead might have been enough had Grant Balfour's struggles not continued. The deposed Rays closer started the seventh and retired the first two hitters he faced before Sweeney doubled on a line drive to left. Coghlan followed with a triple to tie the score at 2.
"It was a curveball [to Coghlan], but it didn't really move much," said Balfour, who called the stuff he had on Sunday "below average." "Last four, five or six years, I can just see myself making that pitch time and time again, down and away," Balfour said. "Just haven't been doing that."
While Balfour, Ramos and Casali all took their share of the blame, the underlying theme in many of the Rays' losses continues to be the same.
"We could not find a way to score those extra runs, but how about our pitching in general? One walk and 17 strikeouts again today," Maddon said. "It's been spectacular to watch the boys pitch as they have. You can't ever fault the effort. Performance-wise, we were not able to get enough runs tonight."
Bill Chastain is a reporter for MLB.com. This story was not subject to the approval of Major League Baseball or its clubs.