Brewers run into multiple outs in loss to Dodgers
Aggressive baserunning backfires on Crew; Nelson solid on mound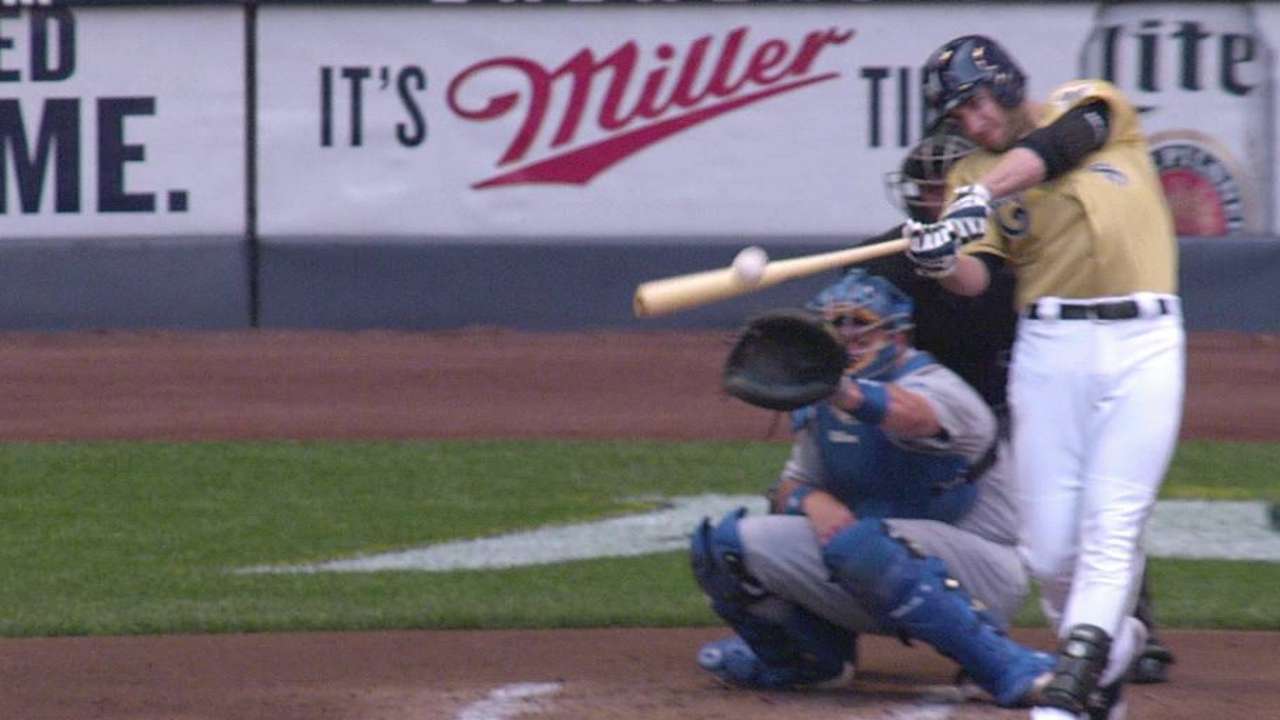 MILWAUKEE -- Prior to Sunday's game, Brewers manager Ron Roenicke reiterated his belief in an aggressive baserunning philosophy, saying that in the long term, its benefits outweigh any drawbacks.
But in the team's series finale against the Dodgers, only the short-term negative effects of that mindset were on display as the Brewers ran into four outs on the basepaths. Those outs gave Dodgers ace Clayton Kershaw all the breathing room he would need in a 5-1 Milwaukee loss at Miller Park.
Milwaukee put the leadoff man on base against Kershaw in four of the first five innings. In three straight innings, they had a runner on second with none out. But the team scratched out only one run, a first-inning RBI single by Ryan Braun, with all their other opportunities dying on the basepaths as the team tried to create offense against the lefty.
"You can't make mistakes against that guy, man," said Brewers catcher Jonathan Lucroy. "You can't give him free bases, you can't give him outs on the baselines. You've got to take advantage of everything you can, you know, score runs when you get a chance to, because that guy is so good, he doesn't make very many mistakes. It's just one of those things, and we didn't do a good job of that today."
The Brewers were able to keep it close against Kershaw as Jimmy Nelson worked out of several jams to deal six innings of two-run ball. But Kershaw beat Milwaukee on the mound, on the field and from the plate: He limited the Brewers to one run on six hits in eight innings, made two impressive defensive plays to help create two of those baserunning outs and reached base in three of his four plate appearances, accumulating one run and one RBI.
"It wasn't easy, but we made some big plays defensively and got some big double plays," Kershaw said. "The guys getting thrown out on the bases obviously helped. I felt like I had the leadoff runner on the entire game, so it was good to get a win."
The Brewers' two most obvious baserunning errors came in the third inning, when Nelson led off the frame with a double but ran into a tag when Carlos Gomez followed with a grounder to short. Kershaw then recorded his 47th career pickoff when he threw behind Gomez and caught him leaning.
"I think any time you face a pitcher like Kershaw, if you try to just get stagnant, I don't think much is going to happen," Roenicke said of the mistakes. "Jimmy Nelson isn't used to being out there on the bases. That's always difficult. Carlos getting picked off, [Kershaw's] picked off a lot of guys. He's tough. He's tough to run against, but sometimes you think you need to do some things to try to create a few runs."
In the next inning, Braun reached on a single, advanced to second base on a wild pitch and advanced to third on a ball that got away from catcher A.J. Ellis. But Dodgers manager Don Mattingly challenged the call at third, and it was overturned. Rather than having a runner on third with none out, the Brewers had none on and one out and would not score. Roenicke said after the game that he felt Braun's attempt was a smart one.
The team's final chance with a runner in scoring position came in the fifth inning, when Jean Segura was attempting a suicide squeeze with Rickie Weeks on third base. Segura popped the ball up, Kershaw made an impressive diving catch and threw back to third to double off Weeks, preserving a one-run Dodgers lead.
"We missed the squeeze, which would've changed the ballgame and changed the way I pitch guys late in that game," Roenicke said. "It was a good game, it just got away from us a little bit there at the end."
Nelson would exit after six innings, and the Brewers' bullpen surrendered three late runs, giving the Dodgers some breathing room.
Despite the loss, there were plenty of positives to take from the homestand. The Brewers went 4-2, taking a series from both the Dodgers and Giants, and finished the weekend with a two-game lead over St. Louis in the National League Central.
And Roenicke was satisfied with another strong performance from Nelson, who overcame command issues to earn his fourth straight quality start. He allowed two runs on eight hits.
"No matter how good your stuff is or if you are on that day or not, you have to be able to battle through those things," Nelson said. "It is our job to try to keep our team in it. That was my goal today. My command was off a little bit, but I just tried to battle my best."
Caitlin Swieca is an associate reporter for MLB.com. Follow her on Twitter at @CaitlinSwieca. This story was not subject to the approval of Major League Baseball or its clubs.