Gordon sparks Royals to seventh straight win
Outfielder belts homer in four-run first; Perez adds two-run shot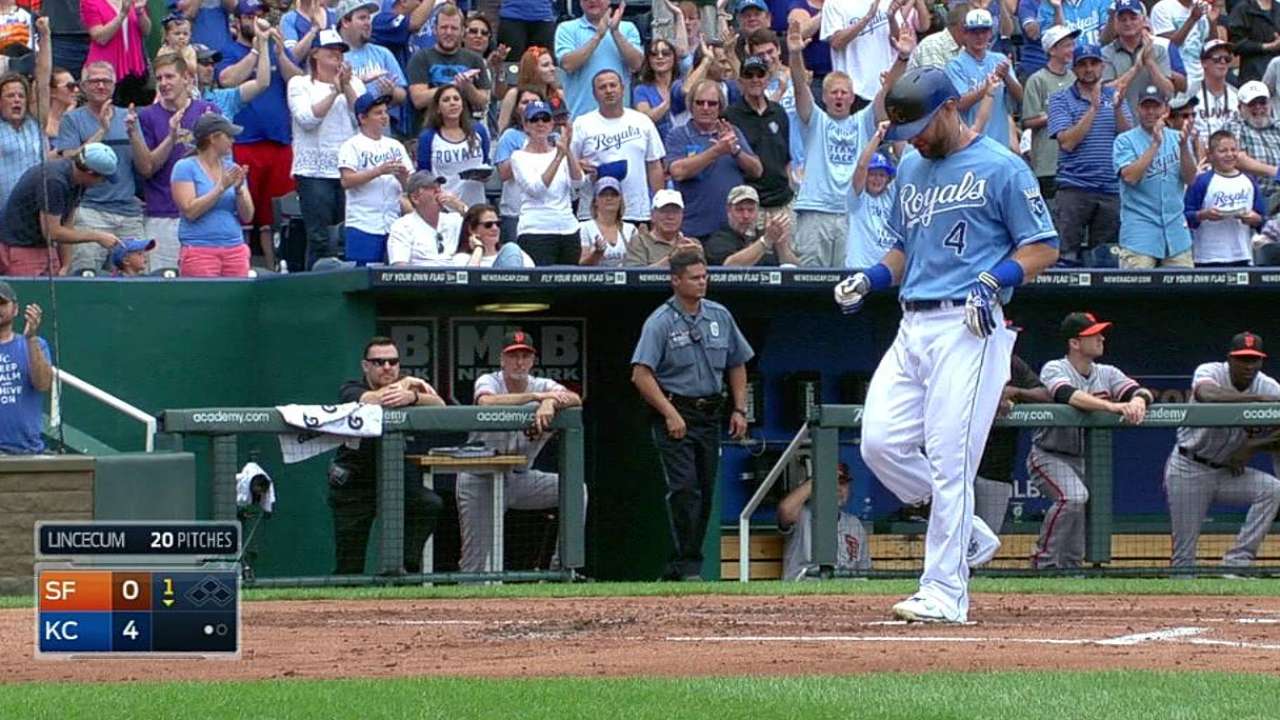 KANSAS CITY -- When it comes to a special occasion, Alex Gordon rises -- and so do the baseballs that he hits.
It was Alex Gordon Bobblehead Day at Kauffman Stadium on Sunday and so, naturally, the man himself belted a two-run homer to help the Royals to a 7-4 victory over the San Francisco Giants.
This was right in character for Gordon, who also homered in Saturday night's victory on Husker Night, a celebration for fans from his alma mater, the University of Nebraska.
Lest we forget, he was honored with the Heart and Hustle Award before helping in Friday night's win with a diving, run-saving catch and an RBI double.
All of which contributed to the three-game sweep of the Giants, a seventh straight victory and the 15th win in the last 18 games for the Royals.
"Yeah, we've got to think of a promotion for tomorrow to keep it going," Gordon said.
It's a heady, invigorating time for the Royals -- 10 games above .500 and just a half-game behind first-place Detroit in the American League Central. The Tigers lost a 19-inning battle Sunday at Toronto, 6-5.
That's from a Kansas City team that just 20 days ago, on July 21, was 48-50 and eight games behind the Tigers.
"I like the way we're playing. I've got a lot of confidence in those guys; I've had a lot of confidence in them even when they weren't producing like they're doing now because I knew it would come somewhere down the road," said manager Ned Yost.
"I knew they were going to do it. I've told you all along. I told you at the end of the first half: This is a good second-half team. I just knew it. I don't know how I knew; I just knew it. There was no wavering there. ... I just knew they were going to get right back in the middle of this thing."
On this overcast afternoon, left-hander Danny Duffy went 6 2/3 innings for his second straight win. The reeling Giants lost for the 12th time in their last 17 games.
This turned out to be the Royals' fifth victory this season over a former Cy Young Award winner. They've beaten Justin Verlander (twice), Max Scherzer, Zack Greinke and now Tim Lincecum.
They jumped on Lincecum for four runs in the first inning. Nori Aoki got an infield single, Salvador Perez drew a one-out walk and Billy Butler banged an RBI double to right field.
That brought up Gordon, who pulled a homer over the right-field bullpen. It was his 12th this season and third in four games.
"I didn't execute a lot of pitches I needed to in big spots," Lincecum said. "They feasted on me in the first inning."
Lincecum lasted just one out into the fourth inning, departing after Alcides Escobar singled and got around the bases on Jarrod Dyson's sacrifice bunt and Aoki's single.
Perez promptly made reliever Juan Gutierrez's brief stay unpleasant by banging a two-run homer down the left-field line. It was Perez's 14th, matching Mike Moustakas for the club high.
That 7-1 advantage held until the seventh when the Giants pushed Duffy out of the game and scored three runs. They were charged to him, but reliever Jason Frasor gave up one of the run-scoring hits.
Setup man Wade Davis got through a scoreless eighth inning and Greg Holland posted a scoreless ninth but not without some very tense moments. The Giants managed to load the bases against him before Pablo Sandoval lined out to center, ending the game.
"Holly just wasn't sharp. It was one of those days. He's not going to be sharp every time he steps out there. But the important thing was he got the job done," Yost said. "And Wade wasn't exceptionally sharp but he got the job done. It's about putting a zero up there."
How many pitches did it take Holland to secure his 34th save?
"I don't know; it felt like a hundred," he said.
Actually, it was 25 and just 13 of those pitches were strikes.
So the Royals swept back-to-back series over Arizona and San Francisco and improved their Interleague record to 14-4. That's their most wins ever against the National League.
"At times like this, you just can't wait for the next game to start," Butler said. "That's the way it is and that's the atmosphere in here."
The Royals are headed into a four-game series against the team with the most wins in the Majors, the Oakland A's.
"It's just important to win games right now, especially with good teams like the Giants. To sweep them like we did, it was big for us," Gordon said. "Hopefully we can keep it going against Oakland, the best team in the league right now."
Now, about that next Alex Gordon promotion ...
Dick Kaegel is a reporter for MLB.com. This story was not subject to the approval of Major League Baseball or its clubs.