Behind Carrasco, Tribe takes series from Yanks
Making first start since April, righty delivers five scoreless innings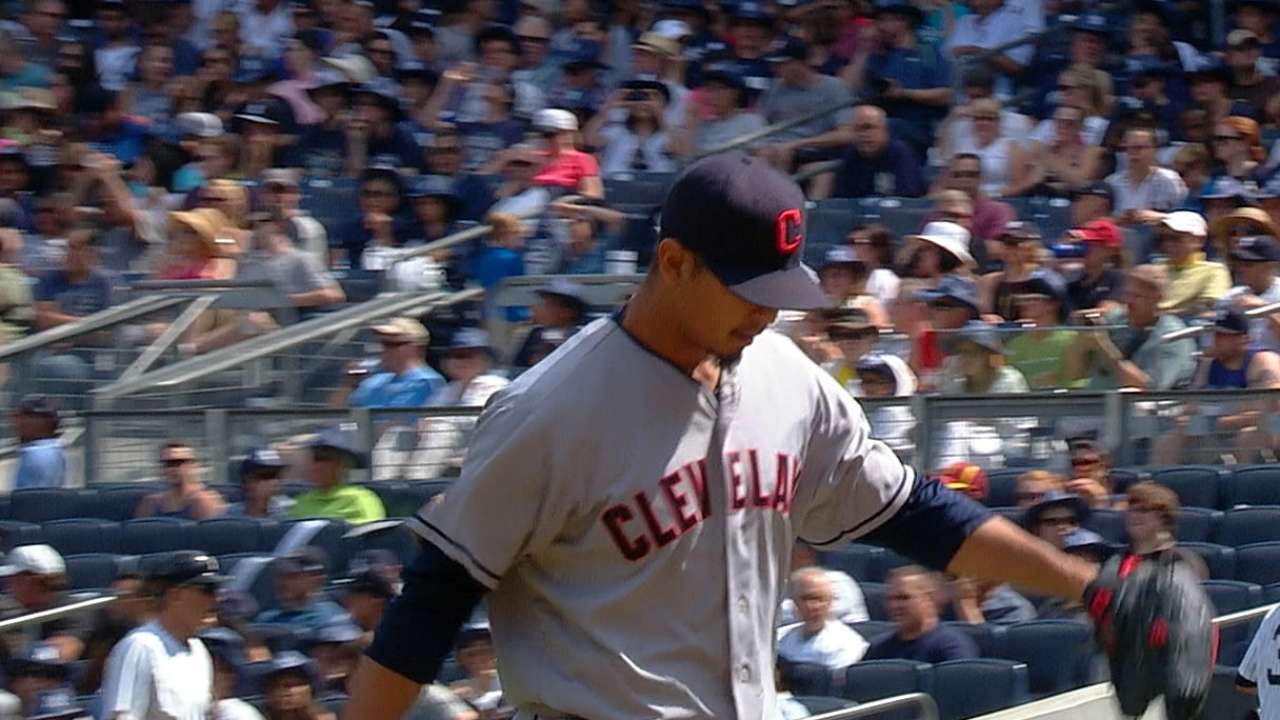 NEW YORK -- The aura of Yankee Stadium appears to do wonders for Indians pitcher Carlos Carrasco. The packed house, all the history and tradition and the lineup filled with high-priced stars create a concoction that does not intimidate, but rather calms the Cleveland starter.
"There's something when you face the Yankees," Carrasco said. "There's something you feel in your body. You want to throw a shutout."
In his second career start in the Bronx, and his first start since April, Carrasco gave the Indians five shutout innings to set up a 4-1 victory for the Tribe. The win helped the Indians take the series two games to one, marking Cleveland's first series win on the road against the Yankees since 2008.
Circumstances led to the Indians revisiting the concept of Carrasco as a starter. After his showing at the Stadium, Cleveland plans on keeping the right-hander on the starting staff for the time being. The Indians thought enough of Carrasco to give him a spot in the Opening Day rotation, and the club wants to see if he can finally take flight in his latest chance.
"I don't think it was a case of buying a start," Indians manager Terry Francona said. "I think we want to see him start."
After beginning the season in the rotation, Carrasco went 0-3 with a 6.95 ERA in four April starts, pitching his way into a long-relief role in the bullpen. Due to the recent struggles of Zach McAllister and Josh Tomlin -- both no longer in the starting rotation -- and the trade of Justin Masterson to St. Louis, the Indians turned to Carrasco for Sunday's start in the Bronx.
Over the past few months, Carrasco found a rhythm and embraced his role in the bullpen, and he planned on taking the same mentality into his outing against the Yankees. Heading into the game, Carrasco had a 2.30 ERA in 26 relief outings, dating back to his transition to the bullpen at the end of April.
Carrasco credited bullpen coach Kevin Cash with helping him improve his approach on the mound.
"He's the guy who talks to me every day," Carrasco said. "He told me, 'Go hard. Don't worry about anything. Don't change anything. Do what you can do.' ... When I was starting in April, I was thinking too much about everything. For the four days it was, 'OK, I'm going to face this guy, I need to do this, I need to do that.'
"For this game, I didn't think about any of that. I was thinking, 'I'm going to face the Yankees,' and that's it."
In his most recent relief appearance on Tuesday, Carrasco logged 59 pitches in four innings against the Reds, putting him in a position to be stretched out further in New York. Carrasco worked efficiently through 77 pitches, issuing no walks and allowing only a pair of hits -- a single to Jacoby Ellsbury in the first and a single to Stephen Drew in the second -- in his five frames.
The right-hander struck out four and retired the final 11 batters he faced in order before Francona turned to his bullpen.
"That was awesome," Indians second baseman Jason Kipnis said. "We wanted him -- when he got his other chance right now to make a start -- to take it inning by inning and treat each one like he's coming out of the 'pen and just has to pitch for one inning. Throw strikes.
"I thought he did an outstanding job today and kind of really set the tone for us. He looked great. I think he's gaining his confidence back on the mound as a starter. That's what we saw."
The Indians (59-59) provided all the support Carrasco needed with three runs against starter Hiroki Kuroda, who lasted only 4 2/3 innings for the Yankees.
Twice, Kipnis and Michael Brantley teamed to create a run for the Tribe. Kipnis singled and scored on a base hit from Brantley in the first inning and then doubled and crossed the plate on a sac fly from Brantley in the third. In the fifth inning, Kuroda issued a bases-loaded walk to Cleveland catcher Yan Gomes to put New York in a 3-0 hole.
Gomes provided some insurance for the Indians with a run-scoring single off reliever Shawn Kelley in the seventh inning.
"We started playing small ball kind of down the stretch last year," Kipnis said. "We might be getting back to that here soon just with the type of players we've got. That works for us. I know if we clean up our defensive side, pitchers are going to keep a low-scoring game hopefully, and we can win some games."
That offensive showing was plenty to help Carrasco earn his first win as a starting pitcher since June 29, 2011. As a result, Carrasco snapped a streak of 17 consecutive starts without a win, which was tied for the longest such drought in franchise history. Masterson also went 17 starts in a row without a win between the 2009-10 seasons.
"The hope was that he'd pitch well," Francona said. "But to get through five and the way he did it, and to stay in his delivery, to hold his stuff, to command his pitches, to change speeds, that was really exciting."
It was similar to a start Carrasco had at Yankee Stadium on June 13, 2011, when he blanked New York over seven innings to help Cleveland to a 1-0 victory.
"I went last night and talked to my wife," Carrasco said, "and I said, 'I'm going to do the same job I did three years ago.'"
There is just something about seeing those pinstripes for the pitcher.
Jordan Bastian is a reporter for MLB.com. Read his blog, Major League Bastian, and follow him on Twitter @MLBastian. This story was not subject to the approval of Major League Baseball or its clubs.