Cespedes' first Sox homer comes at crucial time
De La Rosa gives up just one run, fans eight over seven-plus innings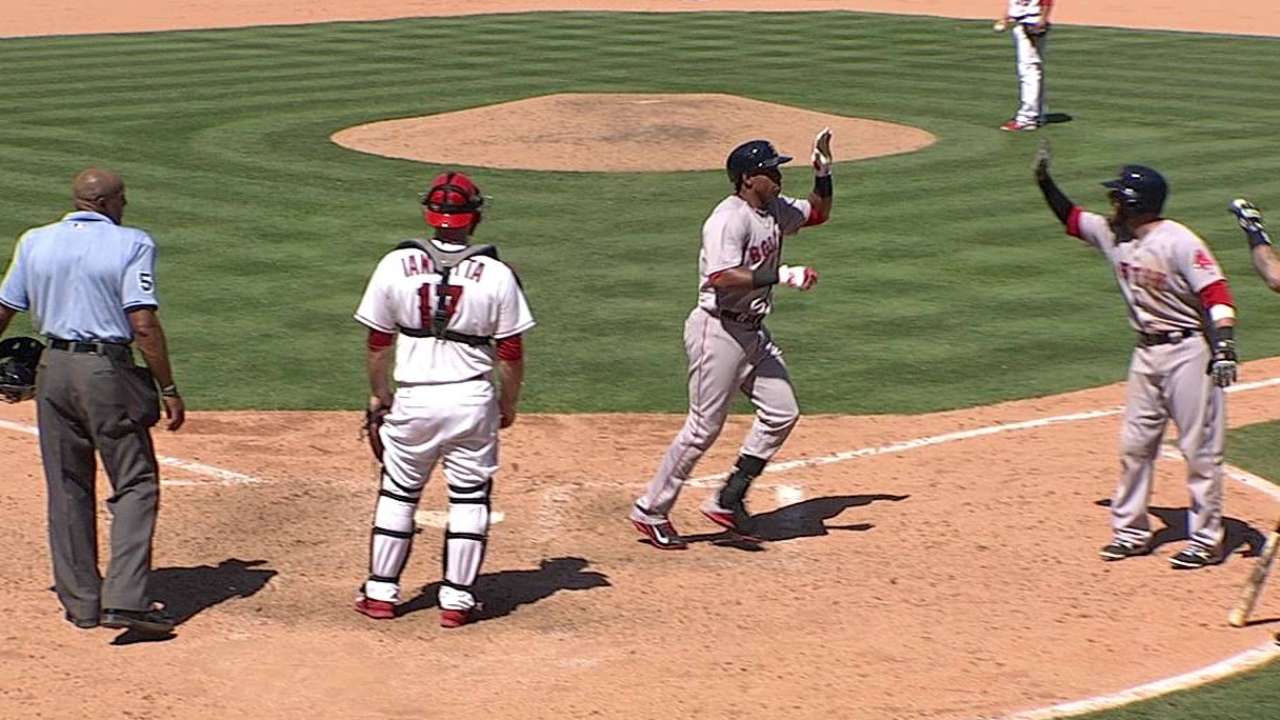 ANAHEIM -- Yoenis Cespedes sure picked a good time for his first career home run with the Red Sox.
With two on and one out in the eighth inning, Cespedes smacked a three-run shot into the Red Sox's bullpen against Joe Smith that broke a scoreless tie against the Angels.
It proved to be all the offense the Red Sox would need in a 3-1 win on Sunday at Angel Stadium as right-hander Rubby De La Rosa tossed one of his best starts of the season.
"I knew I hit it well," Cespedes said through a translator. "I've faced Smith plenty of times and knew after he threw a sinker that he would likely throw me a slider. He did and I was able to hit it out."
Cespedes has hit Smith well throughout his career. Facing him while with the Oakland A's, Cespedes went 4-for-9 with three RBIs.
"It's just every time I miss," Smith said. "He's a good hitter, obviously. That's why he's here. Every time I miss he's on it. That's what good hitters do in this league. I missed and he got me."
The Red Sox were in desperate need of a quality start from De La Rosa after a 19-inning loss Saturday night saw the team use its entire eight-man relief corps and starter Brandon Workman, who came out of the bullpen.
De La Rosa gave up one run on five hits over seven-plus innings for the win. The lone run came on a solo shot from Mike Trout to open the eighth inning.
"We needed Rubby to go deep, and he did," manager John Farrell said. "He pitched with a lot of poise. He threw three pitches for strikes, and I think overall, this was a well pitched series by our rotation."
De La Rosa's first inning had to make the Red Sox nervous, especially after Saturday's taxing loss. The right-hander surrendered a leadoff single to Kole Calhoun and back-to-back walks with just one out. However, he got an important 4-6-3 double play and escaped without allowing a run.
"In the first inning, we get a key ground-ball double play. As he settled into a rhythm, he was able to add and subtract to his fastball and always has that changeup," Farrell said. "Overall, the confidence is really showing through."
The right-hander got into another jam in the fourth inning when Howie Kendrick singled and David Freese walked to begin the frame. Dan Butler, making his first Major League start behind the dish, then airmailed a throw to second, putting runners on the corners with none out.
Just like the first inning though, De La Rosa was at his best with the pressure on. He retired the next three batters to get out of the jam and keep the game scoreless.
De La Rosa relied on a mid-90's fastball that exploded through the strike zone. The power of that pitch was never more evident than in the fifth inning, when he mowed down Calhoun, Trout and Albert Pujols in order.
"Everything worked today. I tried to keep the ball down," De La Rosa said. "The first few innings were hard probably because of the hangover from last night. I kept going and was able to get into a rhythm."
De La Rosa has been especially impressive in his last two road starts. He's combined to allow just two runs in 13 innings in St. Louis and Anaheim. Before that, he'd gone 0-3 with a 6.04 ERA in four outings away from Fenway Park.
"When you think about the last three starts in particular, especially the last two starts on the road, we are glad to see he's reversed that trend," Farrell said. "More than anything, he is pitching with a lot of confidence and maintaining his stuff deep into games."
The Red Sox's first hit off Halos starter Hector Santiago didn't come until a leadoff double in the fourth inning by Dustin Pedroia. However, Boston couldn't capitalize on the hit and left Pedroia stranded.
While the Red Sox managed just four hits in Sunday's game, it marked the team's first series win at Angel Stadium since a four-game sweep in 2011.
"This entire trip, we've played pretty good baseball," Farrell said. "We didn't tear the cover off the ball, but we pitched well and it is a boost of confidence to win a series on the road."
Quinn Roberts is a reporter for MLB.com. This story was not subject to the approval of Major League Baseball or its clubs.