Star-studded, high-powered offense remains in funk
Trout goes yard, but Halos squander several scoring opportunities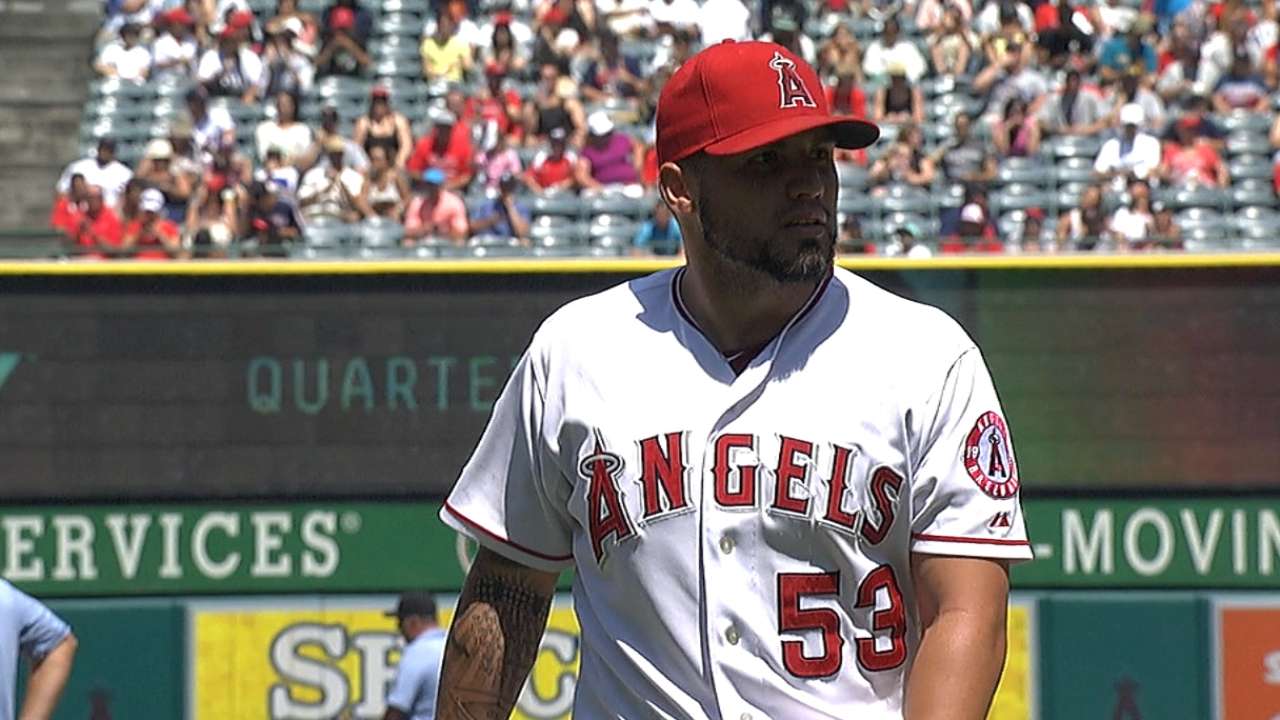 ANAHEIM -- The Angels' offense is good.
No, really.
For some reason, it just hasn't been lately. Josh Hamilton isn't right, Erick Aybar is scuffling, Albert Pujols comes and goes, Mike Trout hasn't necessarily been superhuman and the Angels' star-studded, high-powered lineup has gone cold since it joined the rest of baseball by taking four days off in the middle of July.
The Halos scored just once in Sunday's 3-1 loss to the Red Sox, by virtue of Trout's second homer in as many days, and have amassed just 13 runs in the 64 innings that have encompassed four losses in five games.
During that stretch -- when the Angels dropped the last three of a four-game series to the Dodgers, then two of three to the last-place Red Sox -- they've gone 3-for-33 with runners in scoring position and batted .181 overall.
They're almost unrecognizable.
"There's not one magic pill that can fix your team's offense," manager Mike Scioscia said. "It's a bunch of individual components, and right now, we're not as good as we need to be."
And because they aren't, the deficit in the American League West remains four games and the margin for error is ever-diminutive. Hector Santiago threw six scoreless innings on Sunday, moving his ERA to 2.72 since being called back up from the Minors on June 10, but got a no-decision. Joe Smith made one mistake to Yoenis Cespedes, snapping a streak of 24 2/3 scoreless innings, and it wound up changing the entire complexion of the series.
"I know we're in a little bit of a funk," Santiago said of the offense, "but they're going to come around sooner or later and put up runs for all of us."
Both teams were still scoreless with one out in the top of the eighth, when Brock Holt reached on an error by first baseman Efren Navarro and Dustin Pedroia added a line-drive single. Cespedes sat on Smith's 0-1 slider and belted it out to left field to give the Red Sox a three-run lead that looked insurmountable for the Angels' middling offense.
"I made a bad pitch and he hit it," Smith said. "If you watch the film, I made more bad pitches but they fouled them off. He squared it up for a home run. It [stinks] to be in that situation, especially later in the season, but it happens. If you miss pitches against good hitters, they'll do that."
Smith has still allowed only 14 runs in 56 innings this season, but seven of them have been scored or driven in by Cespedes, who hurt the veteran right-hander with a key two-run triple in Oakland on May 31.
Maybe it's time for Smith to change his game plan against the former A's cleanup hitter.
"I've faced Smith plenty of times and knew after he threw a sinker that he would likely throw me a slider," Cespedes said through a translator. "He did, and I was able to hit it out."
The Angels -- drained from the 19-inning marathon that ended on Albert Pujols' walk-off homer late Saturday night -- announced Sunday morning that Tyler Skaggs would be out until the start of the 2016 season, then watched Santiago ease some of their rotation concerns.
The 26-year-old left-hander gave up just two hits, walked three and struck out five to move his ERA to a season-best 3.59. Santiago will take his turn every fifth day now, rather than bouncing back and forth from the rotation to the bullpen, and knows he'll be expected to produce.
"I feel for him," Santiago said of Skaggs. "I want to do my job. I know I'm in the rotation for the rest of the season, so I want to go out there and make him proud, battle for him and all the guys here."
Sunday marked the AL-leading sixth time Santiago has received a no-decision despite allowing no more than one run.
It's a plague that will spread to the rest of the pitching staff if the Angels -- a team built around a high-powered offense -- can't return to doing what they do best. They averaged a Major League-best 5.09 runs per game in the first half. Since then, they've averaged 3.17 per game.
"Some guys just haven't been able to retain a comfort level in the batter's box, for whatever reason," Scioscia said. "We've had some decent offensive games, but not at the pace that we need to."
Alden Gonzalez is a reporter for MLB.com. Read his blog, Gonzo and "The Show", and follow him on Twitter @Alden_Gonzalez. This story was not subject to the approval of Major League Baseball or its clubs.