Hand stung by long ball as Marlins fall in Cincinnati
Southpaw's outing unravels on walks, grand slam in fifth inning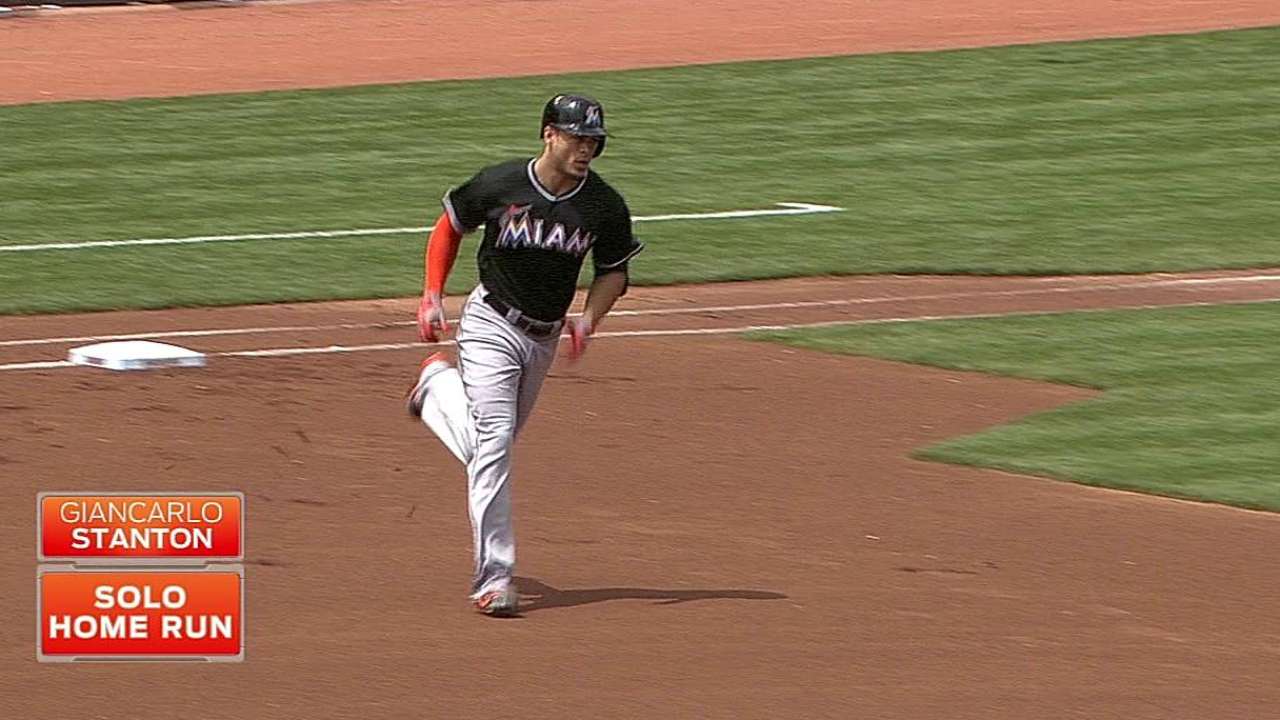 CINCINNATI -- The first sign of trouble on Sunday afternoon came when the strike zone slipped away from Brad Hand in the fifth inning. But the decisive pitch came when Devin Mesoraco made the baseball disappear.
Just like that, the game slipped away from Hand and the Marlins.
Mesoraco blasted a grand slam and added a two-run homer to power the Reds to a 7-2 victory over the Marlins at Great American Ball Park.
Both shots by the Cincinnati catcher came against Hand, who had been under control until the game was blown open in a five-run fifth inning.
"You've got to limit the big innings, and get out of there," Hand said. "I had a chance to get out of there with no runs, and I couldn't finish it."
Against a starter like Johnny Cueto, even a little production can go a long way. The Reds' veteran struck out nine over eight innings, and improved to 14-6.
"We took advantage of a kid who lost the feel a little bit," Reds manager Bryan Price said. "He was around the plate, but was just missing. Our guys were able to lay off some good breaking pitches."
The Marlins received home runs from Giancarlo Stanton and Casey McGehee, but couldn't do much else against Cueto, who scattered five hits while walking a pair.
Miami's frustrations continued in the eighth inning when Stanton set sail on a long drive to right field. It appeared to be gone, but right fielder Jay Bruce made a leaping catch at the wall, robbing Stanton of a second homer.
Mesoraco's two homers accounted for a career-best six RBIs and thwarted Miami from a weekend sweep. After taking two of three at Cincinnati, the Marlins finished up 3-3 on their road trip, which opened at Pittsburgh.
"I'm happy with the way we responded after losing two in Pittsburgh," Miami manager Mike Redmond said. "We came in here and won two games, two close games. To finish the trip 3-3, I'm fine with that. Now we've got a long homestand, where we can get home and get comfortable -- and hopefully win some ballgames."
The outing fell apart quickly for Hand in the fifth. The left-hander's struggles started with a leadoff walk to Ramon Santiago. Hand hadn't issued a walk all game, but he issued three free passes in the inning.
"Walks will hurt you," Hand said. "That's the first inning I had walks. I had three walks that inning, and they scored five runs."
There was concern in the inning over Hand's well-being after he slipped on the mound. Pitching coach Chuck Hernandez and trainer Sean Cunningham went to the mound. But the lefty said he was fine and continued.
"It was not a big deal," Redmond said.
Hand was in position to escape the inning unharmed, even with two on and two outs. But he walked Bruce after being ahead, 1-2, in the count. Todd Frazier walked, forcing in a run that gave the Reds a 3-2 lead. Mesoraco's slam provided a comfortable cushion.
The Marlins had Sam Dyson up in the bullpen, but Redmond stuck with Hand after the successive walks.
"I was hoping he'd get through it," Redmond said. "He's got two outs. I thought he made a couple of good pitches to Bruce there. It would have been nice for him to get through that with one run. But the guy hit a home run."
Before facing Hand, Mesoraco wondered if a pitching move would be made.
"I thought maybe they were wasting time until they could bring in the right-hander, but I guess [Redmond] decided to stick with [Hand] and give him another chance," the Reds' catcher said.
After the slam, Dyson replaced Hand, who was charged with seven runs on five hits over 4 2/3 innings.
Hand had made great strides in his four previous starts, posting a 2.28 ERA over 27 2/3 innings.
Mesoraco enjoyed his third multihomer game, and connected on his third slam of the season. In the first inning, he put a charge into a two-run drive.
The Marlins showed power, as well, but not with men on base. Stanton went deep in the first, giving him three shots on the road trip. The slugger boosted his National League-leading total to 29. McGehee connected on his third of the season in the fourth inning, which upped his RBI total to 60.
"We still have a long way to go," Redmond said. "We talk about winning series. You can't be disappointed winning series on the road. Those guys are fighting for the playoffs, too."
Joe Frisaro is a reporter for MLB.com. He writes a blog, called The Fish Pond. Follow him on Twitter @JoeFrisaro. This story was not subject to the approval of Major League Baseball or its clubs.