Hughes holds potent A's offense to just one run
Former A's Suzuki and Willingham deliver key hits to avoid sweep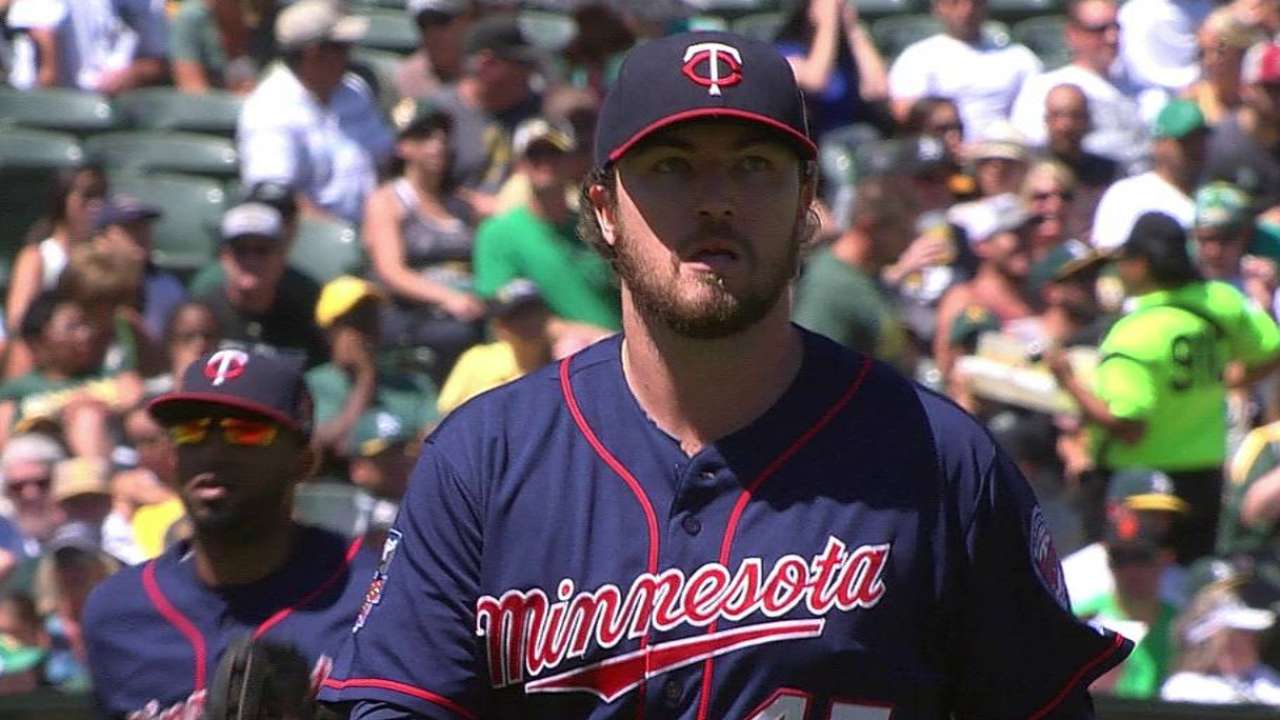 OAKLAND -- At long last, the Twins beat the A's
Right-hander Phil Hughes tossed seven strong innings, while Kurt Suzuki and Josh Willingham both came up big against their former team in the eighth inning to lift Minnesota to a 6-1 win over Oakland on Sunday afternoon at O.co Coliseum.
The win snapped a 12-game losing streak to the A's, which was tied for the second-longest losing streak to one club in franchise history. The club record is 13 straight losses to both the Yankees from 2002-03 and the Rangers from 1998-99. It also helped the Twins avoid a four-game sweep, and was their first win against the A's since Sept. 10, 2013.
"We've not played well here the last couple years," Twins manager Ron Gardenhire said. "This ballclub has had their way against us. They're a very good team and you saw that again today. We had to battle. But finally we came up with some big hits at the end."
Danny Santana sparked Minnesota's rally in the eighth against reliever Luke Gregerson with a leadoff bunt single before stealing second and advancing to third on a wild pitch. Suzuki brought home the go-ahead run with a double off the wall in left-center field for his 47th RBI of the year.
Suzuki entered hitting .333 with runners in scoring position on the year, and simply came up with another key hit for the Twins.
"I was just trying to get a ball up in the zone," Suzuki said. "I know he has a good sinker and a good slider and likes to keep the ball down in the zone and so I was looking for something up. I wanted to use the middle of the field and not to do too much to get the run in."
Two batters later, Willingham gave the Twins some breathing room with a two-run blast against his former club to left field. It was Willingham's 12th of the year and his first since July 30.
"It just feels good to win," Willingham said. "Losing the first three, we needed to win this one badly."
It made Hughes the winner after he gave up just one run on four hits and a walk over seven innings. He also struck out seven and improved to 12-8 with a 3.88 ERA on the year.
Hughes has been dealing with a cracked fingernail his last two starts, but it hasn't affected his performance, as he's picked up the win in both outings. But it did lead to him getting taken out of the game heading into the eighth, as he didn't feel comfortable throwing his curveball anymore.
"I felt like I had good stuff," Hughes said. "I just missed a couple times in the first. Just a couple bad pitches. But overall, I thought my stuff was good. Early, I was just missing a little bit. I wasn't able to get into a groove until later on."
Minnesota scored early on a solo shot from Brian Dozier off Jason Hammel in the first inning. It was the 20th homer of the year for Dozier and came on a first-pitch fastball.
The A's tied it with a run of their own in the bottom of the first against Hughes with Stephen Vogt providing a two-out RBI single to right field to score Sam Fuld.
But Hughes settled down from there, retiring 19 of the last 22 batters he faced before giving way to right-hander Casey Fien, who tossed a scoreless eighth inning in relief. Closer Glen Perkins picked up his 29th save with a scoreless ninth to preserve the win for the Twins.
"He was good," Vogt said of Hughes. "Had a good cutter working, using his curveball effectively. He did a good job of changing eyes going up, going down."
The Twins added two insurance runs in the ninth against reliever Jesse Chavez after loading the bases with two outs. Suzuki plated a run with an infield single before Kennys Vargas drew a bases loaded walk.
It allowed them to get a sigh of relief heading into their three-game series against the Astros with Joe Mauer set to be activated from the 15-day disabled list to join the team.
"We needed to figure out a way to beat these guys," Gardenhire said. "We have a pretty good flight here to Houston and we just made it a little bit happier. And that's a good thing."
Rhett Bollinger is a reporter for MLB.com. Read his blog, Bollinger Beat, and follow him on Twitter @RhettBollinger. This story was not subject to the approval of Major League Baseball or its clubs.