Offense has no answers for Minnesota's Hughes
Hammel has solid outing but Oakland can't complete sweep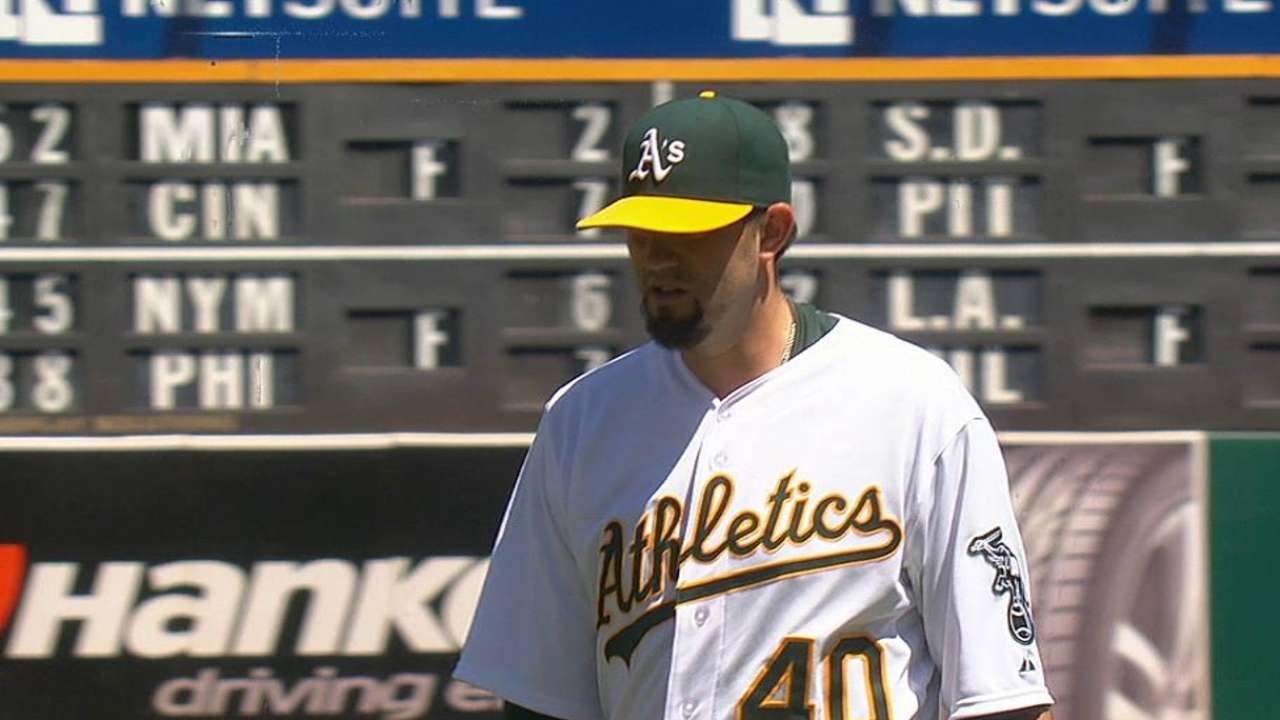 OAKLAND -- On Sunday at the Coliseum, Jason Hammel looked like the first-half version of himself, the one that went into hiding as soon as the right-hander arrived here. But the A's offense crawled back into a hole of its own, falling, 6-1, and settling for three out of four against the Twins.
The A's squandered a chance to sweep the season series and extend their winning streak over Minnesota to 13 games, but they depart for Kansas City feeling good about a 6-4 homestand and a four-game lead in the American League West.
"We ran into a pretty good Royals team, a pretty good Rays team and a pretty good Twins team," said Stephen Vogt. "We were able to come away with six wins. That's a good victory for us, especially going through an offensive lull like we did the first six games of this homestand."
Oakland's bats had few answers for Twins' righty Phil Hughes on Sunday, and it came back to bite them in the eighth. Minnesota scored three times off Luke Gregerson, breaking a 1-1 tie and snapping Gregerson's 14-inning scoreless stretch.
Two former A's delivered the damage: Kurt Suzuki hit the go-ahead double, and Josh Willingham belted a two-run homer.
"I don't know how you can be much better than [Gregerson] has been," A's manager Bob Melvin said. "For the better part of a month and a half, I don't think he's given up a run. Probably a couple guys sat on a couple of pitches and got 'em."
Jesse Chavez surrendered two more in the ninth on a rare off-day for the A's bullpen.
"This ballclub has had their way against us," said Twins manager Ron Gardenhire. "They're a very good team and you saw that again today. We had to battle. But finally we came up with some big hits at the end."
Hammel took a no-decision despite holding the Twins to one run over 6 1/3 innings, the longest and sharpest of his six A's outings. He shut out the Rays over 5 2/3 innings in his previous start, and he looked even better Sunday, lowering his Oakland ERA to 5.90.
"This is the best he's pitched, even better than last time out, for me," Melvin said. "The ball was down in the zone, mixing pitches was good, slider was sharper. After the second [inning] you saw a lot of ground balls. That's the way he pitches when he's on."
Brian Dozier homered off Hammel on the second at-bat of the game, and Vogt answered with an RBI single in the bottom of the first. Then, Hammel and Hughes found their respective grooves.
"I've done it long enough to where, keep doing it, you're going to have your couple bumps and bruises here and there," Hammel said. "Today I had a much better feel for my slider, and the fastball command is coming around."
"[The key was] just keeping him nice and smooth and mixing up his pitches well," said John Jaso, who caught Hammel for the first time. "Even if he would fall behind, going to that slider, which it seemed like he had pretty good control of today."
Hammel ran out of steam in the seventh, allowing a single and a walk and throwing a wild pitch. Melvin pulled him at 92 pitches with one out and runners on the corners, and then Fernando Abad worked his magic.
Jordan Schafer botched a squeeze attempt, and Jaso caught Eduardo Nunez too far off third for the second out. Abad then struck out Schafer, raising his season total to 21 inherited runners without letting any score, tops in the Majors.
"Steak dinner for Abad, for sure," Hammel said. "I should have finished that inning."
Hughes completed seven frames and did well to keep Oakland in check.
"Had a good cutter working, using his curveball effectively," said Vogt. "He did a good job of changing eyes, going up, going down. He used his back-door cutter really well to punch a couple of us out. When he's on, he's a good pitcher."
The A's put runners on first and third against Casey Fien in the eighth, but Brandon Moss struck out and Vogt flied to center. Moss went 2-for-28 on the homestand and is 4 for his last 44.
Aaron Leibowitz is an associate reporter for MLB.com. This story was not subject to the approval of Major League Baseball or its clubs.