Seeking relief help, Brewers pursued Johnson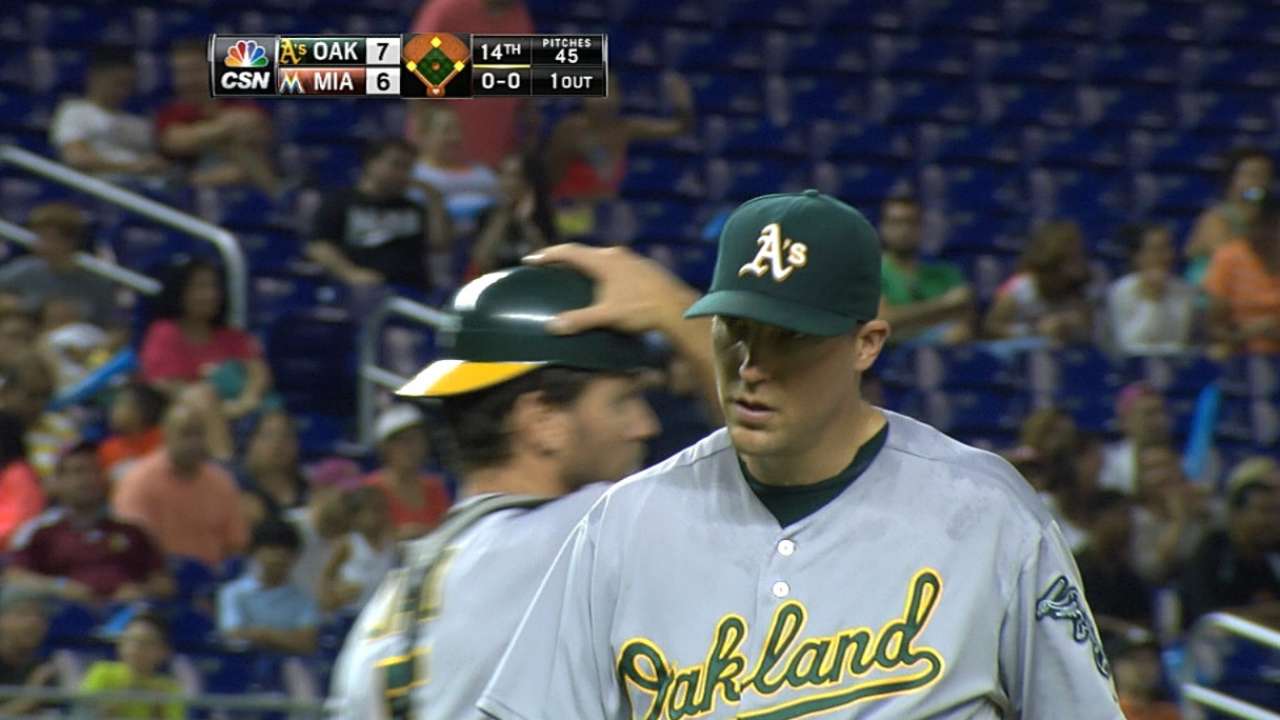 MILWAUKEE -- After coming up empty in an aggressive bid to acquire a late-inning reliever by the July 31 non-waiver Trade Deadline, the Brewers made a strong play last week for former A's closer Jim Johnson, the right-hander who was released by Oakland on Aug. 1 amid prolonged struggles.
A healthy number of teams inquired on Johnson as a comeback candidate, and Brewers officials got the sense they were a finalist along with the Tigers. Brewers general manager Doug Melvin and pitching coach Rick Kranitz each reached out personally to Johnson, who was open to going to Triple-A to figure out the issues which led to a 7.14 ERA in 38 appearances for Oakland this season.
The two previous seasons, Johnson saved 101 games for the Orioles.
He signed a Minor League contract with Detroit on Tuesday and debuted Friday for the Triple-A Toledo Mud Hens. The Tigers have seen closer Joe Nathan struggle at times this season, and this week placed recently acquired reliever Joakim Soria on the disabled list.
The Brewers also inquired on Soria before the Rangers traded him to Detroit in July. Melvin also tried for Arizona's Addison Reed and Brad Ziegler, Colorado's LaTroy Hawkins, Boston's Koji Uehara and Andrew Miller, and San Diego's Joaquin Benoit before the non-waiver Trade Deadline.
Johnson was viewed as a potential setup man for the Brewers, who saw their own projected closer, Jim Henderson, derailed by early season struggles. Henderson has been on the disabled list since early May with a right shoulder injury.
"You look at what goes on from year to year, closers really change roles," Brewers manager Ron Roenicke said. "Guys have really great years, and all of a sudden the next year, they're not doing it."
How does one explain the fickle nature of that job?
"The closer role is a little bit different," Roenicke said. "If you don't have the mentality that you can get over what happened the night before, you can't do the job. It's different when you're in the sixth, seventh, eighth inning. If you blow a lead, you're not losing the game. Somebody's not walking off on you. The mentality has to be a little different for a closer."
Adam McCalvy is a reporter for MLB.com. Read his blog, Brew Beat, and follow him on Twitter at @AdamMcCalvy. This story was not subject to the approval of Major League Baseball or its clubs.