Tigers drop 19-inning heartbreaker in series finale
Early five-run lead disappears after strong start from Price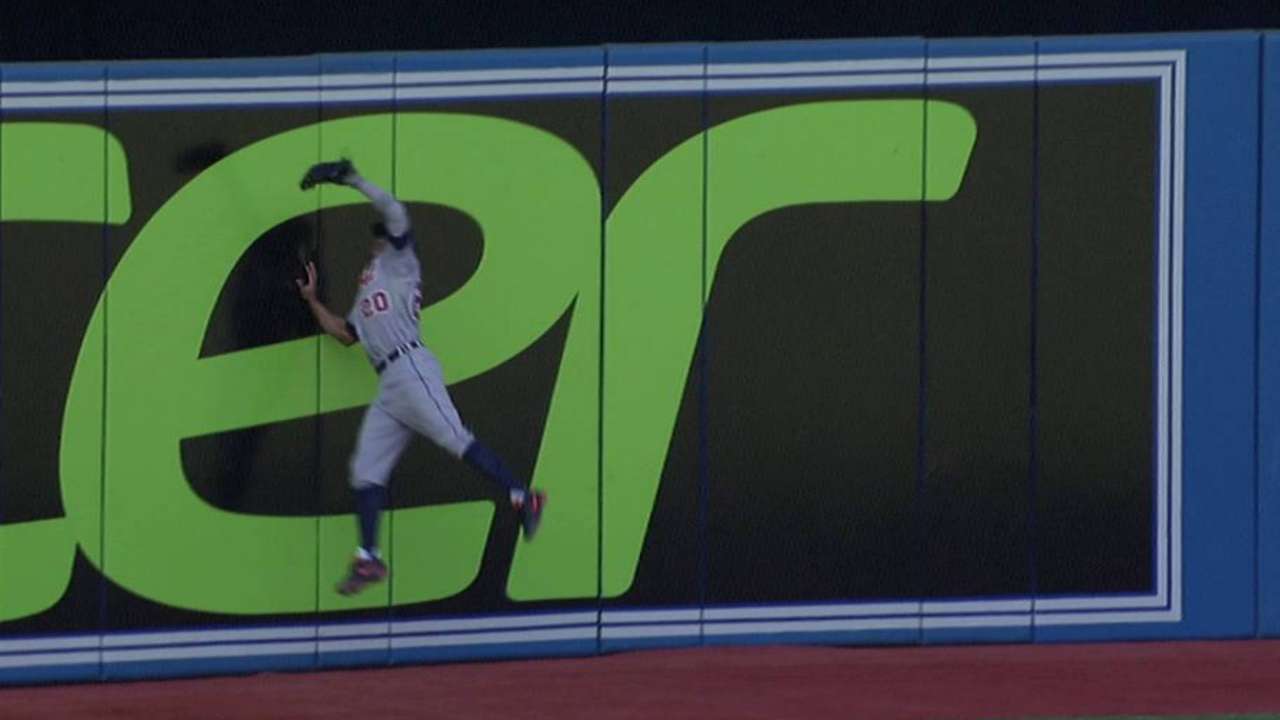 TORONTO -- For the second consecutive day, the Tigers lost a one-run lead in the ninth and the game in extra innings. This time, the extras were longer -- much, much longer.
By the time Jose Bautista's walk-off single in the 19th inning sent the Tigers to a 6-5 defeat at Rogers Centre, the lights were on for a game that began at 1:07 p.m. ET, the bullpen and benches were both expended, and Rick Porcello was in his third inning of relief. The game had crossed the six-hour mark for the second-longest Tigers game in duration since 1914, according to baseball-reference.com, and tied for the fourth-longest game innings-wise in team history.
The only Tigers game longer in minutes, according to baseball-reference, was a 22-inning, seven-hour marathon against the Yankees at Tiger Stadium on June 24, 1962.
Yet as long as 19 innings of baseball reads, like how the numbers don't line up right in a box score or the space runs short in a scorebook, it's the look on the faces in a clubhouse that says plenty. They all get longer in a loss.
"Nineteen innings, on turf," said Torii Hunter, one of five Tigers position players who were on the field for all 19. "It wears your muscles out, not really your joints. This is more your muscles, your calves, your hamstrings, shoulders, everything."
That was on manager Brad Ausmus' mind as he reflected on a game they led, 5-0, with two outs in the sixth and David Price on the mound, and an American League Central race now down to a half-game lead over the surging Royals, who started an hour later but won their seventh straight game hours earlier.
"Right now, these guys are exhausted," Ausmus said. "They're obviously disappointed they lost, but they're also exhausted."
It was on the mind of Porcello as he leapt off the mound and ran into the dugout pumping his fist at the end of the 17th inning, having stranded the potential winning run at third base.
"Every inning that came around, it was just like, 'Let's go, this is our inning. We're going to win it right here,'" Porcello said. "Everybody just kept battling. It's just one of those days."
As great the disappointment, directing it was another matter. The 5-0 lead the Tigers held with 10 outs to go was about five hours old by the time the game ended. The one-run lead that fill-in closer Joba Chamberlain protected with two outs in the ninth before Jose Reyes' single tied it was about four hours old.
In between, four different Tigers pitchers -- including Joe Nathan, who was supposed to be off Sunday, and long relievers Blaine Hardy and Pat McCoy -- combined for the equivalent of a nine-inning shutout before the Jays finally got to Porcello, Tuesday's scheduled starter, in the 19th.
The Tigers offense that built the lead by roughing up Mark Buehrle early and scoring five runs in the first four innings went scoreless for the final 15, two short of its scoreless streak to end the series in New York earlier in the week.
"It was constant all day: us, them, somebody making a good play, somebody robbing somebody," Rajai Davis said. "Great plays all around. But regardless of all those great plays, we still had opportunities that we were unable to capitalize on.
"We had a lot of opportunities to win. We didn't capitalize on them. They took advantage."
Colby Rasmus thwarted opportunities with a pair of highlight-reel catches, including a leaping grab at the center-field fence to rob Miguel Cabrera. Davis answered by running down line drives in shallow center, and Don Kelly contributed a grab to strand a runner in scoring position in the 12th.
"They were both pretty tough, just running after the ball and thankfully came down with it," Rasmus said. "You just gotta keep battling. To win the series, that was huge for us."
The Tigers put a runner on base in all but one of the 10 extra innings, and they put runners in scoring position in seven of them, including the bases loaded with one out in the 16th before Chad Jenkins turned a Hunter comebacker into a 1-2-3 double play. The Blue Jays put runners on in five consecutive innings, but they left all of them on.
On and on they went until Munenori Kawasaki's leadoff single and Porcello's errant throw on a Reyes sacrifice bunt put runners at the corners with nobody out.
"We had chances. They had chances. It was just back and forth," said Hunter. "Baseball's crazy. I don't know why I play this game. But I love it. You think you've got them on the ropes and then something crazy happens. Unbelievable."
Jason Beck is a reporter for MLB.com. Read Beck's Blog and follow him on Twitter @beckjason. This story was not subject to the approval of Major League Baseball or its clubs.