Howard caps huge rally with walk-off single in ninth
Trailing by five, Phils tie it on hit by Byrd, who scores game-winner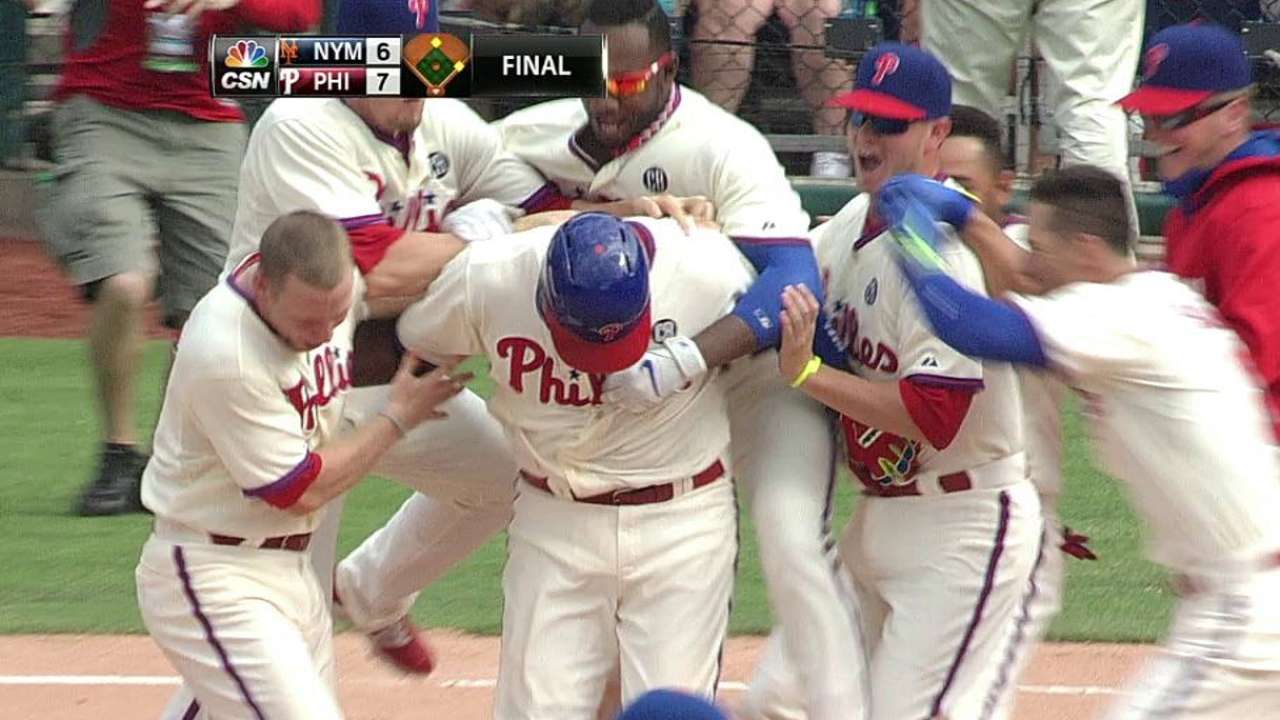 PHILADELPHIA -- It seems the Phillies need a little work with their postgame celebrations.
Ryan Howard hit a two-out single to right field in the bottom of the ninth inning to score the winning run in a 7-6 victory over the Mets on Sunday afternoon. The Phillies emptied the dugout and charged Howard, who had just rounded first base. Cody Asche met him first, but lost his grip as Howard spun. Domonic Brown then jumped on Howard's back as Asche, Howard and Brown tumbled together to the ground at Citizens Bank Park.
"A little violent today," Howard said.
Everybody survived, except the Mets. They carried a 6-1 lead into the bottom of the sixth, but the Phillies scored two in the sixth, two in the seventh and two in the ninth for their first win of the four-game series, which concludes Monday afternoon.
Asche started the game-winning rally when he hit a leadoff double down the right-field line. He scored the tying run on pinch-hitter Marlon Byrd's single up the middle. Byrd stole second base with two outs, then the Mets decided to intentionally walk Chase Utley on a 3-2 count to face Howard. Utley went 3-for-4 with a triple, home run and three RBIs, and Mets manager Terry Collins afterward said they put on Utley on because he has been swinging the bat well and Howard has been struggling overall.
But Howard hit a 3-2 slider from Mets right-hander Jenrry Mejia to right field to score Byrd and win it.
"Listen, Ryan's been driving in runs for a long time," Utley said. "He had a knack for driving in runs and big runs. I want him up anytime there are runners on base."
It was the second time in a week a team intentionally walked Utley to face Howard, and both times Howard delivered a game-winning hit. He hit a game-winning single in the 15th inning Wednesday against the Astros. Before that, pitchers had intentionally walked Utley or Byrd six times to face Howard. He was 0-for-5 with one hit-by-pitch in those situations. He once reached on an error.
"My confidence has always been there," Howard said. "It's one of those things. It was pretty much to be expected. Chase had three hits in the game, three RBIs. Winning run in scoring position, yeah. I don't have any hits. Who are you going to face? Are you going to face the guy with three hits or the guy with no hits? So you're only as good as your next at-bat. I forgot about everything else that happened previously in the game and just wanted to try to win that at-bat."
Howard's heroics overcame a rough start by the defense and Phillies right-hander Kyle Kendrick. His fielders let Kendrick down early, but he also struggled as he allowed 10 hits, six runs (five earned runs), three walks, two home runs and struck out two in five innings. Kendrick has a 4.88 ERA, which is the fifth highest out of 92 qualifying pitchers.
"I didn't have command of my offspeed pitches, so when I fell behind I had to come hard and that makes it tough," Kendrick said. "I didn't really have command of anything today. I had to battle."
Curtis Granderson reached on an error by Howard to open the game, which led to a 1-0 Mets lead. Kendrick has allowed 27 runs in the first inning in 24 starts. His 9.00 ERA in the first is the fifth highest in franchise history of pitchers with 24 or more starts in a season.
Utley hit his 11th home run in the first to make it 1-1, but the Mets scored a second run in the second and two more runs in the third to take a 4-1 lead. Juan Lagares ripped a ball off the top of the right-field wall with two outs in the third to score David Wright and Travis d'Arnaud.
Neither run should have scored. D'Arnaud reached on a single only when Brown allowed a popup to fall in front of him.
"It was a catchable ball," Phillies manager Ryne Sandberg said.
Matt den Dekker's fly out to deep center field became only the second out before Lagares delivered his triple. Kendrick then allowed back-to-back home runs to Lucas Duda and d'Arnaud in the fifth to make it 6-1.
But Brown's two-out, two-run double in the sixth cut the lead to three and Utley's two-out, two-run triple in the seventh made it 6-5.
"Those wins don't happen a lot, but we grinded out at-bats and had some big hits," Utley said.
Todd Zolecki is a reporter for MLB.com. This story was not subject to the approval of Major League Baseball or its clubs.