Optioned Gonzalez keeping positive outlook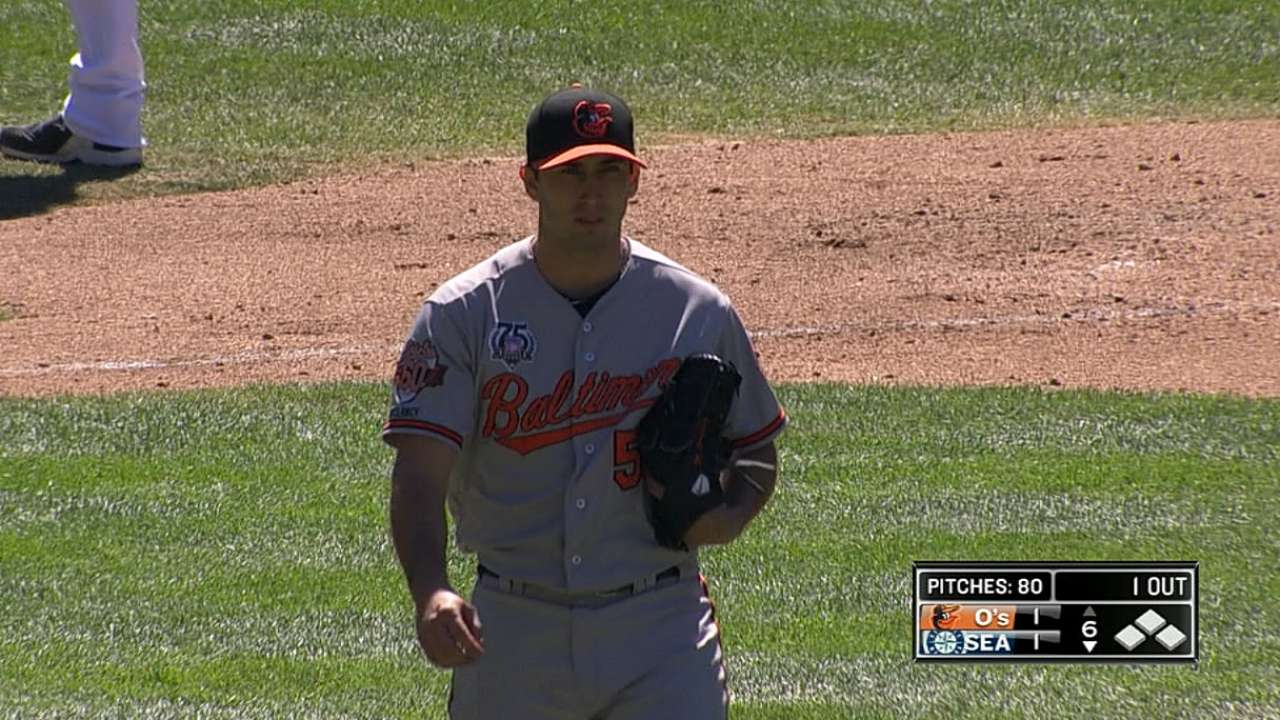 BALTIMORE -- Miguel Gonzalez is heading down to Triple-A Norfolk and the Orioles are covering themselves in case the starting pitcher can return before the 10 days a player is typically required to spend in the Minor Leagues after being optioned.
Gonzalez will start on Tuesday against Triple-A Buffalo and pitch only about 3-5 innings. The O's want to keep their options open in case a pitcher is injured and Gonzalez becomes eligible to return. Manager Buck Showalter said Gonzalez could be available to to pitch again as soon as Thursday.
"It was tough for them to do this, but I'm one of the few guys that has options," Gonzalez said, "so that's why I've got to go down there and go through a start and see what happens after that."
Gonzalez was optioned to the Minors on Saturday to make room for starting pitcher Ubaldo Jimenez, who came off the disabled list to make his first start since July 5. Gonzalez took a work day at Oriole Park at Camden Yards on Friday -- he isn't required to leave until 24 hours after being optioned -- and will report in Norfolk on Monday.
As of now, Gonzalez, who is 6-6 with a 3.80 ERA this season, is eligible to rejoin Baltimore on August 19. It's possible that he could be optioned once more after returning, but he would then be able to come back to the Major League team for September callups.
"It should be the last time that he ever gets sent out in his Major League career," manager Buck Showalter said.
Gonzalez is the second contributor the O's have had to send to the Minors in 10 days. The Orioles designated relief pitcher Ryan Webb off the 25-man roster on Aug. 1 to make room for Trade Deadline-acquisition Andrew Miller and later optioned him to the Tides. Webb had also posted a 3.80 ERA with 34 strikeouts and 10 walks in 42 appearances.
It's a far cry from Showalter's earliest days with the Orioles -- and as recent as last season -- when Baltimore struggled to find consistent pitching and shuffled players in and out of the Minors due to necessity. Now it's a luxury.
"They were tough when it was last man standing, too, but for a different reason," Showalter said. "It's not something where you just call them in and say, 'Hey, you're going to Norfolk, might be back, see you later, bye, and don't let the door hit you on the rear in the way out.' We don't have that kind of conversation."
As a team, the O's pitching has finally come around. Their 3.63 team ERA is the fifth best in the American League and their 2.81 mark since the All-Star break is the fifth best in the Majors.
With a 2.92 ERA in the second half, Gonzalez has been impressive, but only the fourth best member of the Orioles' rotation since the break.
"We're stacked," Gonzalez said. "We've got a good ball club. You've got to take that and be like, 'Oh well.' You can't do anything about it. Everyone's pitching well. Everyone's playing well. There's just got to be a guy that's got to go down."
Brittany Ghiroli is a reporter for MLB.com. Read her blog, Britt's Bird Watch, and follow her on Facebook and Twitter @britt_ghiroli. David Wilson is an associate reporter for MLB.com. This story was not subject to the approval of Major League Baseball or its clubs.