Polanco's early blast not enough for ailing Bucs
Morton falters in fifth inning as Pirates drop finale vs. Friars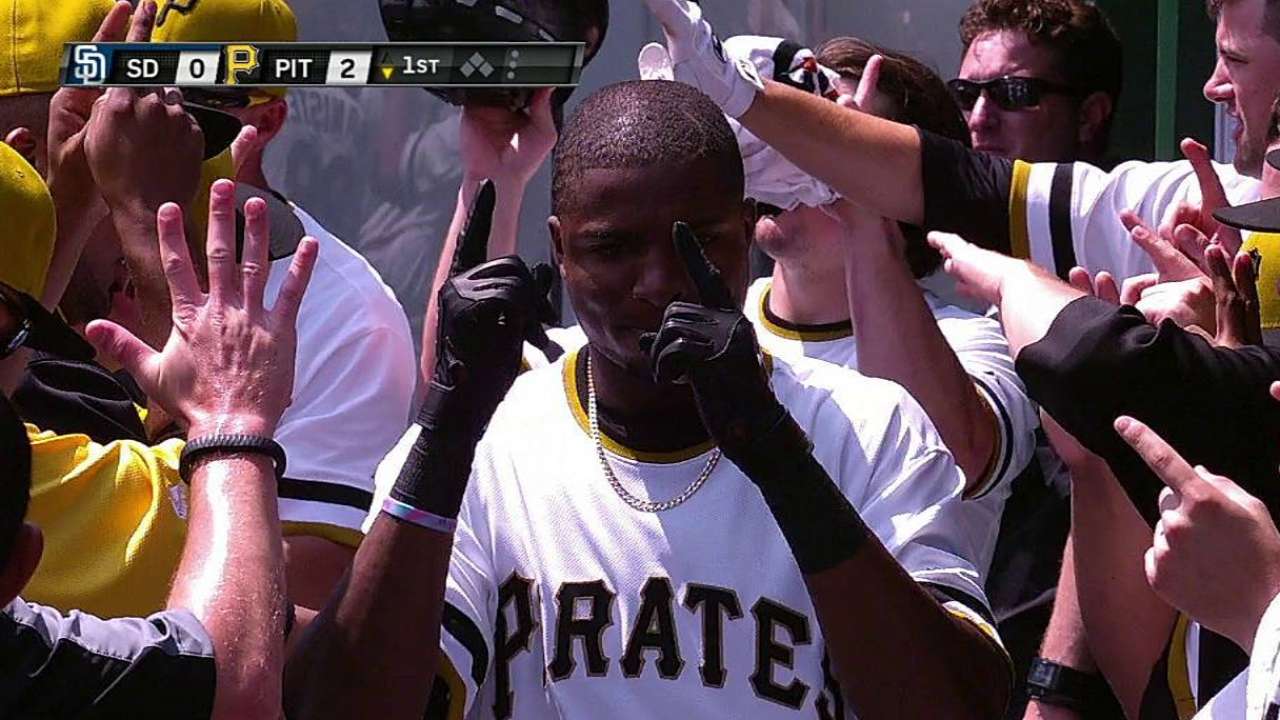 PITTSBURGH -- The Pirates could mount only a five-pitch offense against Tyson Ross. The Padres' fifth-inning lightning struck Charlie Morton.
With that combination, San Diego downed the Bucs on Sunday, 8-2, leaving town with its typical PNC Park series win and expanding Pirates manager Clint Hurdle's allegorical task list.
"They're going on our to-do list, to win a series against at home," Hurdle said. "We're due."
The Padres still qualify as PNC Park landlords. They improved to 33-12 all-time at the yard, where they have had great success regardless of the teams' relative states.
The task was less challenging this time around against "Buc Light." Spending the weekend without the core trio of Andrew McCutchen, Neil Walker and Pedro Alvarez, the Pirates' scoring in each game was limited to the first inning, and to a total of five runs in the three games.
Morton crossed the small margin of error that results from the current conditions in that fifth, from which he was about to get away when, instead, an 0-2 pitch got away from him.
The inning had begun with consecutive singles. But two outs followed, then two strikes to Yangervis Solarte.
"I guess I tried to do too much with it, and pulled it," Morton said of the curve that ensued. "I didn't put them away when I needed to. That 0-2 pitch really hurt."
It dove into Solarte's back foot, loading the bases. Worse, it led to Seth Smith, the biggest threat in San Diego's current lineup.
"I tried to get him to offer at the curve. He didn't," said Morton, who thus fell behind 2-0 and, "Went away with the sinker, and he hit it off the wall."
The lefty-hitting Smith missed by perhaps a foot of an opposite-field grand slam. No matter: It was a bases-clearing triple, and soon he was also scoring on a Morton wild pitch.
The resulting 5-2 deficit was chasmic to a depleted Pirates lineup that had made quick but limited work of Ross.
Hurdle had looked forward to his guys facing the Padres' young budding ace, saying before the game, "You wanna go out there and get after this guy."
The Bucs did so, instantly. Just five pitches in, they led, 2-0: Starling Marte single, Gregory Polanco homer.
"I didn't have a good feel for my slider all day and I gave up three hits in that first inning, all on sliders, but I tried to put that first inning behind me," Ross said.
That, Ross did. The Pirates could get no more off him. Other missed opportunities did come with a potential perk, however. Retiring the side in order only once and working out of frequent trouble pushed Ross' pitch count to 100, leading to his departure after six innings.
Yet Padres manager Bud Black's relief corps kept the shackles on the Buccos offense. Blaine Boyer, Dale Thayer and Tim Stauffer were nearly perfect, spicing it with five strikeouts.
Morton had needed 34 pitches to get through the first three innings, in which no ball reached the outfield. He then needed 33 just in the fourth, when Yonder Alonso's two-out RBI single got the Padres on the board. Then the Padres took the fifth.
"He was locked in," Black said of Morton. "His pitch count was down. But it looked as though his sinker was moving outside the strike zone. We started laying off the breaking ball. The key at-bat was the 0-2 breaking ball [Solarte]. It got Smith up there."
"It was almost like two outings for him: One-three and four and five," Hurdle said. "It was two different sides of it. It's not what he was looking for, not what we were looking for, but it's what we got and we had to play on."
By coming out after that fifth inning, Morton ended a nine-game streak of Pirates starters pitching into at least the sixth -- since his own five-inning turn on July 30 in San Francisco.
The injury-caused absences of McCutchen and Walker are routine, at least in the baseball-attrition sense. However, it was sobering for some to acknowledge that Alvarez's stock had fallen so low, he sat with a right-hander facing the Pirates in favor of Jayson Nix, who went 0-for-3 to make him 9-for-55 (.164) this season with the Phillies and the Pirates.
Alvarez made a late entry into the game, at third base no less, entering on defense as part of an eighth-inning double switch. He struck out in the bottom of the inning, against Thayer, the righty who went on to fan the side.
Tom Singer is a reporter for MLB.com and writes an MLBlog Change for a Nickel. He can also be found on Twitter @Tom_Singer. This story was not subject to the approval of Major League Baseball or its clubs.