Smith's big triple nets series win for Friars
Right fielder clears bases in fifth; Ross tosses six solid innings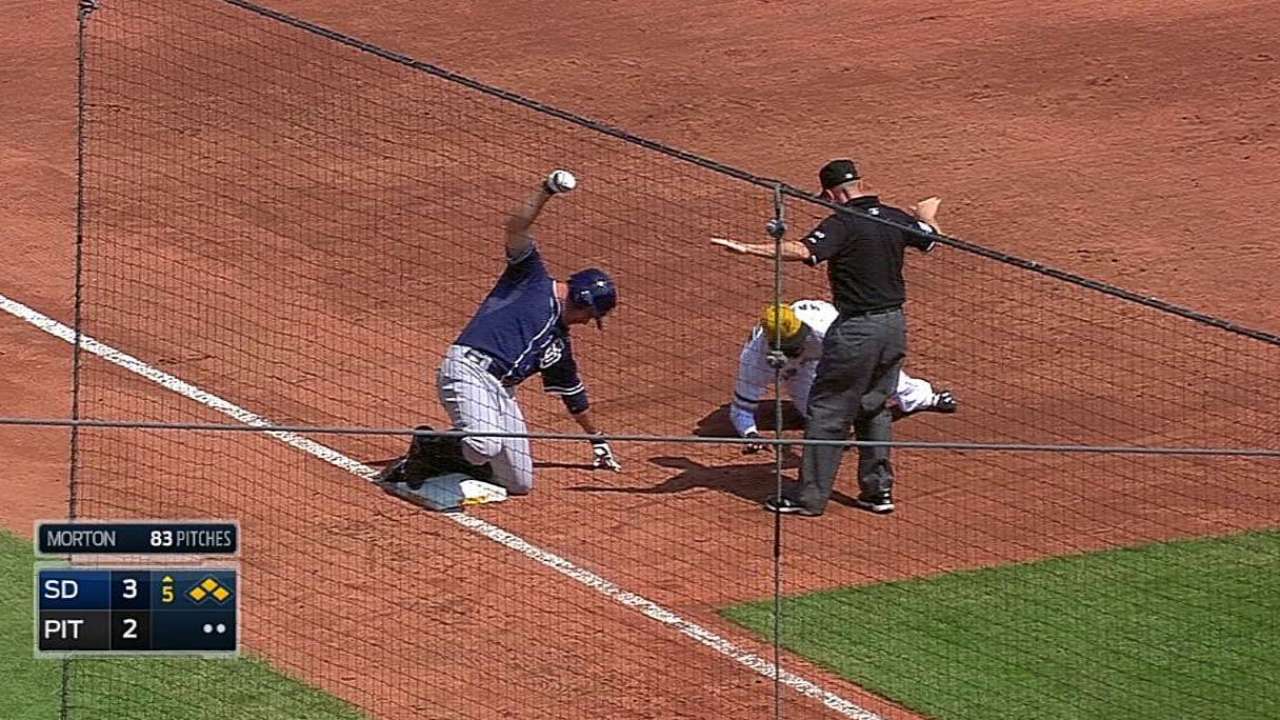 PITTSBURGH -- The pitch that essentially brought the Pirates to their collective knees Sunday might well have been the fastball that Seth Smith drilled off the left-field fence for a three-run triple in the fifth inning with two outs.
But it was a pitch just before that might have rivaled the Smith triple in terms of enormity. And it was one that actually did bring Smith's teammate, Yangervis Solarte, to his knees as he writhed in pain on the ground after being plunked in the left ankle.
"I was surprised," Solarte said. "But it's OK."
It was more than OK, as Solarte's plunking allowed Smith to hit with two outs, extending an inning that went a long ways toward the Padres' 8-2 victory over the Pirates in front of a sold-out crowd of 38,030 at PNC Park, giving the team its fifth series victory since the All-Star break.
"This is a rejuvenated team, we've got some new guys in here, we've got some guys back from the DL … it's a good start to the second half," said Padres pitcher Tyson Ross.
Pitching has remained the one true constant this season for the Padres, and Sunday was no different as Ross overcame a slow start -- Gregory Polanco hit a two-run home run in the first inning -- before blanking the Pirates over the final five innings.
"He battled without his best stuff," Padres manager Bud Black said of Ross, who allowed the two runs in six innings. "They stressed him early on. He threw 30 pitches in the first inning. But he hung in there. He made some key pitches along the way."
His counterpart, Pirates starter Charlie Morton, looked unhittable early. In fact, he actually was.
He retired the first 10 batters he faced before walking Solarte in the fourth inning. Two batters later, the Padres got their first hit -- and first run -- when Yonder Alonso bounced a single to left field, cutting the Pirates' lead to 2-1.
The fifth inning would prove to be Morton's undoing.
He allowed consecutive singles to the Nos. 7 and 8 hitters in the lineup, Abraham Almonte and Rene Rivera. After Ross reached on a fielder's choice with Rivera cut down at third on a bunt, Morton looked as if he might get out of trouble when he got Alexi Amarista to fly out.
He looked even better when he ran the count to 0-2 on Solarte, before missing badly with a curveball, hitting Solarte in the ankle and loading the bases for Smith.
"Yeah ... really frustrating," Morton said. "I get two outs, then get the guy 0-2 and just, I guess, tried to do too much with the curve, and pulled it. Hit batter at 0-2 -- which can't happen. That 0-2 curveball gets their best hitter up, with the bases loaded, and fall behind him."
Smith jumped on a 2-0 fastball, lining it off the wall in left field as three runs scored for a 4-2 lead. The Padres never looked back.
"That was a huge at-bat," Smith said of Solarte's plate appearance. "Anytime you're behind in the count, you're just looking to get on base."
As for Ross, he has now logged 10 consecutive starts where he's pitched six or more innings and allowed two or fewer earned runs. That's the second-longest active streak in the big leagues in 2014, trailing only Felix Hernandez of the Mariners (15).
Ross had just three strikeouts, his fewest since also getting three on April 23 against the Brewers. He hit two batters and had two walks, though he was able to minimize damage when he needed to. Better yet, he finished far better than he started.
"I didn't have a good feel for my slider all day and I gave up three hits in that first inning, all on sliders, but I tried to put that first inning behind me," Ross said.
Corey Brock is a reporter for MLB.com. Keep track of @FollowThePadres on Twitter. This story was not subject to the approval of Major League Baseball or its clubs.