Cards' offense turns tables on O's in finale win
St. Louis delivers 17 hits, 14 singles, to stop its slide in finale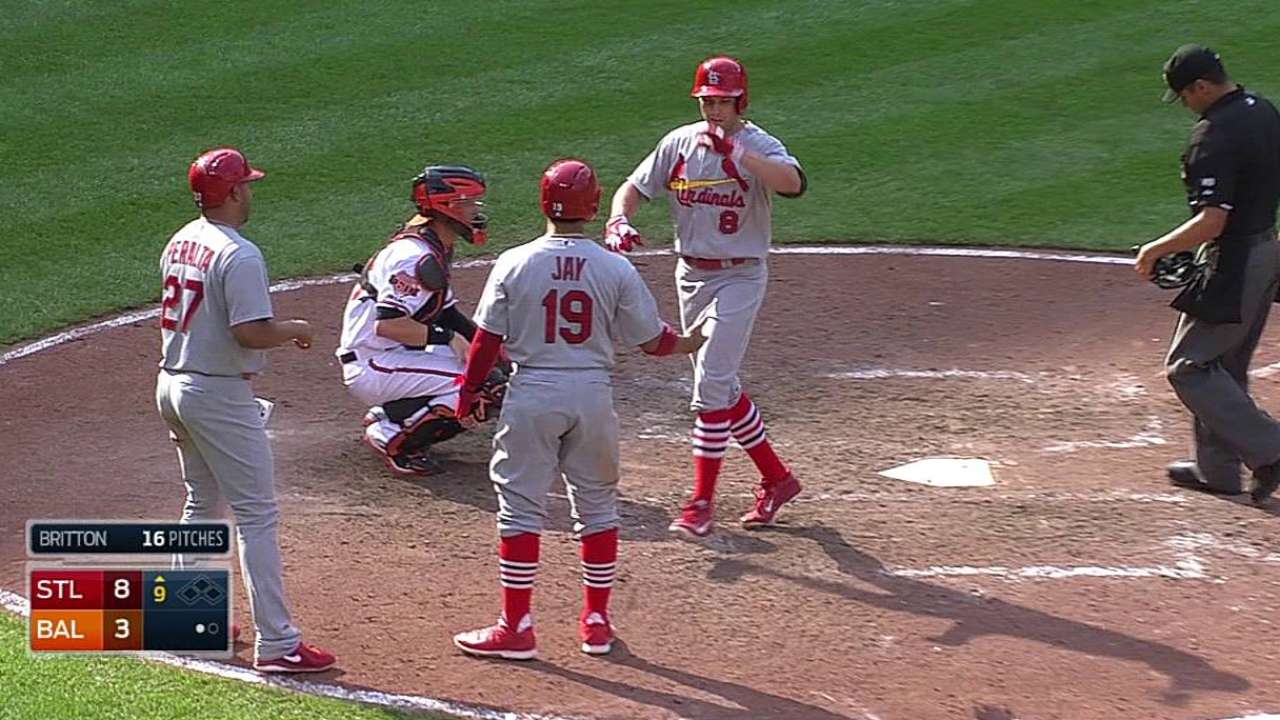 BALTIMORE -- Though he had watched the Orioles maximize hitter-friendly Oriole Park at Camden Yards by bashing their way to victories in the first two games of the series, manager Mike Matheny urged his offense on Sunday not to try for imitation.
"We're not a Home Run Derby club," Matheny said before the series finale. "That upward swing for us, in general, doesn't translate into production. I just think we have to be true to yourself, know your strengths. When you get in situations where the ball is carrying like it is [here], you're going to accidentally bump into a couple."
And so with their blue-collar approach that has come to define the Cardinals' offense all year, St. Louis used 14 singles to build a lead and then had that accidental bump with a late show of power to escape Baltimore with a win, this one an 8-3 victory in front of 27,779 in the team's final Interleague game of the year.
"We're a team that definitely grinds out games, and today showed how we play and how we want to play the game," said Kolten Wong, who contributed a four-single game and scored twice to help Lance Lynn to his 12th win. "They are a really, really good team. For us to come in here and see firsthand, what kind of team they are, we know where we stand and we know it's going to be a grind. But to take one from these guys at home is big."
After the Cardinals' offense methodically went station-to-station to score four times over the first six innings, they finally muscled their way to putting the game out of reach late. Peter Bourjos' three-run blast in the ninth offered that cushion. The 17 hits set a season high for the Cardinals.
"You put enough traffic on base," Matheny said, "and good things are eventually going to happen."
The Orioles had substantial traffic, too, though Lynn minimized the damage of nine hits against him. The key, of course, was that none left the park.
After blasting nine home runs in the first two games, the Orioles had only one extra-base hit on Sunday. It was a Nelson Cruz double in the first, and it scored leadoff hitter Nick Markakis, who matched Wong with a four-single, two-run performance.
"[There's] not a lot of room to mess with in that lineup all the way around," Matheny said. "But he's not going to scare. He's going to rise to the occasion."
Lynn did so in the first, striking out Chris Davis and Delmon Young with two in scoring position. The next time through the order, Lynn retired the same two batters with the bases full.
"It was pretty simple: I was going to throw the ball by anybody who got in the box," Lynn said of his approach. "That's it."
"He's got kind of like [Boston closer] Koji [Uehara], that same type of fastball, everybody just sits there and says, 'It's just X miles an hour and it should be easy,'" added O's manager Buck Showalter. "It's not that easy. You see that high percentage of fastballs thrown like he does, you know he's got one that people don't square up very easily."
The Cardinals staked Lynn to a two-run lead before he took the mound. Four singles and a productive out pushed a pair home against Orioles starter Kevin Gausman, who labored through a 37-pitch opening frame. He'd last only through the fifth.
Jon Jay singled home Wong in the third to bump the lead back to two. A single by Daniel Descalso, who went 5-for-7 over the weekend, plated Jay in the sixth.
"Obviously, we wanted to avoid the sweep today," Descalso said. "[Continuing to add on] was really important, especially with the offense that the Orioles have. We saw what they can do the last couple of nights. We had to keep pushing it to try and keep pace with them."
The Orioles' last chance to strike came as they chased Lynn from the game in the sixth. After holding the Orioles' bottom five hitters hitless in their first 11 at-bats, Lynn, with a 4-2 lead, allowed a pair of leadoff singles. With two out, Matheny turned to lefty specialist Randy Choate to face Markakis.
Markakis, 1-for-9 previously against Choate, snuck a single through to score one. With the run charged to Lynn, it made this his first outing since June in which he had given up more than two. It had been the same length of time since he had last failed to go six innings.
But the Orioles' single off Choate would be their only success against the St. Louis bullpen. Kevin Siegrist finished the sixth on one pitch. Then, with his bullpen "running on fumes," Matheny turned to Pat Neshek and Trevor Rosenthal to cover the final three innings.
He planned to swap one for the other midway through the eighth, but Neshek breezed through two innings with four strikeouts.
"Pat just got on a roll," Matheny said. "It was not possible to take him out when he was throwing the ball the way he was."
A well-rested Rosenthal struck out two in the ninth. With the win, the Cardinals wrap up Interleague play at 8-12.
Jenifer Langosch is a reporter for MLB.com. Read her blog, By Gosh, It's Langosch, and follow her on Twitter @LangoschMLB. This story was not subject to the approval of Major League Baseball or its clubs.