Setback in 10th inning sours celebratory night
Paxton duels with Noesi before White Sox capitalize on error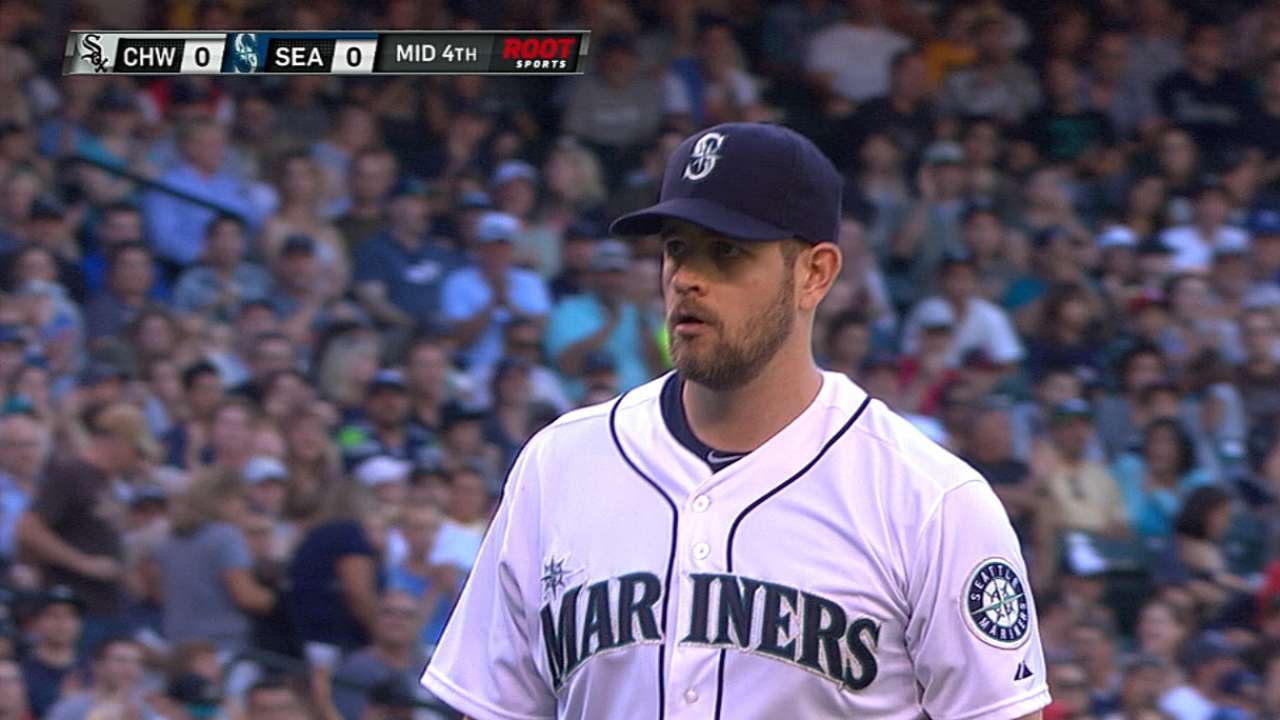 SEATTLE -- Mariners rookie shortstop Chris Taylor ranged to his right and charged. He lowered his glove to field Gordon Beckham's slow ground ball, but it bounced high, up and off his mitt.
The error extended the top of the 10th inning and the next hitter, White Sox infielder Conor Gillaspie, followed with a go-ahead RBI single off closer Fernando Rodney in Seattle's 2-1 loss on Saturday night at Safeco Field.
The defeat snapped Seattle's four-game winning streak and dropped it to 61-55 on the season. The Mariners also fell to 3-6 in extra-inning games.
"It was one of those tough ones where you don't really know if you should play through it or break down and get rid of it quick," Taylor said of the ground ball. "I decided to play through it and ended up getting an in-between hop. I should have made the play, obviously. It was pretty frustrating, but hopefully I can learn from it."
Afterward, manager Lloyd McClendon didn't criticize Taylor.
"I told him if he's lucky enough to play this game for a long time, he'll make a lot more of those errors," he said.
The misplay spoiled a night when former manager Lou Piniella was inducted into the Mariners Hall of Fame and pitcher James Paxton was back to his early-season form.
Making his second big-league start since spending nearly four months on the disabled list with a left lat strain, then left shoulder inflammation, Paxton allowed one run on six hits in 6 1/3 innings. An Alexei Ramirez RBI double in the seventh was the left-hander's only hiccup. It ended Paxton's night and tied the game at 1. Paxton threw 56 of 77 pitches for strikes.
"I definitely felt better out there tonight then that first start back," Paxton said. "A little bit more comfortable. I was getting ahead in the count tonight with the fastball. The fastball location felt a lot better, so it was good progress."
Paxton struck out the side in the first inning and retired the first 10 batters he faced. The first hit of the game from either side didn't come until there was one out in top of the fourth, when Chicago's Alejandro De Aza singled on a swinging bunt. Paxton then got Jose Abreu to ground into a 1-4-3 double play.
Abreu got him back with a leadoff double in the seventh and eventually came around to score.
"He hit a good pitch," Paxton said. "It was low and away. He's a good hitter and you tip your cap when guys do stuff like that."
Beckham helped the Mariners score an unearned run when he committed a two-out throwing error in the bottom of the fourth. Kendrys Morales followed with a single, then Kyle Seager capitalized by lining an RBI double down the right-field line to stake the Mariners to a 1-0 lead.
Mike Zunino followed with a walk, which loaded the bases, but designated hitter Logan Morrison then grounded out to first baseman Paul Konerko to end the inning.
"We just couldn't get a big hit to get us over the hump," McClendon said.
For the second time this season, the Mariners bats' struggled against White Sox right-hander Hector Noesi, who spent the last two years struggling to keep a spot on Seattle's 25-man roster before the club finally designated him for assignment in early April and subsequently traded him to Texas in exchange for cash.
After a brief stint with the Rangers, Noesi was claimed off waivers by the White Sox and has been much better. He threw 6 2/3 scoreless innings in a 1-0 win over the Mariners at U.S. Cellular Field in early July. On Saturday, he gave up just an unearned run, five hits and a walk in 7 1/3 innings.
"Noesi has been tough on us for some reason," McClendon said. "We haven't been able to figure him out."
Noesi fanned four and walked one.
"I was just not thinking [about facing] my former team," he said.
With the Royals beating the Giants on Saturday, the Mariners -- along with the Yankees and Blue Jays -- are 1 1/2 games behind Kansas City for the second American League Wild Card spot.
Adam Lewis is an associate reporter for MLB.com. This story was not subject to the approval of Major League Baseball or its clubs.