Gillaspie lifts White Sox in 10 after Noesi deals
Right-hander limits Mariners to unearned run over 7 1/3 innings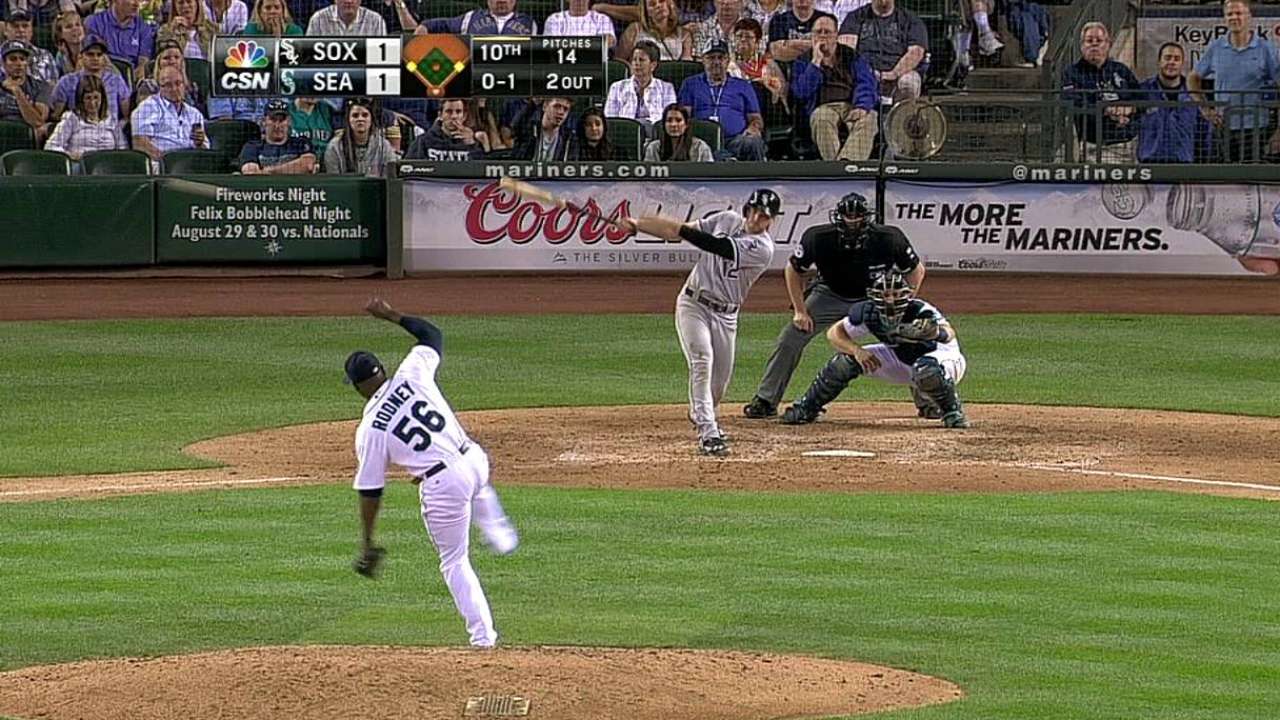 SEATTLE -- For the first time in about a week, the breaks went in favor of the White Sox.
And for the first time in about a week, the White Sox won a game.
A two-out error by Seattle shortstop Chris Taylor extended the 10th inning by at least one batter, and that one batter resulted in Conor Gillaspie's game-winning single to right in a 2-1 White Sox victory Saturday night at Safeco Field. The extra-inning decision ended a four-game losing streak for the White Sox (56-62) before a fired-up crowd of 40,122 on the night when Lou Piniella was inducted into the Mariners' Hall of Fame.
This winning rally began with Tyler Flowers' one-out single. It culminated when Gillaspie connected on an 0-1 changeup from closer Fernando Rodney (1-5). Gillaspie entered the game in the eighth inning as a pinch-hitter for Leury Garcia.
"That guy's tough. I was just trying to put a good swing on something over the plate," said Gillaspie, who delivered his sixth game-winning RBI of the season. "He has one of the better changeups in the game. It's a big win. We needed it as a team. I needed it. It definitely was a good feeling."
Jordan Danks, who was recalled from Triple-A Charlotte on Saturday to replace Adam Eaton, pinch-hit for Moises Sierra and grounded into a fielder's choice after Flowers' single. Danks promptly swiped second base to get into scoring position with two outs.
Rodney fell behind Gordon Beckham at 3-0, but Beckham swung at the next pitch and hit a hard grounder to Taylor. The ball came up on the shortstop and bounced into short left field to give the White Sox extra life.
In the fourth inning, Beckham made a two-out throwing error on a Robinson Cano grounder that contributed to an unearned run for the Mariners (61-54). But the White Sox managed to limit the damage to just one run.
One run was all the White Sox needed to escape in the 10th.
"He just missed it. It came up on him. It happens," said Seattle manager Lloyd McClendon of Taylor's costly error. "That's baseball. I told him if he's lucky enough to play this game for a long time, he'll make a lot more of those errors. That's just the way it goes. Turn the page and get ready for tomorrow."
"We take advantage there and the play late in the game that normally is made and is not made, you end up capitalizing on it," White Sox manager Robin Ventura said. "That's what you have to do to be able to win against a hot team like this."
Piniella's entertaining and moving speech after his induction prior to Saturday's contest ran about 10 minutes longer than planned. So James Paxton and Hector Noesi, the respective starters for the Mariners and White Sox, decided to take it upon themselves to make up the time difference. The two were efficient and in control, although neither factored into the decision.
The first three innings of this contest lasted exactly 34 minutes, with neither team getting a baserunner. The White Sox first hit came in the fourth on Alejandro De Aza's infield single, and the Mariners picked up their first hit in the same frame on Kendrys Morales' two-out single to left. Kyle Seager doubled home Cano, who reached on Beckham's error, but Noesi retired Logan Morrison on a tapper to first baseman Paul Konerko to strand the bases loaded.
"I was like, 'I need to get out of this,'" Noesi said of the Morrison at-bat.
Paxton allowed one run on six hits over 6 1/3 innings, striking out four and not issuing a walk. He exited after Jose Abreu's leadoff double to right in the seventh and Alexei Ramirez's game-tying double one out later.
Noesi gave up just the one unearned run over 7 1/3 innings. He struck out four and walked one before giving way to Javy Guerra at 92 pitches with Taylor on second and one out in the eighth. Guerra proceeded to strike out Austin Jackson and Dustin Ackley.
Seattle designated Noesi for assignment on April 4 this season. He has faced his former team four times since and not yielded an earned run over 18 1/3 innings. Ventura termed Noesi's start as good as he has pitched this season.
"When you see the way these guys have been playing lately, they have been playing pretty good baseball," Ventura said. "Some of the swings and getting inside on some guys, he pitched great."
After the game, won by Eric Surkamp (1-0) and saved by Jake Petricka (eighth), Noesi sported a Scott Carroll-owned Doodle Hat with the word "Revenge" and his name written on it. It was the same hat he wore last Monday after beating Texas, another team that had given up on him this year. That night also happened to mark the last White Sox win.
"Sometimes when you don't believe in somebody, sometimes they need to show me that I can do it, that I can believe in something," Noesi said. "When I got here, [White Sox pitching coach Don] Cooper told me a lot of things, we talked. That's why I'm getting better, because he told me that I can do it."
Scott Merkin is a reporter for MLB.com. Read his blog, Merk's Works, and follow him on Twitter @scottmerkin. This story was not subject to the approval of Major League Baseball or its clubs.